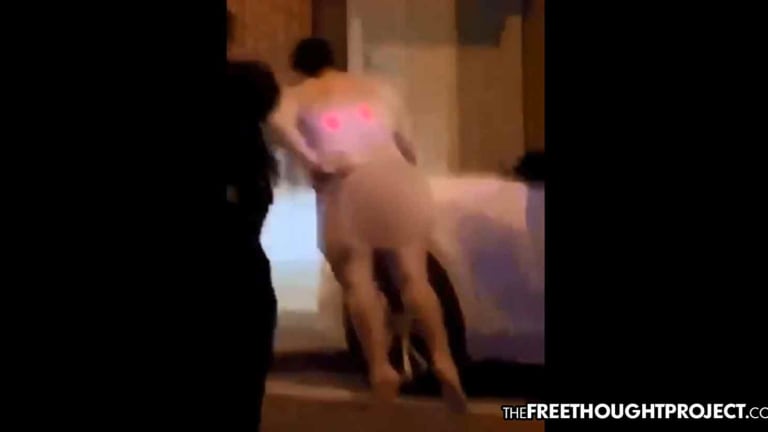 WATCH: Cops Taser Naked Man in His Back as He Walks Away, Falsely Claim He 'Advanced' At Them
Cops in Missouri falsely claimed a naked man was "advancing toward officers" so they had to taser him, but video shows that didn't happen.
Columbia, MO — A video was shared with the Free Thought Project this week showing what some are calling an entirely unnecessary use of force. The video in question shows multiple Columbia police officers surround a naked man, who is trying to walk away from them, before tasering him in the back, sending him smashing into the concrete.
Columbia police claim that 32-year-old Alexander C. Wells, who was completely nude, was a threat and advanced toward officers, so they had no other choice but to deploy a taser. However, video taken by a bystander appears to refute that official story.
Columbia Police Department spokesman Jeff Pitts told reporters that police were called to the area on March 17th, St. Patrick's Day, in response to a "heavily-intoxicated" naked man walking around trying to start fights.
"Upon officers arrival, contact was made with the subject in question, who was completely nude," Pitts said. "While officers were interacting with the subject he continued to advance towards them, so officers had to use the least amount of force to prevent any injury towards the subject, bystanders as well as officers"
Multiple videos of the incident, which were posted to Snapchat and Facebook, appear to show Wells walking slowly away from cops, and even cowering at one point as they fired the taser.
At no point do we see Wells "advance" toward anyone in a uniform. In fact, Wells appears to be heading in the only direction in which there were no police officers.
As the Columbia Tribune points out, the images in the video raise questions of whether officers followed the department's use of force policy. It states officers, "to the extent possible," are to use a physical or weaponless control techniques, then escalate to pepper spray before an electrical weapon is deployed.
Sapp said that they could not release any other information as the current incident is under review.
"All use of force is investigated," Sapp wrote in an email to the Tribune. "In absolute fairness to all parties involved, we will not be forced to answer a question or questions when an investigation has not been completed and all pertinent evidence has been reviewed through a due process."
A particularly disturbing aspect to this incident is the fact that bystanders were cheering on the cops and begging them to taser him—for the sole purpose of their entertainment.
"Get him, taze him," the group can be heard yelling.
As Wells turns to walk away, the taser is fired into his back and he collapses to the concrete, nearly smashing his head on the curb.
After witnessing the unnecessary violence they were chanting for, the bystanders changed their tone and immediately apologized for their demand to taser the naked man.
"Oh f**k! We're all sorry bro," one man is heard saying.
According to the Tribune, although Wells was arrested, no charges have been filed in state or municipal courts as of Wednesday afternoon.
Unfortunately, when people party a little too hard, they often times do stupid things like take off all their clothes and run through the streets. Mentally ill people may also behave in a similar manner. But this behavior, when not accompanied by violence or sexual assault is typically harmless.
That being said, police across the country have a tendency to dole punishment out to people armed with nothing but their birthday suits.
As TFTP previously reported, police in San Diego responded to a similar report of a naked man. When police found him, the man cooperated and came right to them. When he got up to where the officers were, they asked him to turn around so they could place him in cuffs.
"Turn around, turn around!" yell the officers at the obviously delusional man.
"No!" replies the man.
Then, only seconds after the unarmed, nonviolent, and naked man had obeyed the officers' instruction to walk toward them, the sadistic K9 cop gives his dog the command to attack -- entirely unprovoked.
The naked man is immediately brought to the ground as the other San Diego cops pile on top of him. By all definitions, this man was subdued. However, he continued to squirm as it is impossible to remain completely still as a vicious attack dog tears your flesh from your body.
"Stop resisting!" the cop yells as his dog mutilates this man.
For almost an entire minute, cops held the naked man down while allowing the K9 maul his legs to shreds.
The man's only crime was walking through a ditch while naked.