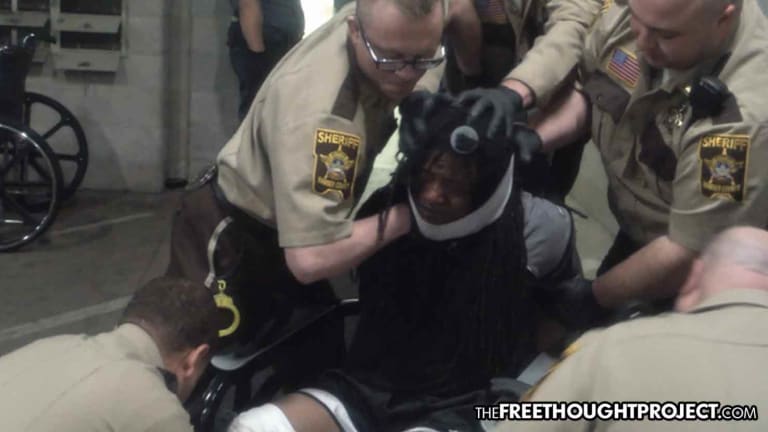 WATCH: 'You Ain't Seen Excessive Force Yet!': Cops Restrain Man and Then Torture Him
Taxpayers in Minnesota are shelling out $500,000 after video surfaced of cops torture a restrained man for no reason.
St. Paul, MN — When 24-year-old Terrell Wilson was arrested on April 13, 2016, he never thought an accusation of swiping someone's cellphone at a night club would end up with him being held down by a half dozen officers—and savagely tortured—while in handcuffs. But that is exactly what happened. Now, after three years, the disturbing video has been released and the taxpayers, not the cop who did most of the torturing, are being held liable.
On Thursday, Wilson received more than $500,000 as part of a settlement reached with the county.
Travis Vandewiele—the cop who doled out multiple knee strikes, punches and torture techniques on the restrained and nonviolent Wilson—has been on paid administrative leave, otherwise known as paid vacation, from the Ramsey County Sheriff's Office for the last two years. During this time he's been collecting $121,555 in salary. As part of a recent settlement against the office, Vandewiele will also receive all the back pay for his vacation and sick pay—despite being on vacation and never having to take a sick day. He was allowed to resign and keep his pension in February, despite pleading guilty to a misdeamor in connection with the horrific attack seen on video.
According to police, Wilson was arrested for allegedly taking two cellphones from patrons at a night club. Once he got to jail, all hell broke loose.
The video starts with Wilson in the back of the squad car. He was pepper sprayed during the arrest which is causing him severe discomfort and making it hard to breathe. When police attempted to remove him from the squad car, they put a spit mask over him, in spite of the fact that he was not spitting at them.
Wilson appears to be in distress and is "limp" as the deputies try to get him out of the car. This is when the arrest took a sadistic turn for the worse.
Officer Vandewiele tells the clearly suffering Wilson, "If you don't get up I'm going to drag you."
For no reason at all, police then transport the entirely passive Wilson to a restraint chair where they demand he lean back onto his handcuffed wrists—an impossibly painful task.
"I've never been through so much pain," Wilson told the FOX 9 Investigators in an interview.
"It was torture. That's what it felt like, torture."
"They wanted me to sit on my [handcuffed] hands. They wanted me to do things that were impossible," said Wilson.
FOX 9 interviewed multiple former police officers and professionals who are experts on use of force and they unanimously agreed that what happened to Wilson was extreme and wrong.
"If you ever had the experience of being handcuffed behind your back, it's extremely hard to sit up," said Tim Williams, a former Senior Detective Supervisor with the Los Angeles Police Department, according to FOX 9.
"You have three or four people doing three or four different things, wanted him to do something he can't do and therefore you are not getting the task done," said Williams.
Because Wilson was being shoved in different directions by the deputies, he couldn't comply with anything they were telling him. In spite of Wilson's lack of physical resistance, because it was impossible to comply, deputies continued to use pain compliance, causing more suffering.
"You will see one deputy who is pushing the subject in one direction and another pushing the subject in another direction," said Seth Stoughton, a professor at the University of South Carolina School of Law and a former officer with the Tallahassee Police Department.
"It can give the deputies a perception of resistance, when there is not any actual resistance," said Stoughton.
Eventually, the pain compliance moves to something far more sinister as Vandewiele begins torturing Wilson by pressing on nerve endings behind Wilson's jaw known as the "mandibular angle." This tactic causes extreme pain. As Wilson responds by wriggling in the seat, Vandewiele brings more pain.
"You ain't seen excessive force yet," Vandewiele can be heard saying, before delivering the four closed-fist strikes to Wilson's abdomen.
"I thought it was one of the more distressing videos I've seen," said Christine Cole, Executive Director of the Crime and Justice Institute, a law enforcement think tank in Boston that studies excessive force cases. "This was really bad, I thought."
"This wasn't pain compliance to get someone under control," said Cole. "This was just violence, power and exercising being pissed off."
When presented with the video evidence by FOX 9, the current sheriff Bob Fletcher said what he witnessed was "extremely disturbing" and "demonstrated failed supervision and poor training." Fletcher added that the supervisor present and employees who witnessed it "had a duty to intervene to stop the assaultive tactics and the use of excessive force," according to the news outlet.
Yet still, he let Vandewiele off with less than a wrist slap. Moreover, none of the officers who helped and watched were disciplined.
Highlighting the utter disparity between punishing police officers and regular citizens is the amount of discipline received by Wilson when compared to his torturer, Vanderwiele.
For nearly killing an incapacitated man in handcuffs and senselessly and sadistically torturing him, Vanderwiele paid a $150 fine and received two years of paid vacation with full benefits.
Wilson, on the other hand, who was accused of taking two cell phones from a night club—a crime he says he did not commit—was charged with two felonies. After he spent three weeks in a cage, Wilson says he took a plea deal to avoid going to prison for the double felony charges and was put on five years of probation. And we call this justice in the land of the free.
Below is the video, warning, it is extremely disturbing.