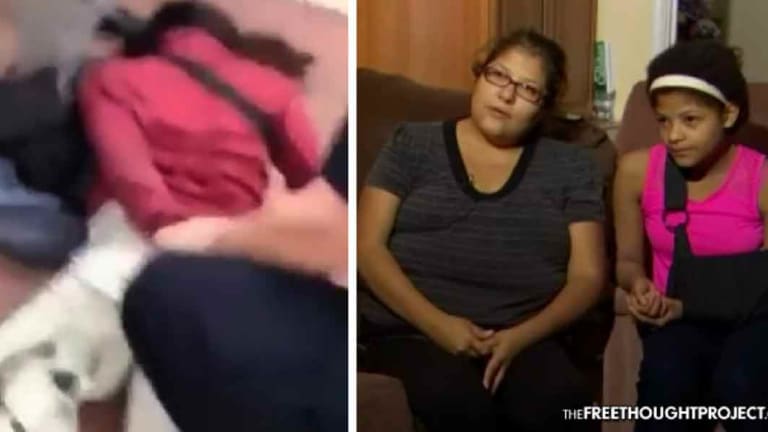 WATCH: Dallas Cop Breaks Tiny 12yo Girl's Clavicle by Body-slamming Her
A Dallas Independent Schools District police officer slammed a girl, breaking her clavicle — this is education in a police state.
Dallas, TX — The Dallas Independent School District is once again under fire for the way one of its school resource officers (SRO) handled a student. An unnamed SRO was attempting to break up a fight between two female students when the officer slammed the girl to the ground, fracturing her clavicle.
Cell phone footage taken by classmates at the Piedmont G.L.O.B.A.L Academy shows the officer slamming the girl, Mariana Valadez, a sixth grader, violently to the ground. Alma Valdez, the girl's mother now wants the officer fired.
"I don't want him to be suspended. I want him to get fired. Why is he still working with kids? He's not capable of working with girls like that," she said.
Adding insult to injury, the young child was also pepper sprayed, she claims. DISD said they're conducting a thorough investigation of the incident but won't say if or when the unnamed officer will return to duty.
Alma explained her confusion upon learning what happened to her daughter. "I was crying because I didn't know what, how can it happen," asked Valadez.
The officer's move, which arguably looked more like a Judo throw than police academy tactics, injured the 12-year-old.
Mariana was suspended for three days for her role in the fight. "She's a twelve-year-old girl," remarked her mother.
The incident is the latest in a series of missteps by DISD SRO's. As The Free Thought Project recently reported, a 7-year-old was placed in handcuffs for acting out in school. He's reportedly autistic and is a special needs student.
The child was then taken without his parent's permission to a mental health facility and kept there for six days. That's considered kidnapping in many parts of the world, especially since the parents were reportedly not notified nor gave their consent for him to be confined there.
According to the Dallas News, "David Ramirez, an investigator hired by the family's attorneys, said the boy was sedated at the behavioral facility and admitted without notifying a parent. He spent nearly a week there and was released Monday afternoon."
There are two disturbing associations public schools have with nefarious entities which seem to be causing many of the legal troubles school systems are facing; their use of police officers in school, and their embrace of psychologists and social workers who together seemingly have more power than parents.
There are, however, conscientious police officers who work in public schools as SRO's and who don't behave in like manner when confronted with troubled teens and children.
As TFTP reported last week, one NC SRO disarmed a would-be mass killer simply by treating the suspect as a person, simply having a conversation with him.
SRO's need to be trained in de-escalation techniques instead of relying on their police training. It appears as though the DISD needs to employ such people to handle security in-house.
When law enforcement gets involved in school matters, kids are mistreated, treated inhumanely, and sometimes killed by officers trained to work with adults. Unfortunately, we write too many stories of SRO's who choke, knock out teeth, slam, throw and shoot children without any due process occurring.
When that happens, lawsuits happen, and taxpayers saddle the costs of court settlements.