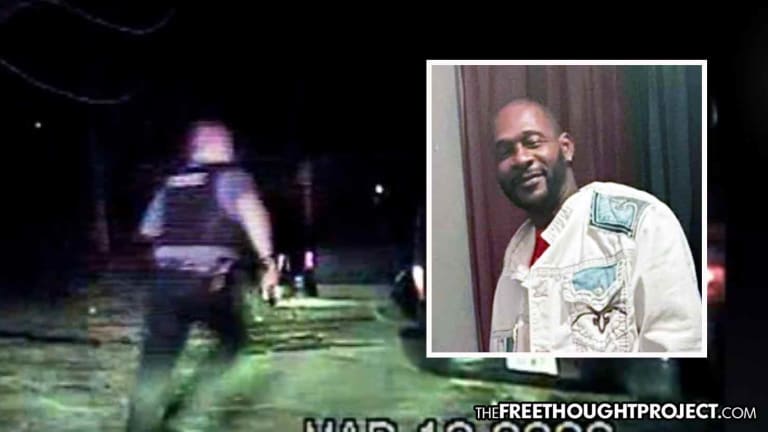 Cop Justified in Killing Unarmed Man in Traffic Stop Because He Pointed Finger Like a Gun
Prosecutors ruled a police officer was justified in killing an unarmed man because the unarmed man allegedly pointed his finger like a gun.
Kansas City, MO — On the night of March 12, 2020, Donnie Sanders, 47, was merely driving down the road, minding his own business when an officer with the Kansas City police department began following him. Moments later, Sanders would be shot and killed. He was unarmed and had harmed no one.
This week, the Jackson County Prosecutor's Office announced that no charges would be filed in the death of Sanders. Prosecutors claim Sanders pointed his fingers or hand in the shape of a gun which justified the unidentified officer dumping four rounds into the unarmed man.
According to police, the officer claimed Sanders might be speeding so he made a U-turn and started following Sanders in his SUV. The dashcam shows that Sanders was not speeding and that the officer did not activate his lights or sirens as he followed him.
Sanders continued driving with the officer behind him and briefly attempted to turn left with his blinker on before turning right without signaling. Sanders then turned down an alley as the officer followed behind him.
Once in the alley, the officer activated his lights and sirens to pull Sanders over. Sanders pulled over and stopped immediately. However, he opened the door and for unknown reasons, Sanders fled on foot.
The officer is heard on the radio saying, that Sanders "is bailing on foot."
As the dashcam footage shows, the officer pursues Sanders out of view as he yells at the unarmed man to "show me your hands." Sanders says something back to the officer but it is inaudible expect for a portion that sounds like, "help me."
The officer then yells several times, saying, "dude, drop it! Drop! Drop! Drop!" We can then hear the officer dump three rounds into the unarmed Sanders. He died on the scene.
After the officer killed Sanders, he told investigators that he thought the man had a gun. He had only a cellphone and it was in his pocket.
Jackson County Prosecutor Jean Peters Baker said in a news release Monday that because the officer "thought" Sanders was pointing a gun at him, that he was justified in killing him.
Peters Baker's office says they do not have enough evidence to charge the officer. Naturally, activists in the area like Gwen Grant, president and CEO of the Urban League of Greater Kansas City, disagree.
"This is a tragedy. A Black man driving down the street, seemingly minding his own business, ends up dead after an encounter with a police officer," Grant said. "Watching the video, it is not clear why Donnie was stopped in the first place. A traffic violation does not justify capital punishment. Donnie Sanders was unarmed. He should not be dead."
We agree.
"The system that exists is not capable of bringing justice to Black people," said Ryan Sorrell, a leader of Black Rainbow, according to ABC News. "I think it's a corrupt and racist institution from its inception and at its root. It's just blatant naked violence without any accountability."
Indeed it is. Despite horrifying police killings, many of which were captured on video and rocked the nation, the arrest rate for cops who kill people on-duty remains as low as ever. According to reports, since 2005, just 126 police officers have been arrested for murder or manslaughter in relation to an on-duty killing.
Of those 126, just 44 have been convicted, with 31 of their cases still pending, and just seven cops total have been convicted of murder. The other 37 cops were convicted on charges ranging from manslaughter to official misconduct, with many of them receiving no jail time.
Police kill an average of 1,000 Americans a year and in 15 years, just 44 cops have been convicted. That is less than 3 tenths of 1 percent. If we look at the conviction rate for murder it dwindles down to less than a 1 in a 1,000 chance.