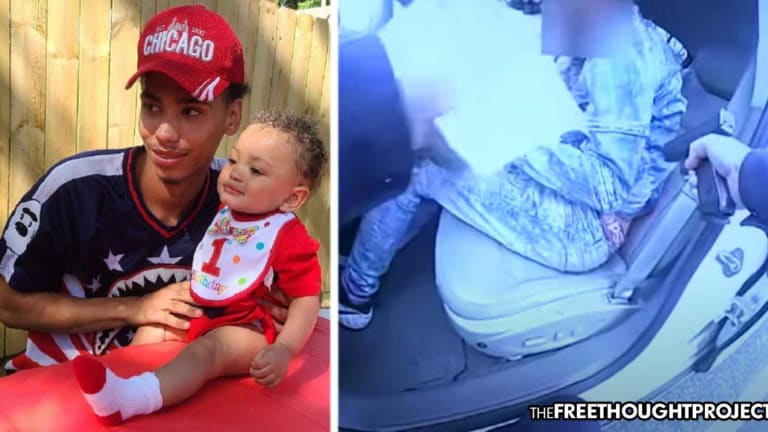 WATCH: Police Kill Unarmed Man During Stop for 'Air Fresheners', Claim it Was an Accident
During a stop over air fresheners, an unarmed 20-year-old man was shot in the chest and killed as he sat back down in his car.
Minneapolis, MN — Just miles from where George Floyd took his last breaths on Earth as they were squeezed from his body by officer Derek Chauvin, Daunte Wright was targeted by police over an alleged expired tag. Because the American police state is a violent behemoth which knows no self-restraint, a few moments into the stop and Wright would be killed at the hands of those who claim to protect him. Now, the department is claiming it was an accident.
The Hennepin County medical examiner concluded Monday that Wright "died of a gunshot wound of the chest and manner of death is homicide." However, police are attempting to downplay the homicide by claiming the officer who killed Wright, thought she grabbed her taser instead of her gun. Regardless of which weapon she thought she was holding, her actions ended a 20-year-old man's life.
According to Chief Tim Gannon of the Brooklyn Center Police Department, officers pulled over Wright on Sunday afternoon because he had an expired government sticker on his vehicle.
Daunte's mother, Katie Wright, however, said her son called her during the stop and told her that police pulled him over for an air freshener.
"He said they pulled him over because he had air fresheners hanging from his rearview mirror," she said.
Katie Wright then listened to her son's murder on the other end of the phone. She said she heard a scuffle and an officer telling her son not to run and then the call dropped off. When she called his phone back, Wright's girlfriend, who was in the car with him, told Katie Wright that police just shot her son.
According to police, when they pulled over Wright, after running his information, they realized he had a warrant out for his arrest. When police attempted to arrest Wright over this warrant, Wright tried to sit back down in his car.
As the graphic body camera footage shows, police attempted to pull him out as officer Kim Potter, a 26-year veteran of the department, pulled out her gun and put a bullet in Wright's chest.
This caused Wright's car to begin rolling forward as it crashed into another car. Officer Potter then yells out, "f**k, I shot him."
"It is my belief that the officer had the intention to deploy their Taser but instead shot Mr. Wright with a single bullet," Chief Gannon said.
As stated above, no matter what she thought, her actions led to the death of an unarmed man who should have never been in police custody to begin with.
According to court records, the warrant was over Wright missing a court appearance. He was arrested for carrying a pistol without a permit — something that is legal in roughly half the country. However, because Minnesota forces citizens to pay the state for a permit to enjoy the right to self-defense, an act which millions do every day legally, it landed Wright in trouble with the law.
What's more, TFTP conducted a search for the warrant issued and it appears that the notices mailed out to Wright to inform him of the Zoom meeting court appearance, were not making it to him. The last update to his case file is a notice of "returned mail" indicating that he did not receive the notice of a warrant.
Naturally, the NRA is silent over Wright's death but this should come as no surprise given their selective outrage when it comes to the gun rights of those killed by police.
The outrage from the citizenry, however, is in full swing and Mayor Jacob Frey of Minneapolis declared a state of emergency on Monday and announced a curfew from 7 p.m. Monday to 6 a.m. Tuesday after protesters swarmed the police station and nearby businesses were looted.
As for the veteran officer who "mistook" her pistol for a taser after training to fire said taser and pistol for over 26 years, she is still gainfully employed with the department and enjoying paid leave as Wright's family greaves the loss of their son.