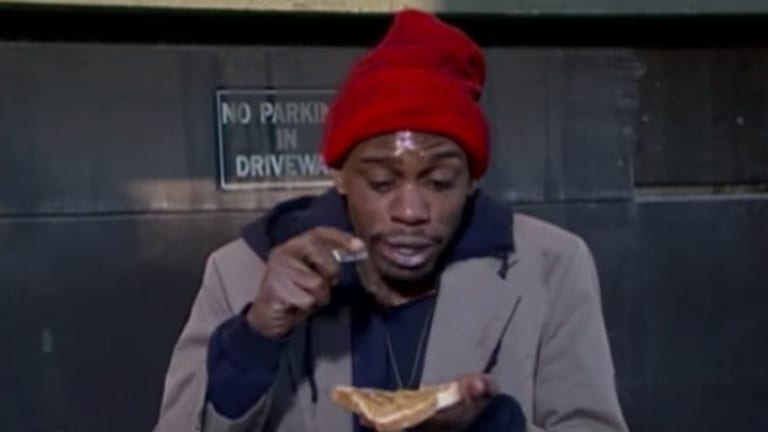 Dave Chappelle Says He Was Choked By Police On A Movie Set
At the Saenger Theatre in New Orleans this week, comedian Dave Chappelle reportedly discussed the death of Eric Garner and told the audience about his own experience with police choke holds. According to a number of audience members, Chappelle said that he was choked by a police officer when he was in the middle of filming a movie.
There was no video recording allowed at the event, but luckily NOLA.com writer Jarvis DeBerry was in the audience and was able to retell the encounter to the best of his ability.
In an article published this week, Deberry Recalled that:
Chappelle said he was working on his "first movie" here in New Orleans. He was playing a mugger, he said. He was dressed for the part. The movie set was surrounded with police tape. He ducked under it. Then a police officer set upon him and immediately started choking him.

One of the women working on the set saw what was happening to the actor and yelled to the police officer that he belonged on the set. After relaxing his hold on Chappelle's neck the police officer said, according to the comedian, "Well why didn't he say something?"

The weirdest thing about being a black man being choked by the police, Chappelle said, is that you don't even wonder why it's happening. You just think, he said, "OK, here we go."
DeBerry did some research to see if he could narrow down which movie Chappelle was filming when the attack occurred. Chappelle had mentioned that the attack happened in New Orleans and was one of the first movies that he shot. DeBerry found that Dave Chappelle played a mugger in the 1993 movie "Undercover Blues," part of which was filmed in New Orleans.
Chappelle is known for his brutally honest social commentary, especially when it comes to police, race and the government. In recent years, he has been focused on enjoying his life and stepping back from an entertainment industry that he recognizes as corrupt.
His years in the entertainment industry has shown him the corruption that exists behind the scenes and how entertainers are used to distribute propaganda. When leaving his show and turning down a 20 million dollar deal he said "I was doing sketches that were funny but socially irresponsible. I felt I was deliberately being encouraged and I was overwhelmed" and "I felt in a lot of instances I was deliberately being put through stress because when you're a guy who generates money, people have a vested interest in controlling you."
Chappelle is one of the few entertainers who had the will power to stand up and not sacrifice his artistic integrity for the mainstream media, and even now he continues to make waves and provoke discussion on important social topics.
John Vibes is an author, researcher and investigative journalist who takes a special interest in the counter culture and the drug war. In addition to his writing and activist work he is also the owner of a successful music promotion company. In 2013, he became one of the organizers of the Free Your Mind Conference, which features top caliber speakers and whistle-blowers from all over the world. You can contact him and stay connected to his work at his Facebook page. You can find his 65 chapter Book entitled "Alchemy of the Timeless Renaissance" at bookpatch.com.