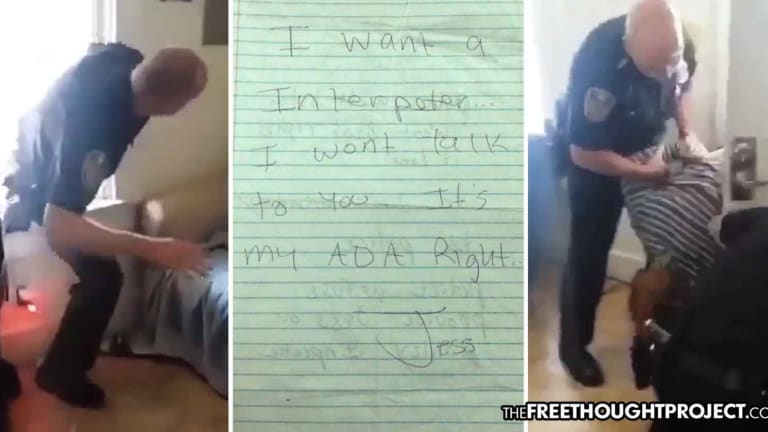 WATCH: Cops Crawl Though Deaf Women's Window, Assault, Taser Them After They Ask for Interpreter
Two deaf women asked police for an interpreter before allowing them into their house but police sneaked through a window and attacked and tasered the women.
According to the Americans with Disabilities Act, all deaf and hard of hearing persons must be informed of the law enforcement agency's obligation to have a qualified interpreter, (Communication Access Realtime Translation) CART, assistive listening device, or other auxiliary aids or services, at no cost, during all communication with the law enforcement agency. The woman in the video below attempted to assert her right to one of these methods of interpretation, but was denied by Troy police officers.
The video was uploaded to Facebook this week but reportedly took place some time ago. It has caused quite the controversy on social media, however, due to the violent treatment doled out to the deaf women, one of whom is identified by her first name, Jess.
According to the post, the mother of a woman who reportedly lived in the home had brought police there and demanded entry. Jess, who is reportedly deaf, wrote the following note on a piece of paper and showed it to the officers.
"I want a interpreter... I won't talk to you. It's my ADA right."
Jess was merely asking for an interpreter so she could understand what police were saying before allowing the woman into her home. In the video, she is simply blocking the door and refusing to allow the woman's mother to enter.
As a separate video shows, the woman's mother is kicking and beating on the door in an attempt to gain entry into the home. Had the woman, herself, tried to gain entry, or tell the cops they can enter, there is no law broken as her name was reportedly on the lease. However, when the mother began banging and beating on the door, this is an attempted break-in.
The woman repeatedly tells the officers that she wants an interpreter and the note is clearly posted on the front door where she requests an interpreter.
Instead of arresting the mother, however, cops are seen sneaking through a window in a side bedroom before tackling the deaf woman to the ground. Another woman, who is also deaf, is then thrown on the couch where she is also assaulted and tasered. Exactly what she did to be arrested is unclear.
The officers are heard on the video telling the woman that they are going to taser her, as if she could actually hear them. The women appear to be entirely confused as to why they are now being attacked by police.
According to the post, the women were arrested and charged with assault for their actions. Below is the video.
Police officers attacking deaf people is unfortunately not uncommon. In November, TFTP reported on an 82-year-old "granddaddy" who couldn't hear the commands of police officers, so they filled him full of holes.
According to police, they responded to a call after someone reported a man with a gun. According to the family, Melvin Bouler, 82, was getting into his car and leaving when police arrived.
As ABC 7 reports, Adjanay Okoe is not related to Bouler by blood, but said he's taken care of her since she was a child and thinks of him as her grandfather. She said he was visiting her mother when he got into an argument with her mother's boyfriend, who called police. She said, however, he was already being helped into his car to go home when officers arrived.
"My mom was trying to help my granddaddy," Okoe said. "You know my granddaddy is old, so she was trying to help him in the car and get him home ... and then the police pulled up. I guess they were trying to give him instructions."
When Bouler didn't immediately respond, police opened fire. Bouler would later succumb to the gunshot wounds and die in the hospital.