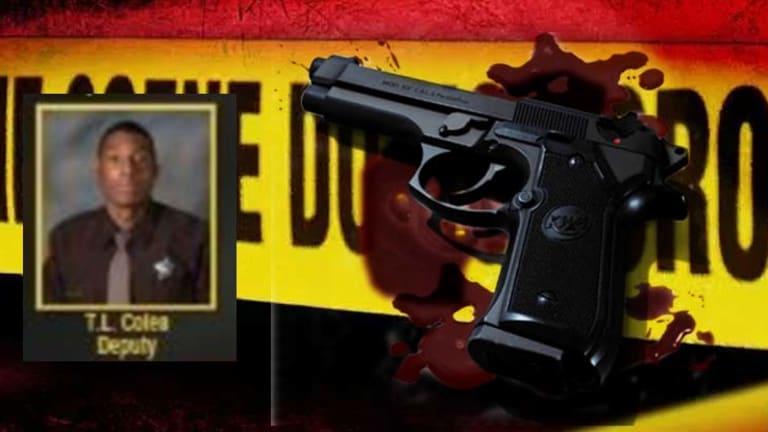 Deputy Arrested, Charged with Murder for Shooting and Killing His Own Brother
A Virginia sheriff's deputy has been arrested and charged with second-degree murder for shooting and killing his own brother during an argument.
Dinwiddie County, VA -- A Virginia sheriff's deputy has been arrested and charged in the shooting death of his own brother.
Dinwiddie County Sheriff's Deputy Terrell Coles, 24, faces charges of second-degree murder for killing his 25-year-old brother, Brandon, after a heated dispute in the early morning hours on Sunday.
Coles is being held without bond in the county jail as state police conduct an investigation of the shooting, which happened at the deputy's home.
"An altercation ensued in the residence in the early hours at 3 a.m.,"said Virginia State Police spokesman Sgt. Steve Vick. "At some point during the altercation a weapon was retrieved and Terrell Coles shot Brandon Coles, fatally wounding him."
Brandon Coles died at the scene.
Neighbors described Coles as friendly and helpful, and were shocked at news he could be responsible for murdering anyone — particularly his own brother.
"Terrell was very helpful. I used to catch his dogs for him when they got loose and he used to help me out with my dog," said neighbor William Brown, who often spoke with the deputy, local CBS affiliate WTVRreported. "We treated each other just like good friends and good neighbors. Me and the Coles are just like family."
Other residents grappled with the violence, itself — highly unusual for their idyllic suburban enclave.
"Stuff like this doesn't happen in this neighborhood," Bryan Williams, who lives two doors down from Coles, explained to local ABC affiliate WRIC. "We have a few wild characters but it's all love."
Williams was alarmed the shooting happened so close to where he lives, saying, "I don't know if they were inside or outside or what happened but a stray bullet could have went anywhere. It could have hit our house, could have hit somebody inside the house and that's what worries me the most."
He arrived home immediately after the shooting and was surprised to see a number of patrol cars outside Coles' residence.
"I came home and I saw all the police cars," said Williams. "I saw it taped off. I saw them loading the guy up in the car. I sat out here for about an hour trying to figure out what was going on."
Williams said though he didn't speak to Coles frequently, the deputy had been amiable when he first moved to the neighborhood.
"He was a nice guy when I talked to him, especially for me just knocking on his door randomly. We are all good neighbors here [it 's] real shocking that it happened."
Off camera, another neighbor echoed Williams, describing Coles as friendly and respectful of others.
According to WRIC, the Virginia State Police Bureau of Criminal Investigation Richmond Field Division is conducting the murder investigation.
"We are here at the request of Sheriff Adams," Vick explained. "He requested us to come down and do the investigation. So we are here for that reason."
Unnamed sources toldWTVR the brothers' father is a Virginia State Trooper.
Coles, who has been a sheriff's deputy since 2012, was fired following his arrest early Sunday morning, according to officials with the Dinwiddie County Sheriff's Office cited by WTVR.
Further information is scarce at the moment as this is a developing story.
"I've been knowing them all my life," Brown said of the Coles. "They're very nice people. All of them. I was very hurt that that did happen."