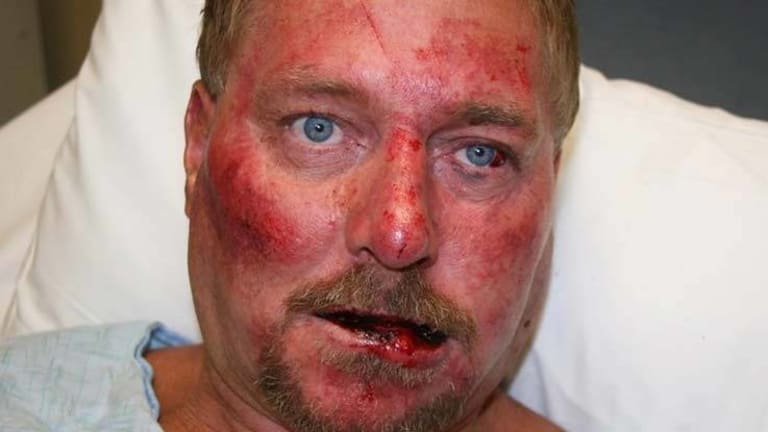 Disgruntled Cop Forces Fellow Officers to Stalk Innocent Man to Give Him a "Revenge Beating"
After losing a bar fight, a deputy tracked down the man who gave him a fat lip and viciously assaulted him during an unlawful traffic stop.
Huntsville, AL – Accused of knocking an innocent man's teeth out and choking him unconscious during a traffic stop, a former Madison County deputy initially pleaded not guilty to federal charges of civil rights violations and obstruction of justice. After his fellow officers informed the FBI that he had attempted to intimidate them, including placing a gun against a colleague's head, the former deputy filed a motion on Tuesday requesting to change his plea.
In July 2012, Madison County Deputy Justin Watson was off-duty with his then-fiancée, now wife, at Billy's Bar & Grill when Watson believed he heard Tennessee mechanic Robert Bryant say something to his fiancée. Instead of keeping his cool, the off-duty deputy engaged Bryant in a bar fight and ended up with a fat lip. Embarrassed and seeking revenge, Watson allegedly convinced his dispatcher to track down Bryant during her off-duty hours.
Dispatcher Amanda Billings later testified, "He said he was going to bring the entire SWAT team to Billy's."
According to Billings, Watson pressured her into conducting surveillance at the bar in order to locate Bryant. After making contact with Bryant's girlfriend at another local bar, Billings managed to learn Bryant's name, the type of vehicle that he drove, and that his vehicle still had Tennessee plates. As Billings handed over the information to Watson, she continued surveillance at the bar until spotting Bryant in August.
On August 4, 2012, Billings and Watson exchanged text messages in which the dispatcher informed Watson that Bryant was at the bar. In an attempt to seek revenge against Bryant, Watson pulled over a white pick-up truck with Tennessee tags. Due to the fact that he had pulled over the wrong guy, Watson let the driver go without issuing a ticket. Less than three weeks later, Watson reaped his vengeance.
On August 22, 2012, Watson reportedly pulled over Bryant shortly after leaving the bar at 10:50 p.m. After ordering Bryant to step out of his vehicle, Watson allegedly punched him in the face before beating Bryant with a police baton and knocking out several of his teeth. Bryant was later charged with felony assault of an officer after the deputy choked him unconscious.
Following the unprovoked beatdown, Bryant filed a lawsuit against Madison County Sheriff Blake Dorning, Watson, and seven other deputies involved in his wrongful arrest. In August 2014, Bryant was awarded a $625,000 settlement. Watson quit the Madison County sheriff's department in April 2015.
On August 4, 2015, Watson was placed under arrest after being charged with two counts of civil rights violations and three counts of obstructing justice. Charged with deprivation of rights under color of law for the brutal assault, Watson was also accused of violating Bryant's civil rights by conducting an unlawful traffic stop. According to his indictment, Watson committed witness intimidation by threatening at least two of his colleagues and lying under oath.
In her testimony to the FBI, Billings recalled Watson instructing her to "Keep your mouth shut" during the course of the investigation. According to Deputy Jake Church, Watson aimed his unloaded gun at Church's head and pulled the trigger in an attempt to intimidate him. Watson allegedly threatened his fellow deputy after Church discovered that Watson had cut out his head from a staff photograph. When Church asked why the photo had been altered, Watson reportedly responded, "When did you talk to the FBI?"
Facing a maximum sentence of 11 years in prison for the two civil rights charges and 60 years in prison for the three obstruction counts, Watson initially plead not guilty to the federal charges. But on Tuesday, Watson filed an order asking U.S. District Judge Karon Bowdre for a hearing to change his plea. He is scheduled to appear before the judge on Wednesday at 11:30 a.m. at the U.S. Courthouse in downtown Huntsville and is expected to change his plea to guilty.
The only question that remains: How many of the charges against Watson have the prosecutors agreed to drop?