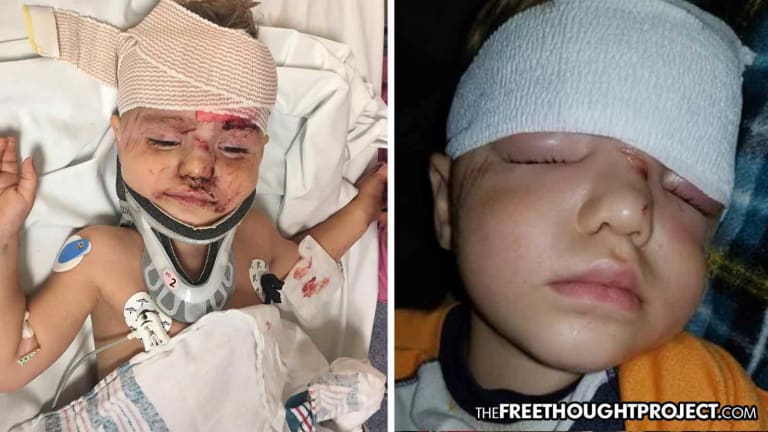 While Serving a Civil Warrant, Family Says Cop Ran Over 2yo Playing in the Front Yard
After serving a civil warrant to a family member in their home, a 2-year-old boy had to be air-lifted to the hospital after family members said a deputy ran over him.
Livingston, TN — The Overton County Sheriff's department has launched an investigation after a 2-year-old toddler was allegedly run over by a deputy in front of the family's home on Friday. In a dramatic Facebook post, the boy's mother posted images and called out police.
The family of Kayden Blodgett, the 2-year-old victim took to Facebook Friday night after the incident to explain what happened, noting that a "county cop in Livingston" ran him over.
"So I just ran outside, and before I could even ask what happened, I saw his face covered in blood," his mother, Cassie Blodgett, recalled.
Joshua Blodgett, Kayden's father told News Channel 5 that his son was run over just after he'd spoken to the deputy. According to the family and the sheriff's office, the deputy was at the home to serve a civil warrant Friday night.
"And then he got back into his car while I was talking to the other deputy, and I guess he took off and didn't look around, look at his surroundings or anything. I guess he hit my son, and he went about ten feet that way, and then stopped and my son ran to me," Blodgett said.
"A county cop in Livingston ran him over. We need as many prayers as we can get right now!!!!! Hes being life flighted right now!" Kayden's aunt, Ashlei Howard, wrote on Facebook.
"I am not bashing the cop! I'm sure he's dealing with a lot from what happened just as much as we are!" Howard said. "[We] just don't understand how he didn't see [the] child!"
WSMV reached out to Overton County Sheriff John Garrett who stated that the incident was under investigation. Garrett would not release any details about the incident. The sheriff only said that there was a 2-year-old child injured who had to be LifeFlighted to Vanderbilt Children's Hospital after his deputy served the civil warrant.
Although Garrett told WSMV that he couldn't release details, he reportedly told New Channel 5 that his deputy never backed up.
How, exactly, a child can suffer the injuries that this little boy suffered without the car moving remains a mystery.
After being air-lifted to the hospital 100 miles away, Kayden received multiple stitches to his head and arms and was also treated for burns he suffered to his body, likely from the car's muffler.
As News Channel 5 reports, Kayden's parents said they know the accident could've been much worse. Their main focus is making sure Kayden fully recovers.
"We can't thank everyone enough for all the thoughts and prayers that have been sent Kayden's way," his mother Cassie wrote on Facebook. "What happened was definitely tragic but it could've been so much worse than what it was, and we're so blessed to still have him here. We have a long road ahead of us and this is something we will carry with us forever, but everything will eventually heal and get better. Kayden is home now and feeling way better than we could've hoped for, but more prayers are always welcome."
After a stay in the hospital Kayden was released. Although his family is optimistic about his recover, on Sunday, his aunt shared an image of the toddler noting that his eyes are swollen shut and he cannot see to walk or play.
According to Sheriff Garrett, THP officials will launch their own investigation into the incident on Monday.
Just two weeks ago, TFTP reported on another story of a police officer nearly killing a child with his vehicle. In that case, the incident was captured on video. The disturbing footage showed a distracted sheriff's deputy driving a patrol car, swerving and nearly hitting a young girl who was waiting to board a school bus.