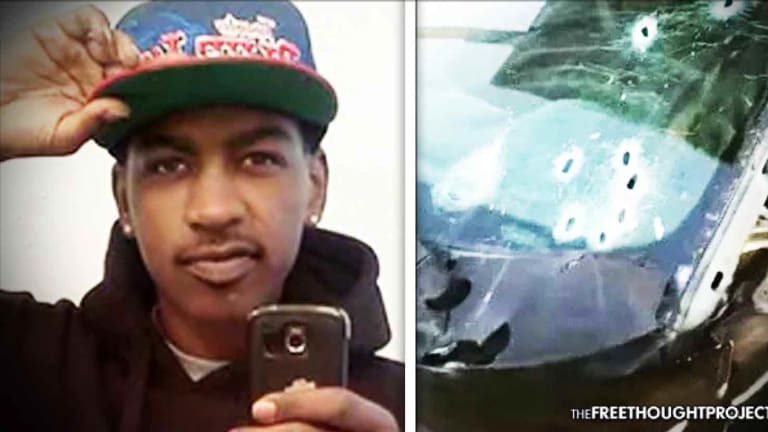 'Stalked and Murdered': Video Shows Cops Execute Unarmed Dad Outside Walmart—Firing 30 Shots
Attorneys representing two victims of a police shooting in California claim that the police version of what happened when they killed an unarmed father of three in a Walmart parking lot is not true.
Barstow, CA — An attorney has released a video which he says contradicts the police department's official story of an officer involved shooting at a Walmart in which officers fired 30 rounds at an unarmed father of three, Diante Yarber—killing him.
The video is from an incident which took place on April 5th in a Walmart parking lot in Barstow, California. The story became highly controversial after the Guardian picked it up, but up until now, there has been no video.
The attorney for Yarber's family is now speaking out, and claiming that the events that unfolded outside Walmart that day were nothing short of murder.
"The police took him away for no reason," said Brittany Chandler, the mother of Yarber's 19-month-old daughter, Leilani. "The police should be held accountable for this … They are sick people for them to be able to shoot someone down in broad daylight."
Police claim they were in the area that day to question Yarber in an alleged stolen vehicle case. However, relatives of Yarber told HuffPost that the vehicle he was in wasn't stolen. Diante's aunt, Aleta Yarber, said it was her son's Mustang, and her son was in the vehicle when the shooting began.
After the shooting, police began using the claim that Yarber was attempting to use his vehicle as a murder weapon so they had no other choice than to fire 30 rounds into the packed car, killing Yarber and severely wounding the female passenger in the vehicle.
"They saw a car full of black people sitting in front of a Walmart, and they decided that was suspicious," the family's attorney, Lee Merritt told the Guardian. "They just began pouring bullets … It's irresponsible. It's dangerous. It's mind-boggling, the use of force."
Police claim that when they approached the vehicle, the Mustang suddenly reversed, striking a patrol car, and then drove toward officers and hit another patrol car.
According to Merritt, however, police had no probable cause to stop Yarber that day and the young man was simply waiting for one of his passengers to exit the store so they could leave.
"While waiting for one of his passengers to return from shopping at Walmart, Diante and his passengers were labeled 'suspicious' and targeted for harassment by (police)," Merritt wrote. "When officers, lacking reasonable suspicion for stopping Yarber in the first place, attempted to box his vehicle in, Yarber maneuvered his car around the police vehicles."
Merritt claims that the father of three was unarmed and posed no threat.
According to the Guardian, a police spokeswoman said "involved officers" were on "paid administrative leave", but declined to disclose the number of bullets shot and officers who fired. Police labeled the incident an "assault" on an officer, but Dale Galipo, an attorney representing the 23-year-old woman hit in the car, said the investigation so far has revealed Yarber was unarmed and that officers were not in the path of the vehicle, which means they should never have discharged their weapons, let alone fire a barrage of bullets.
Adding credence to this claim is the fact that the officers were able to fire off so many rounds with a car allegedly coming right at them. If a car was barreling at you, as they claimed, the last thing a sane person would do would stand there and shoot, hoping that it somehow makes the driver press the brakes. A sane person would try to move out of the way if a vehicle was coming at them.
As the Sacramento Bee reports, now Merritt is calling for the police department to hand over body and dash cam footage, as well as surveillance video. He said it's "the worse case of excessive and unnecessary force" he's ever seen, and urged the county's district attorney to prosecute officers in the case "zealously."
Merritt went on to claim that this was "an amount force that would have been deemed excessive in a war zone."
After Yarber was killed, residents and activists marched on the police station demanding justice as this is the second high profile killing of an unarmed man in just weeks in the state of California. As TFTP reported last month, Stephon Clark was murdered by police in his own backyard as he complied with their orders to get on the ground.
"We are here to say, 'Stop killing us!'" Wendy Jackson, an activist and Navy veteran, said outside the police department, according to the Daily Press. "Your job is to arrest us and bring us before the people. So we are saying, we want justice — we want justice and we want peace, but stop killing us in the streets."