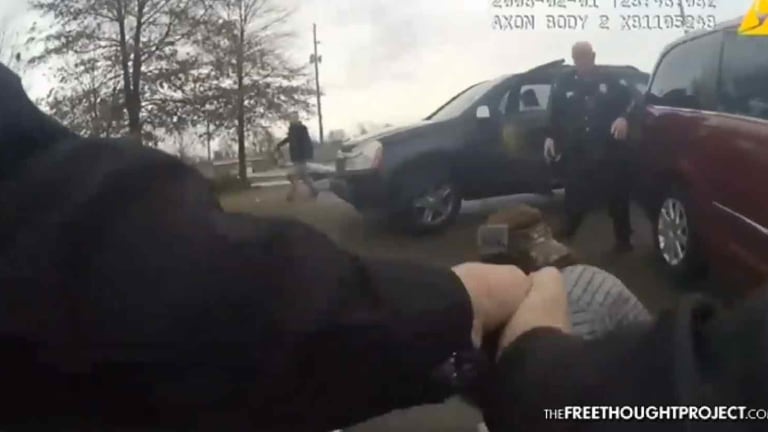 Disturbing Body Cam Shows Cop Kill Unarmed Mentally Ill Man on His Knees, Execution Style
Body cam footage was released this week showing a Fulton cop shoot a man in the back "execution style" as he knelt on the ground and was unarmed.
Fulton, KY — The family of a mentally ill man who was shot and killed by a Fulton police officer has filed a lawsuit after their father, who needed treatment, received a police bullet instead. The family will likely win this lawsuit as the disturbing execution was captured on the officer's body camera and shows the officer's senseless excessive force.
In January of 2017, the victim, Chris McClure was in the midst of a mental breakdown and was in a parking lot beating cars with a metal pole. According to attorneys for the family, McClure's mental health episode worsened after he was told he was too sick to be around his children.
On that fateful day, police were called to the parking lot to respond to McClure who had a lightweight aluminum pole with a knife taped to the end of it. McClure was swinging the pole when the first officer arrived and began to take out his frustrations on the Fulton police chief's SUV.
According to police, and the body cam footage, that's when Officer James "Buck" Buckingham showed up and seconds later fired two shots. While the first shot was questionable, the second one was fired after McClure had dropped the pole and was on his knees in between two officers. There was absolutely no need to fire it.
As McClure gets up on one knee, Buckingham fires off a round—in near execution style—at point blank range, directly into the back of McClure.
Because the shot was needlessly fired and it resulted in the death of a then-unarmed man, attorneys for McClure's family say police then lied to cover their tracks.
As WDRB reports, Louisville lawyers say his life didn't have to end that way and that officers acted with unnecessary force. The attorneys also claim there was a cover up afterward to make it seem like Buckingham should have fired his gun.
"I think the brunt of the lawsuit really stems from the fact that after Chris is on the ground, 'Buck' comes up to him, and from point blank range, without any justification, no reason whatsoever, fires an execution shot," said attorney Larry Forman.
As you watch the video below, notice how the officer's careless disregard for life also placed his fellow officer's wellbeing in danger as he fires in his direction.
Had this cop decided to use his taser instead, the taxpayers of Fulton would not be on the line for this murder and McClure could be getting the mental health help that he so desperately needed.
As TFTP has previously reported, the Virginia-based Treatment Advocacy Center, an organization dedicated to eliminating the barriers faced by those with severe mental illnesses, released a jaw-dropping report in 2015. In their report titled, Overlooked in the Undercounted: The Role of Mental Illness in Fatal Law Enforcement Encounters, researchers discovered that people with an untreated mental illness are 16 times more likely to be killed during an interaction with police than anyone else.
According to the study, by all accounts – official and unofficial – a minimum of 1 in 4 fatal police encounters ends the life of an individual with severe mental illness.
Where official government data regarding police shootings and mental illness have been analyzed – in one U.S. city and several other Western countries – the findings indicate that mental health disorders are a factor in as many as 1 in 2 fatal law enforcement encounters.
This startling number highlights a critical problem with police and how they handle incidents with the mentally ill and it explains why McClure's life was ended that day.
"If this were any other medical condition, people would be up in arms," John Snook, the report's co-author and executive director of the Treatment Advocacy Center said.
One would assume that since these numbers are so great, police have taken action and are training their officers to interact with the mentally ill. However, one would be wrong.
As the Free Thought Project has pointed out in the past, the overwhelming majority of time spent by police during training is devoted to shooting their weapons. Very little time is set aside for training in de-escalation tactics, and most departments receive zero training in dealing with the mentally ill. Case in point, Chris McClure.
Update: The Free Thought Project named the Louisville police department in the original version of this article. It was the Fulton PD. We apologize for the oversight.