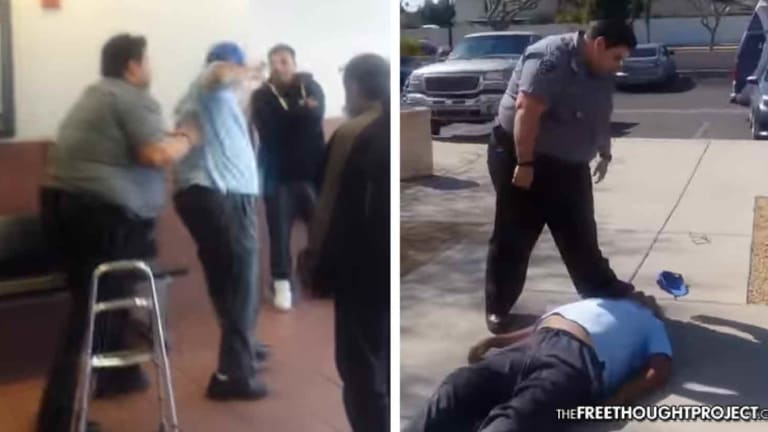 Disturbing Video Shows Officer Take Elderly Vet's Walker, Knock Him Unconscious
A disturbing video is creating a firestorm of debate online as it shows a federal security officer shoving an elderly veteran, who uses a walker to get around, and causing him to smash his head into the concrete.
Phoenix, AZ — A video was shared with the Free Thought Project this week which has caused a firestorm of backlash after it showed an elderly Vietnam veteran, who uses a walker to get around, being knocked unconscious by a federal officer at the Phoenix Social Security Administration building.
The video has since taken off online prompting thousands of calls for the officer to be fired. It was so over the top that the Free Thought Project has confirmed that the Phoenix police have an open assault investigation into the incident.
In the disturbing video, we can see the massive officer force the man up and in a highly unprofessional profanity-laced tirade, he begins shoving and pushing the man out of the office lobby. Exactly what the man had done to provoke the response remains to be seen. However, he was sitting down and had to use a walker to move around so he was clearly no threat.
As the officer continued to shove the elderly veteran out of the door, he refuses to let him use his walker. The continuous shoving then causes him to lose his balance, slamming the man so hard into the concrete that he was knocked unconscious. Onlookers watched in horror as the unidentified veteran lay unresponsive on the ground as the officer continued to yell at him.
"He fell, I didn't touch him," yelled the officer, clearly lying and likely not knowing that the incident was captured on video.
As FOX 10 Phoenix reports, according to Phoenix police, officers were called out to the location, but no arrests have been made at this time. Meanwhile, Phoenix Fire officials said a 911 call came in at around 2:00 p.m., and that the man refused to leave and acted "altered". The man, fire officials said, was later taken to the hospital.
His current condition is unknown.
Sadly, veterans, especially those with PTSD are victims of the government far too often.
The Free Thought Project reported on the murder of Tommy Yancy, a father of two, who was savagely beaten to death by five law enforcement officers during a routine traffic stop on Mother's Day. Yancy, a veteran who suffered from PTSD, served in Afghanistan and Iraq in the 259th Field Service Unit following the 9/11 attacks.
In January of last year, a video emerged of a 70-year-old veteran abused by police for walking with a cane.
In February 2015, an officer pleaded not guilty after gunning down Raymond Keith Martinez, 51, an unarmed homeless veteran who was loitering, but posed no threat to anyone. In another incident that month, another officer turned away as his partner beat an innocent and handcuffed veteran- so that the assault would not be captured on his body camera.
In March of last year, police gunned down a naked and mentally ill veteran in broad daylight.
In April 2015, a horrifying video was posted online of a police officer beating a veteran in front of her child, after she screamed out that she was pregnant. Her 9-month-pregnant stomach was left covered in bruises.
The list goes on and on.  A search of the term "veteran" on our website should be enough for any person with a "support our troops" sticker on the back of their car to be outraged, so where are they?
It is truly tragic how many men and women survive wars abroad just to come home and be killed by the muscle for their own government.