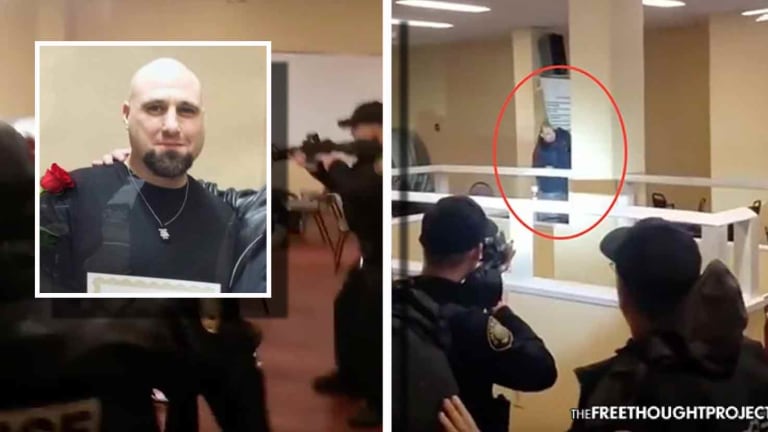 Disturbing Video Shows a Dozen Cops Corner Father In Homeless Shelter and Execute Him
A father and husband in need of mental help was cornered by a dozen cops in a homeless shelter and executed as witnesses watched in horror. He was a threat to no one.
Portland, OR — A disturbing video was brought to the attention of the Free Thought Project this week showing more than a dozen heavily armed Portland cops corner, and then execute a man inside a homeless shelter Saturday night.
The Portland police chief is calling on citizens to reserve judgement after the video began going viral online. Chief Danielle Outlaw said in a statement that she was aware of a video taken of the incident and posted on the Internet, and asked the public to "please be reminded that deadly force investigations are extremely complex and take time."
According to police, officers were responding to a report of a crash Saturday night and learned that one of the vehicles in the crash was stolen in a carjacking the night before.
Police claim the man they killed, John Andrew Elifritz, a 48-year-old shipyard worker, was believed to be the driver of the car who had fled inside the nearby Cityteam Ministries Portland Shelter in southeast Portland. Police claim they were given reports that the man may be armed, however, police spokesman Sgt. Chris Burley, told reporters on Sunday that they have "yet to determine if he had a weapon at the time of the shooting."
In the video, however, it does appear that Elifritz may be holding a very small knife.
In the video, we see the people who were in the shelter conducting an Alcoholics Anonymous meeting begin to flee the scene as the police show up. They clearly appear to be reacting to some threat. Whether that threat was the alleged carjacker or police remains the subject of a debate as different witnesses accounts tell different stories.
According to the man who took the video, Elifritz had rushed into the shelter shirtless during their meeting, waving a knife and cutting himself. "It was horrific," the man who took the video told The Oregonian. "We were all scared for our lives."
However, another eye-witness said that police were saying, "If he wants to die, let him die," just before killing him. The witness also said that Elifritz was in the shelter for a while before police arrived and he threatened no one before he began stabbing himself in the neck.
The "knife" as described by the witness, was a box cutter.
According to posts on social media, the 48-year-old dockworker had been suffering from a mental health crisis over the past week.
"John hadnt been himself for like the last week," a family friend wrote.
Another friend of Elifritz posted on his Facebook page, saying: "My friend John, was also in crisis when, he was profiled and murdered."
"He was stabbing himself with his knife. How could he have lunged at police?'' David Elifritz, the victim's older brother asked. "You see the video and you think cops are supposed to be trained to handle this. There's quite a space between him and the officers.''
Not only was there a vast space between a man who was "armed" with a box cutter—who was only cutting himself—and 13 cops with AR-15s and a K9, but their was also a wall. Also, Elifritz was hurting himself only and had not hurt anyone else.
For cops to shift to deadly force so quickly seemed entirely unnecessary. As the video appears to show, at least one officer did attempt less than lethal force, using beanbag rounds. However, live rounds immediately followed.
"As officers contacted the adult male suspect, shots were fired," police said in a press release. "Officers immediately requested emergency medical personnel respond to the scene."
Sadly, however, Elifritz, who was in the midst of a mental crisis and who needed medical help, did not survive the multiple gunshot wounds and he died at the scene.
"The Portland Police Bureau values human life and accepts the authority to use lethal force with great reverence," Outlaw said. "The Police Bureau is committed to transparency and will ensure the entire investigation is released in a timely manner that does not impact the integrity of the investigation."
Elifritz was a husband and a father. And now, his young daughter and wife will live on knowing that police chose to kill him instead of bravely waiting it out or attempting to disarm him. A tragedy indeed.
Below are the two disturbing videos.
Before the shooting:
The Shooting: