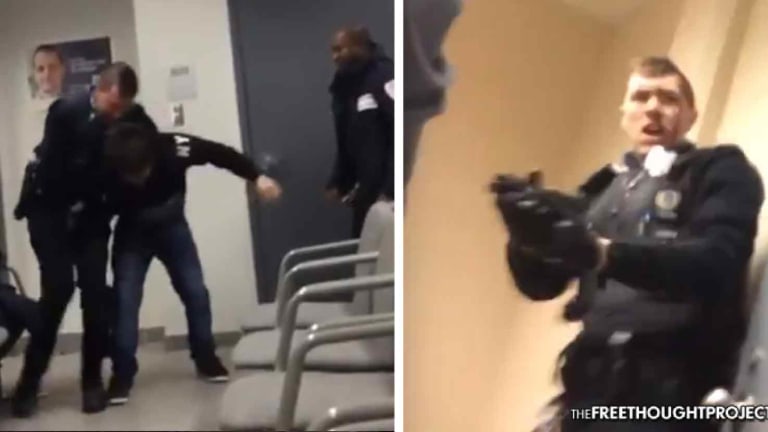 WATCH: Cops Shoot Teen in the Head as His Parents Watch in Horror
Dramatic video captured the moment courtroom police shot an 18-year-old kid in the head as his parents watched in horror. The video has since prompted major backlash.
Maniwaki, CA — An 18-year-old kid was shot in the head this week by police after an argument broke out between him and authorities. The teen, Steven Bertrand narrowly escaped with his life after an officer pulled his gun and shot him in the head. The chaotic and disturbing scene was all captured on cellphone video.
Christoper Lacaille, Bertrand's cousin and the person who filmed the incident, said Bertrand had wanted to go out to the courtyard for a cigarette. But when the guards refused, an argument broke out which led to the officer placing Bertrand in a headlock.
Instead of submitting to the court officer, Bertrand struggled and backup was called in. As the other officers join in to get Bertrand under control, he is shoved into another room as multiple cops pile on to him.
How, exactly, a half dozen cops couldn't get an 18-year-old unarmed kid under control remains a mystery. According to Lacaille, the violence was unnecessary as well.
As the struggle continued, Bertrand's mother began screaming and Lacaille ran to the entrance of the room just in time to film the officer shoot Bertrand in the face.
Julie Bertrand, the teen's mother, and Lacaille began screamingly and crying hysterically as their relative lay bleeding on the ground.
"It's not an experience to live. I can not stop thinking about that" Lacaille told Le Soleil.
In a statement, Quebec's bureau of independent investigators (BEI) said that Bertrand seized a baton from the court security officer and hit him on the head. The court security officer then shot Bertrand—striking him in the face.
According to reports, the bullet struck Bertrand near the eye and lodged in his neck. As CTV reports, in several posts on social media, a woman identifying herself as Bertrand's mother said her son is in a medically-induced coma and that he did not suffer any brain injury.
Julie Bertrand said her son was in court to be sentenced to six months in jail.
The video has since gone viral prompting backlash against the police. On Thursday morning, the Minister of Justice and MP for Maniwaki, Stéphanie Vallée, called for restraint.
"Threats, words of this nature can lead to accusations. We must be reserved not only in what we say in everyday life, but also in our comments on social networks. We can be shocked by the images we see. One can be shocked by a situation, but to answer that way, to respond with violence, no matter in what situation, it can have a boomerang effect. I find it totally unacceptable to make such comments on social media," said Minister Vallée.
Below is this most disturbing video.
This incident is reminiscent of the case of Joseph Haynes who was killed by police last week in front of his mother under disturbingly similar circumstances.
Haynes intervened after a police officer allegedly pushed his mother against the wall—so the police officer shot and killed him.
Video of the aftermath was taken by Constance Gadell-Newton, Juvenile Defense Attorney for Franklin County Ohio who witnessed the lethal altercation and pulled out her camera to document it.
In the video, we can see Haynes' mother hysterical after her son lay dying on the floor of the courtroom. Infuriatingly enough, instead of attempting to call for help or render aid to the boy bleeding out on the floor, police call in back up to remove Haynes family.
"Oh my god you killed my son!" Haynes' mother screams in horror. At this point officers then begin to forcibly remove the mother and the grandmother who are in obvious shock after witnessing Joseph's killing.
Luckily for Bertrand, however, he has escaped with his life.