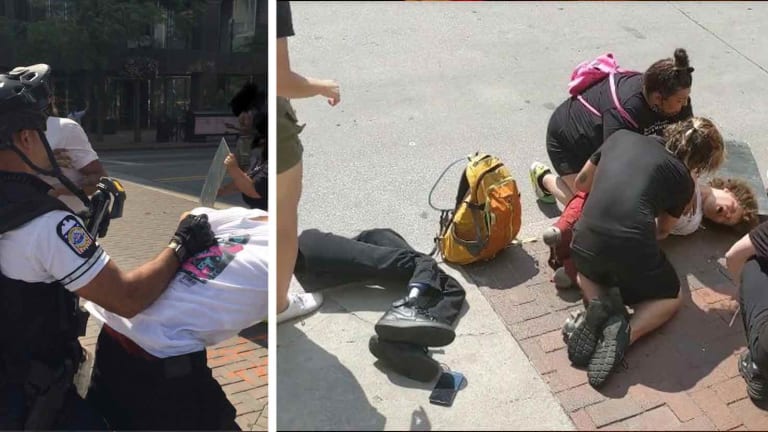 WATCH: Cops Allegedly Pepper Spray Double Amputee, Steal His Legs as He Crawls for Help
A double amputee was allegedly attacked by an officer who was reported to have pepper sprayed him before stealing his legs.
UPDATE: Police have responded to the video and claim they have video that proves they did not remove the man's prosthetic legs.
"We absolutely did not do that," Sgt. James Fuqua said. "This is going to show in this particular shot the individual demonstrator throwing the object on this one," Fuqua said while showing a video last June.
The video shows police never chased the man after he threw the sign and water bottle. It is unclear what transpired before the video below was taken.
Original story below:
Columbus, OH — After countless innocent people were injured in protests by police using tear gas and pepper spray over the past several weeks, last week, the city of Columbus, Ohio issued a mandate for cops to no longer use tear gas and pepper spray "to disperse non-agressive, non-violent crowds."
"Let me be clear," Mayor Andrew Ginther tweeted. "Tear gas and pepper spray will no longer be used to break-up peaceful protests." Ginther also limited the use of pepper spray to instances of clear violence. Fast-forward to this week and that order has clearly gone out the window.
Naturally, police and protesters have a difference of opinion on exactly what is considered "peaceful." To many cops, doing anything besides silently standing in a designated free speech zone while holding a sign, is violent and will not be tolerated. But when protesters stand in the roads, though they are non-violent and not destroying any property, cops take this as a signal to wage their war.
When protesters took to the streets on Sunday afternoon in Columbus, police were given a pass to use chemical weapons. Only five days after issuing his order preventing cops from using pepper spray on anyone but violent rioters, the mayor backtracked and supported its use on peaceful people standing in a street.
"We have been clear about respecting and protecting peaceful protest. We also must keep city streets open to the public to travel and protect residents from lawlessness including the drag racing, fires and injuries in recent nights," Ginther said.
"As police tried to clear streets, they were met with violence from some and took action, including using mace and pepper spray as appropriate to keep crowds in sidewalks."
"I will reiterate again that we respect and encourage peaceful protest, but aggressive acts that put police and protesters in danger cannot be tolerated."
Despite claiming protesters were using violence against police, only a two arrests were made. Apparently someone threw a motorized scooter at an officer and they were arrested. This incident appeared to be the impetus behind a major crackdown shortly after.
As the Columbus Dispatch reported, Josh Williams of the Millennium Movement, who has been present for most of the demonstrations, said that he didn't see the scooter throwing incident but did view the immediate aftermath at Broad and High Streets. "Officers were using their bikes as weapons," Williams said, noting that officers used bikes to push people back. That is also when tear gas was deployed on the crowd. "They did everything that they said they weren't going to do. They used excessive force and tear gas," Williams said. One of the victims of the riot police was a peaceful protester who happened to be a double amputee. "I watched a Black man who is a double amputee fall out of his wheelchair and crawl for yards down High Street after being maced. It was one of the most awful things I have ever seen. He was terrified," 
I watched a Black man who is a double amputee fall out of his wheelchair and crawl for yards down High Street after being maced. It was one of the most awful things I have ever seen. He was terrified. Your tweet did not help him. https://t.co/Z4P8VgqRNe
— Stacey N. Hauff (@stacey_hauff) June 21, 2020
">tweeted attorney Stacey Hauff.
The subsequent video of the incident is hard to watch. It shows the unidentified man writhing in agony on the ground as people attempt to get him help. "Medic! Medic!" one of the people helping him screams. The man's prosthetic legs are lying on the ground several feet away. According to those who attended the protest, police reportedly ripped the man's legs off and refused to give them back. However, other protesters reportedly rushed the cops, facing a massive dose of pepper spray and retrieved his legs. Witnesses say the young man was unarmed and non-violent when he got pepper-sprayed and allegedly assaulted by police. https://twitter.com/SikhProf/status/1274904197222326273 Another tweet was posted along with the video above, alleging to have caught the act on film. That is below. We are told that the Columbus police department is "investigating" the incident.