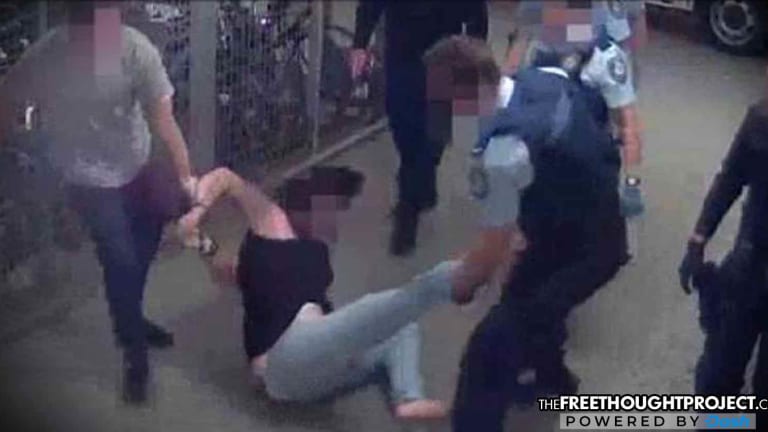 Horrific Video Catches Cops Dragging Innocent Woman By Her Handcuffs Across Concrete Floor
Multiple police officers have been recommended for discipline after graphic video showed them brutally dragging a handcuffed and innocent woman across a concrete floor.
Sydney -- Multiple police officers stand accused of using excessive force and lying about it after harrowing video showed them handcuff a woman for apparently no reason and then violently drag her by the handcuffs across a concrete floor, leading to multiple injuries.
The defenseless woman, who remains unnamed, was arrested on April 9, 2016 on multiple charges after the ordeal. However, having no evidence of an actual crime, all the charges were then dropped.
The video is now the subject of a hearing of the New South Wales' Commission, in which the brutal actions of ten police officers are under investigation.
The graphic footage shows one officer dragging the woman across the floor by her handcuffs as another grabs her feet. Because she is surrounded by nearly a dozen cops and in handcuffs, the use of force appears to be entirely unnecessary and excessive.
As the video shows, none of the other officers standing around attempt to prevent their fellow cops from savagely assaulting the woman.
According to ABC, the Counsel Assisting the Commission, David Huen, is now recommending that action be taken against some of the officers.
He recommended that one of the officers should be found to have used "excessive force whilst engaging in an inappropriate method of moving" the woman.
"Officer One engaged in serious misconduct which could result in either serious disciplinary action," Mr Huen said. "Or referral to the Director of Public Prosecutions for advice with respect to a possible prosecution."
To defend their actions, officers claimed the woman was a "difficult" prisoner and lashed out and assaulted officers in the moments leading up to her brutal treatment captured on video. However, none of this alleged assault was captured on video and officers were caught lying about it.
According to Huen, at least one of the officers lied to cover up the incident and gave false information in the local court and two other officers have committed serious misconduct for their testimonies.
Four other officers are recommended for internal discipline for their unsatisfactory performance in their statements in court as well.
According to reports, the punishments for the officers will be announced at a later date. Below is the disturbing footage.
As the Free Thought Project has reported, Australian police can be just as brutal as their American counterparts. While sleeping in bed with her fiancé in 2016, a former Miss Australia awoke to a police flashbang grenade disfiguring her face and melting her hand. Although she required immediate medical attention, paramedics did not arrive at the scene until 40 minutes later.
Crowned Miss International Australia in 2013, Felicia Djamirze was asleep in bed with her fiancé, Dean O'Donnell that morning, when a police flashbang grenade landed in their bedroom. Accused of drug trafficking, the former Miss Australia was placed under arrest as police waited 40 minutes for an ambulance to arrive. The cops refused to allow Djamirze to see her injuries even though she suffered third-degree burns to her face and right hand.
"The police treated this like a military operation which was entirely unnecessary," Djamirze's lawyer, Chris Ford, told the Daily Mail. "There was a high level of both physical and electronic surveillance. The police must have known my client was sleeping in a confined area when they tossed the stun grenade into her bedroom."
The former beauty queen is now left blind in her right eye and suffers from PTSD as a result of these Australian cops.