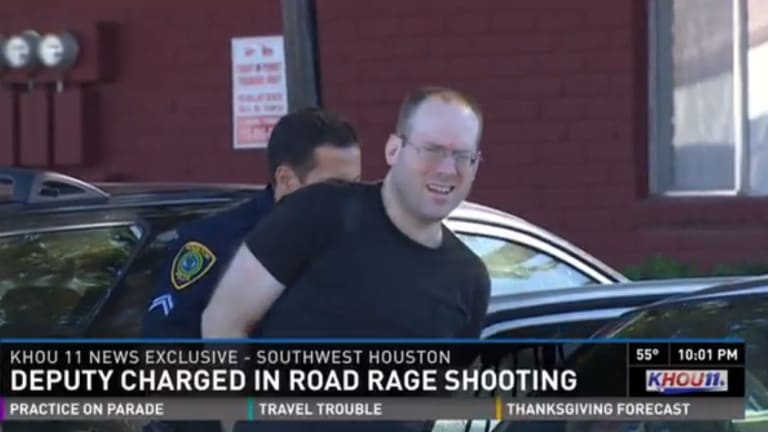 In a Fit of Road Rage, Houston Cop Shoots Woman In The Head
Houston, Texas - Kenneth Caplan, a reserve deputy constable with Harris County Precinct 6 has been charged with aggravated assault with a deadly weapon, after shooting a woman in the head during a fit of road rage.
The officer was reportedly driving on the 610 Loop at Stella Link about two weeks ago, when he cut off a 20-year-old woman who was also driving on the highway. The woman responded by pulling in front of him, and cutting him off. Next, the off-duty officer pulled up next to her car, pointed his gun directly to her window, and fired.
The victim was struck in the head with the bullet, but was still conscious enough to stop her car immediately and dial 911.
The victim does not want to be identified because she fears further retaliation from the police, but she has been speaking with the media anonymously.
"I feel like I got a taste of death honestly. All of a sudden I'm driving, and this guy cuts me off. He was about to hit me. I switched to the other lane, I got in front of him and I cut him off. I guess that pissed him off. He went like that and he just fired at me. And then all of sudden I heard a ring in my ear," the victim told KHOU 11 News.
Deputy Kenneth Caplan was arrested on Wednesday morning when police raided his house, but it has not yet been revealed how Caplan was caught, or how the shooting was traced back to him.
After the arrest, the Harris County Police Department made the following statement:
"Kenneth Caplan was not on duty at the time of the incident in which he was involved nor was he displaying any article connecting him to the Harris County Constable's Office – Precinct 6. The Harris County Constable's Office – Precinct 6 neither condones nor tolerates the actions taken by Kenneth Caplan that connected him to this incident, and the necessary measures were taken to collect his credentials and remove him from our status."
What do you think? Had Caplan been in his uniform when he shot this lady in the head, would the department have been so quick to disassociate themselves with him? Would he have even been arrested?
John Vibes is an author, researcher and investigative journalist who takes a special interest in the counter culture and the drug war. In addition to his writing and activist work he is also the owner of a successful music promotion company. In 2013, he became one of the organizers of the Free Your Mind Conference, which features top caliber speakers and whistle-blowers from all over the world. You can contact him and stay connected to his work at his Facebook page. You can find his 65 chapter Book entitled "Alchemy of the Timeless Renaissance" at bookpatch.com.