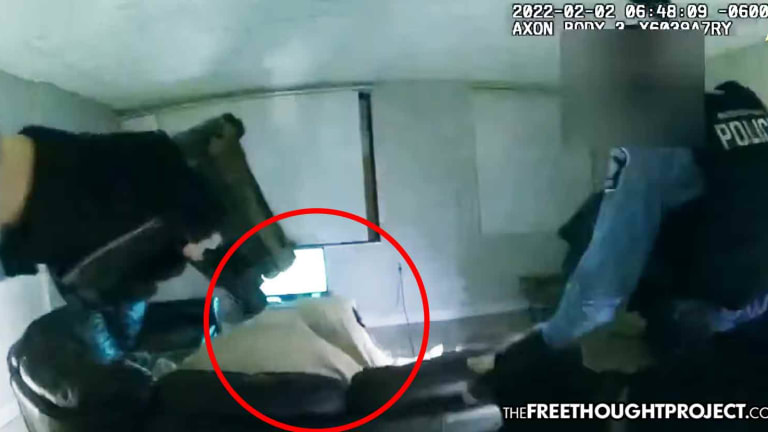 During No-Knock Raid on Wrong Person, Cops Execute Innocent Man as He Slept on Sofa
After promising to limit no-knock raids, Minneapolis cops served a no-knock raid on the wrong person and executed him on his sofa.
Minneapolis, MN — After the death of George Floyd in May of 2020, the nation engaged in fierce debates about how to curb the problem of excessive force in the land of the free. After massive proposals from then-Congressman Justin Amash and Senator Rand Paul who wanted to end qualified immunity and no-knock warrants respectively, were largely ignored, other municipalities stepped in and offered local solutions. Minneapolis — the department who killed Floyd — was one of these actors who claimed that they were going to heavily restrict the use of no-knock warrants. But according as we predicted at the time, it appears this was all smoke and mirrors.
In November 2020, Minneapolis made a highly welcomed announcement noting that they were going to curb the use of no-knock warrants by placing heavy restrictions on their use.
Under those guidelines, no-knock warrants are only acceptable in high-risk circumstances such as a hostage situation. "Outside of limited, exigent circumstances, like a hostage situation, MPD officers will be required to announce their presence and purpose prior to entry," the department's press release stated.
In the following instance, police did announce themselves, but only after they broke into a man's apartment — without knocking. The man inside the apartment was Amir Locke — and he was not the man for whom police were looking.
As the video shows, police did not knock prior to entering Locke's apartment and only shouted "police search warrant" after they were inside. This is the very definition of a no-knock raid.
As they broke into his home, Locke was wrapped in a blanket, sleeping on the couch. As one of the cops kicks the couch, officers yell "get on the ground" and "show me your hands."
Clearly startled as armed intruders woke him up in the middle of his sleep, Locke begins to move around and at some point grabs a gun to defend himself. He would never get the chance to defend himself, however, for as soon as he picked up the gun, police began dumping rounds into him — executing Locke while he slept on the couch.
"This video raises about as many questions as it answers," Mayor Jacob Frey told reporters following the release of the footage late Thursday, according to Michigan Public Radio. "We intend to get answers as quickly as possible."
As MPR reports, the search warrant was tied to a St. Paul homicide investigation. Locke was not named in the search warrant and it's not clear if he figures into the St. Paul case, Amelia Huffman, the interim Minneapolis police chief, said after the video's release.
Before body camera footage was released, the original police report claimed Locke pointed his gun at officers. However, that is not apparent in the newly released footage. What's more, when TFTP slowed down the footage, we found that Locke's finger wasn't on the trigger and he was practicing gun safety by keeping his finger straight and off the trigger.
Despite claiming to limit the use of no-knock warrants, Huffman told reporters that officers had obtained a no-knock warrant for the apartment.
A man sleeping on the sofa is not the same as a hostage situation and hardly meets the criteria for a "high risk circumstance." Had police simply knocked at a reasonable hour, Locke would be alive. As he was innocent, he likely would have just opened the door and talked to police. Instead, they broke in and executed him.
The Minnesota Bureau of Criminal Apprehension is investigating the shooting, and the department will review to see if its policies and procedures were violated, Huffman said, according to MPR.
"We all know these events happen very rapidly, and as there's a gun emerging in your direction you're forced to make a split-second decision about when it's a threat," she said.
But the community disagrees. Activists at the press conference on Thursday pointed out that police never even told Locke to put down the gun before executing him.
"What we are seeing is business as usual," said civil rights attorney Nekima Levy Armstrong. "If (police) knew that the kid had a gun as he started waking up, say 'Drop your weapon.' They didn't do that."
Indeed. They did not.
Ben Crump, who also represented Floyd's estate, said in a press conference on Thursday that Locke had no criminal record and his gun was legally owned.
Disgustingly enough, this is the second video in just a week in which police are seen serving a warrant on the wrong person and executing them on their own sofa as they slept.
Last week, we brought you the story of Isaiah Tyree Williams, a teenager who was also asleep on his sofa in Las Vegas before police broke in and executed him.