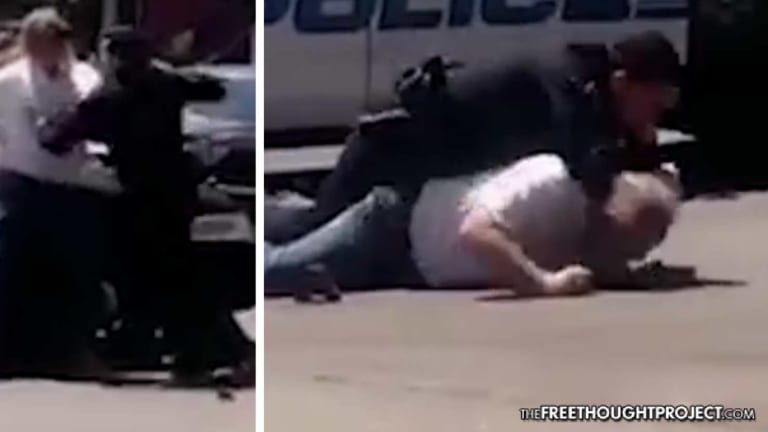 WATCH: Elderly Man Calls 911 for Help, Cops Show Up, Smash In His Face
A California man is recovering after sustaining injuries during a violent arrest, all caught on camera -- after he called 911 for help.
Yuba City, CA -- When 58-year-old Ronald Ybarra called police, he probably thought they would help him get his money back. Instead, when the police officer arrived, he ended up punching the elderly man several times before slamming him to the ground and placing him in handcuffs.
Ybarra called Yuba City police after a man allegedly stole his check for $5000 and cashed it. Ybarra did, understandably, what many would have done. He asked law enforcement for help. That was his first mistake, apparently.
But before police could get to the scene, a fight broke out between Ybarra and the man who'd allegedly stolen his money. Upon arrival, an officer made contact with Ybarra.
But somewhere between restoring the peace and taking people to jail, an unnamed officer began to punch Ybarra in the face. After throwing a few blows, he then threw him down onto the pavement.
After Ybarra was charged with "resisting arrest," his wife, Kathi, took her concerns to the court of public opinion. She told reporters for KCRA 3 News the fight outside the local Taco Bell resulted from the theft of Ybarra's money.
He confronted him and called the police department to come because the guy had cashed his check for $5,000
Kathi rejected any notion he was resisting arrest:
If he would have attacked a police officer like they're claiming, you know I think they would have shot him. And I think they would have charged him with assaulting a police officer not just resisting arrest.
Fortunately for the Ybarra family, a bystander was recording the incident which shows the officer punching Ybarra in the head several times before slamming his face on the ground.
Kathi says they're now ready, willing, and able to sue in order to ensure that what happened to Ybarra does not happen to someone else.
I would imagine he's going to try to file a law suit against the county. It's time the city, someone needs to hold them accountable," Ybarra said. "This was just too much. He didn't lose his life, but he very well could have.
As Action News 12 reports, Yuba City Police officials are looking into whether excessive force was used by the officer, which is standard procedure according to department officials.
Unfortunately, Ybarra's encounter with police is not unique. Gone are the days when police officers would kindly ask someone to turn around and place their hands behind their back.
The family believes the officer used excessive force in subduing the aging gentleman. Yuba City Police Lt. Jim Runyen told the press the incident is now being investigated. He said:
Our officers wear body cameras and those are being reviewed for evidence ... Use of force is something we take very seriously and review to make sure it's within department policy.
Very little punishment will likely be given to the police officer involved. When police brutality issues are being investigated, officers are often allowed to be at home on paid leave. In other words, when officers screw up, they get rewarded with a taxpayer funded vacation.
In the video below, watch as the officer needlessly socks Ybarra in the face several times even though he doesn't appear to be resisting. This could be your grandpa or your father. Remember, Ybarra was the one who called the police for help.