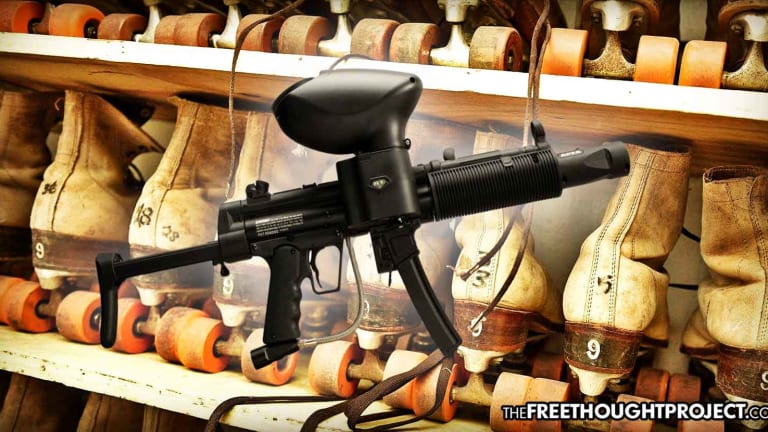 WATCH: Cops Open Fire with Pepper Spray Guns on Children at End of School Skate Party
Children were peacefully celebrating their last day of school at a skating ring until "militarized" Euclid "SWAT Team" showed up and began shooting them with pepper spray.
Euclid, OH — Once again, the cops from what is now becoming one of the most infamous departments in the country are in the spotlight. This time, Euclid police are in the spotlight for pepper spraying hundreds of children at an end-of-school skate party.
Tensions between police and citizens in Euclid, Ohio have come to a head in recent years after police killed an unarmed 23-year-old man over a marijuana roach, officers were seen on video pulverizing another man over a suspended license, beating the hell out of an innocent man after mistaking his colostomy bag for a weapon, and as TFTP reported in October, humiliating an innocent woman by assaulting her after she'd just gotten out of the shower, then dragging her from her apartment and refusing to let her put on clothes as they kidnapped her. Now, the Euclid police department can add children to their list of victims.
Last week, children from area schools had a party at the Mig's Pla-Mor Roller Rink. The owner of the skating rink, Miguel Sanders said there were no problems among the peaceful kids until the Euclid police officers showed up and demand the party be shut down, claiming it was over capacity.
"I said, 'No, I'm not over capacity because I've given out wrist bracelets that are numbered and shows me how much where our count is.' We were at 250 children at that time," Sanders told WKYC.
Sanders said the rink is rated to hold 440 children and just 400 kids showed up to the event. When police got there, there were still nearly half of them waiting in line outside to get in.
"They went in looking like a militant group with rifles on their back," Sanders said. "Euclid police, along with the fire department, basically stormed into the building like a SWAT unit."
Before police arrived, Sanders told WKYC that the children were exhibiting "exemplary behavior" and that there was not a single issue.
According to Sanders, police essentially incited a riot among the children, telling the ones waiting in line that no more of them could enter and eventually forcing everyone to leave. That's when all hell broke loose and police began using riot gear on the children, pepper spraying and shooting the children with pepper balls.
"Now, I got all these kids spitting up, throwing up, coughing and eyes watering," he said.
WKYC was on location that night and their cameras captured the chaos spawned by police intervention. So did police body cameras.
"It was scary. It was frightful to me let alone we are talking about 13, 14 15-year-old kids," Sanders said.
As WKYC reports:
Sanders believes the party was doomed from the very beginning. He says he hired a couple of Euclid police officers to do security for the event, but they never showed up. He added he never got a reason as to why. However, he says he did have other security personnel there.

Sanders also says he's disappointed in police and how they handled themselves. He says it didn't have to get to that point. Sanders calls their actions unprofessional and believes the officers need more training on community policing.
Despite having security and despite the claim that Sanders hired Euclid officers to monitor the event, the city responded to the police action that night by filing a nuisance claim against Sanders. They claim he did not have a permit for the event and that he did not have proper security—despite having proper security and despite trying to hire cops.
What's more, despite the claims by police that the children were "rioting," their own body camera footage shows kids just standing and walking around peacefully. Nevertheless, they defended the tactics of shooting children with pepper spray balls.
According to police, four children were arrested after the chaos erupted.