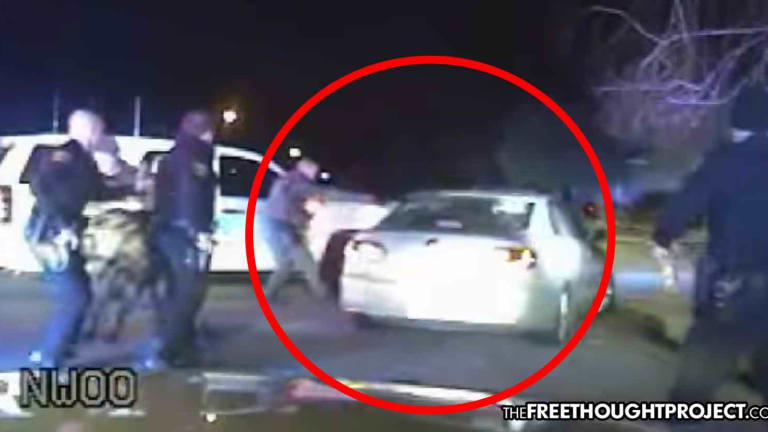 Cop Charged After Video Shows Him Execute Unarmed Mother by Shooting Her in the Head
A California police officer has been charged with manslaughter after he was caught on video executing an unarmed mother, shooting her in the head.
Ripon, CA -- Mother and wife, Evin Olsen Yadegar had her life stolen from her last year by Stanislaus County sheriff's Deputy Justin Wall who publicly executed her for no reason. The senseless killing was captured on dashcam and was so unnecessary that Wall has just been charged with manslaughter.
Evin Yadegar, according to her husband Hanibal, was undergoing a manic episode due to her bipolar disorder on February 26, 2017. He explained that she never would've hurt anyone and was merely trying to find a safe place after a confrontation with a hotel security guard.
According to Sheriff Adam Christianson, the security guard reported that Evin Yadegar had begun an argument and a subsequent physical altercation occured. When a deputy arrived, he saw Yadegar's vehicle pulling out of the parking lot.
According to the release from the San Jaquin County District Attorney's Office, the killing came after a low speed chase when Yadegar left the hotel during the argument with a security guard.
On February 26, 2017, Stanislaus County Sheriffs' Deputies were dispatched to a Modesto-area Hampton Inn, regarding a battery. There, a description was given of suspect who turned out to be Mrs. Yadegar. Mrs. Yadegar was located driving her Volkswagen sedan. When a deputy attempted to pull Mrs. Yadegar over, she failed to stop and led the deputy, and eventually other law enforcement officers, on a slow speed pursuit that wound its way up to the City of Ripon. Deputy Wall was one of the pursing vehicles.

Ripon Police joined in the pursuit once Mrs. Yadegar entered the city. The slow pursuit found its way to a neighborhood off Main Street where, for several moments, Mrs. Yadegar's car stopped. During an attempt to extricate Mrs. Yadegar for her car, she drove off again. At that time, Wall fired four shots at Mrs. Yadegar.

None of the other officers at the scene fired their weapons.

Life saving measures were conducted by the officers at the scene until emergency medical personal arrived. Mrs. Yadegar was pronounced dead when she arrived at the hospital. Mrs. Yadegar had succumbed to a single fatal wound.
The DA's report made no mention of officers being in danger during the chase -- because they were not. Although Mrs. Yadegar, 46, did put the vehicle in reverse, she only did so briefly to drive around the cruiser blocking her path.
While this move did not prompt any of the other officers to even pull their weapons, Wall felt it necessary to open fire at the woman's head as she drove off.
DA Tori Verber Salazar said in the release, "The responsibility to enforce the law brings with it an unflinching duty to follow its commands. No one is above the law. When individuals we entrust to uphold the law engage in acts that result in the death of others, it is our duty to investigate those cases thoroughly, fairly and with due regard for the rule of law our office — and our partners in law enforcement — are sworn to uphold."
Sheriff Christianson, after announcing that his deputy was being placed on administrative leave for executing an unarmed mother and wife, then went out of his way to praise Wall.
"His personnel file is full of nothing but attaboys, if you'll call them that, from peers, supervisors and citizens," he said about Wall. "He's a good deputy sheriff."
The Modesto Bee reports that at his 11th Street restaurant, the Barkin' Dog Griil, on Monday afternoon, Evin Yadegar's husband, Hanibal, deferred comment to his Stockton attorney, Stewart Tabak. Tabak said he and Yadegar had learned of the charges only Monday morning.
The release says: "Mr. Yadegar — on behalf of both he and his young son — respects and values the thorough and diligent investigation which the San Joaquin County District Attorney's Office conducted and has now completed. We both value and respect the courageous decision which has been made, and the prosecution of Deputy Wall to which the DA's office is committed. We firmly believe that it was — and is — the absolute right conclusion to reach and the appropriate thing to do. We are confident that justice will be reached on behalf of Mrs. Yadegar."
In October, the family filed a lawsuit against Stanislaus County that alleges the county failed to "adequately train and supervise its sheriff's deputies," which resulted in a use of "excessive force."
In March, the lawsuit was amended with stronger language noting that Evin Yadegar's death was the result of "complete defiance and contradiction of vitally important policies, procedures and accepted training protocol."
The complaint states the Wall's actions that fateful morning amounted to an "execution" of an unarmed woman with clear signs of mental health problems who exhibited "no dangerous behavior."
Below is the disturbing footage illustrating how a police officer's irrational fear can turn deadly in an instant. It is, unfortunately, a scene that plays out time and time again.