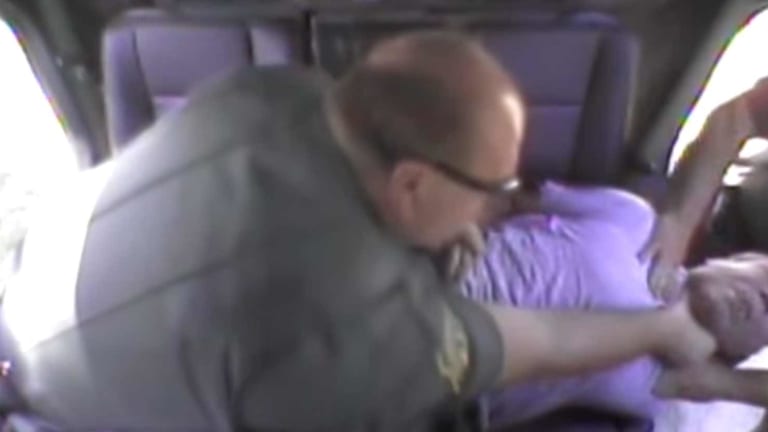 WATCH: Family Calls 911 for Help, Cops Show Up, Beat Handcuffed Mentally Ill Man Instead
A family called 911 for help with their family member in a mental crisis. Instead of help, a cop unleashed fury and rage and then lied to cover it up.
Butler County, PA — All too often, families in need of medical help for their mentally ill family members in a crisis call 911 and receive anything but help. All too often, police—who have zero training in dealing with the mentally ill—will show up to these medical calls for help and abuse, assault, arrest, and sometimes even kill those in need of help. The family of Kent Bowers experienced this abuse firsthand after calling police for help and watching their family member instead get attacked.
On October 6, 2016, Bowers' family called 911 because Bowers, who they say has a history of mental illness, was having an episode and began behaving erratically and making threats, according to a lawsuit filed this week by the family.
When police arrived at the family's home, Bowers retreated and barricaded himself inside.
Officers attempted to make contact with the Plaintiff and determined that Plaintiff had barricaded himself in his home, and, therefore, it was necessary for the officers to forcibly enter Plaintiff's residence. Thereafter officers forcibly entered Plaintiff's residence where Plaintiff surrendered to the officers peacefully without incident.
At this point, the incident should've been over and Bowers should've been brought to the hospital. However, according to the lawsuit, Lancaster Township Police Officer David Sitler chose to punish Bowers by placing the handcuffs on him so tight that it caused severe pain.
Bowers, while still protesting the pain, was placed in the back of Sitler's cruiser while another officer contacted the Crisis Center to arrange for Bowers to be transported to Butler Memorial Hospital for psychiatric evaluation.
For an hour, Bowers was left in the back of Sitler's cruiser with the handcuffs causing continuous pain until he had enough of being ignored. According to the lawsuit, and the video, Bowers then began knocking his head and then kicking at vehicle's window to gain Sitler's attention.
Sitler ignored Plaintiff's pleas to loosen the cuffs, but instead engaged Plaintiff verbally, during which time Plaintiff insulted Sitler for being overweight.
The insult about Sitler's weight caused the officer to snap. He then ripped open the door and attacked the handcuffed man, causing his head to slam against the left rear door, according to the suit.
After tackling Bowers, Sitler is seen on the video choking him until the point that he nearly went unconscious. He then began beating him with a closed fist before he proceeded to choke him for the second time.
At that point, according to the lawsuit, Officer Magness of the Zelienople Police Department, who had witnessed Sitler initiate the attack on Bowers, approached the vehicle and opened the left-rear door to intervene. After Officer Magness opened the door to intervene, Sitler ceased his assault on bowers and stepped out of the vehicle, the lawsuit reads.
In his report, Sitler would claim that Bowers wrapped his legs around Sitler and grabbed him by his vest in an attempt to tackle him. As seen in the video, this was a lie.
According to the lawsuit, Sitler subverted and corrupted the judicial process, to charge Bowers with aggravated assault knowing the charge was false and knowing the evidence was fabricated.
Bowers was subsequently charged with four counts of terroristic threats, one count of simple assault and one count of felony aggravated assault over Sitler's claims he tried to tackle him.
Luckily for Bowers, there was a video of the incident showing this was a lie and Bowers only pleaded guilty to the terroristic threats, a misdemeanor charge, for the things he said during his psychotic episode. He avoided jail and was sentenced to 50 hours of community service.
Months after the incident, Sitler was fired from the department. However, he avoided any criminal charges for lying on a police report to cover up the fact that he had attacked a handcuffed man.
"Your termination is a result of your neglect, violation of an official duty, intemperance and conduct unbecoming an officer," the township's termination notice to Sitler stated.
It is entirely possible, being that Sitler faced no criminal charges, that he has since hired on with another department as a gypsy cop.
Bowers' lawsuit is now seeking compensatory and punitive damages from both Sitler and the Lancaster township jointly. Rest assured, that the taxpayers will ultimately be held accountable for the actions of one of Lancaster Township's finest.
h/t Black Coat Media