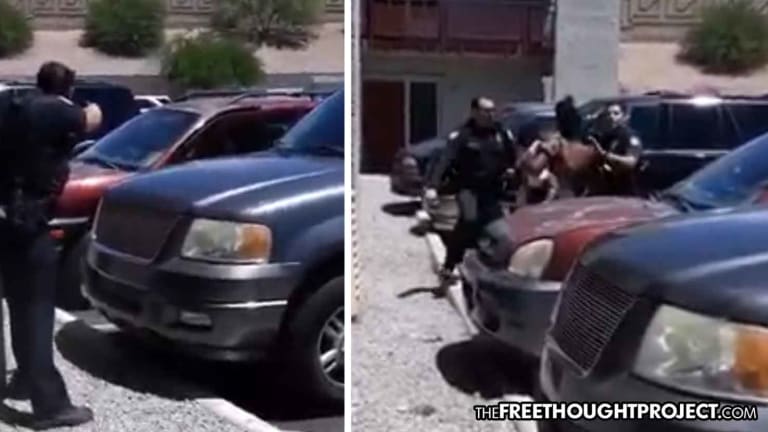 WATCH: Cops Hold Innocent Family with Small Children at Gunpoint, Threaten to Kill Them All
A family with two small children was held at gunpoint and threatened to be "shot in the head" by multiple police officers for no reason.
Phoenix, AZ — An innocent couple and their small children were nearly "shot in the f**king face" this week as multiple officers approached the car with guns drawn and began hurling deadly threats. The parents of two young children had done nothing wrong, yet 22-year-old Dravon Ames and 24-year-old Aisha Harper and their two small children found themselves with guns in their faces about to be executed.
Most of the interaction was captured on video as the family pulled into a parking lot to drop their daughter off at the babysitter.
"We just parked at the complex, dropping our daughter off to the babysitter," Ames said. "Next thing you know, a police officer, or we didn't know who he was, a guy, a random guy, comes up, open the door, banging on the window with a gun, saying he's gonna shoot us in the face, telling us to gt out of the car."
"I'm gonna f**king put a cap right in your head!" one officer is heard yelling at the car with two small children inside.
"You're gonna get f**king shot in the head!" another officer yells.
As the video shows, Ames and Harper both comply with police. However, this did not stop the officers from continuing their abuse.
"We're thinking we're gonna get shot cause he kept threatening, 'I'm gonna shoot you in the face,'" Ames said on Wednesday. "We were so scared."
As the video shows, Ames is dragged to the police cruiser as an officer kicks his legs apart and slams his face into the side of the cruiser.
In the meantime, another officer is attempting to rip Harper's 2-year-old daughter from her arms.
"If that's the way you typically stop people of color, or anybody in this city, you are asking for problems in the streets of this city," said Rev. Jarrett Maupin, who held a press conference with the family on Wednesday.
According to the family, the entire incident stemmed from their daughter walking out of Family Dollar store with a doll.
As the Phoenix New Times reports:
Ames alleges that Phoenix police approached him because, unbeknownst to him, his daughter had walked out of the nearby Family Dollar holding a doll from the store.

Ames says someone at the store told an officer on security detail that his daughter had stolen from the store, and that's why police approached him in the parking lot. He also said that despite being detained in the back of police vehicles, both he and Harper were not arrested or ticketed. He says they were released without charges after a lieutenant came and defused the situation.
Indeed, according to court records, neither one of the parents were charged with a crime.
In response to the video, police issued a statement claiming that they are looking into the situation.
"On June 11, 2019, we were provided video of an officer taking two individuals into custody while investigating a shoplifting incident in the area of 3200 East Roosevelt Street. This occurred after the suspect vehicle was stopped a short distance from the scene of the theft. It involved a man and a woman with two small children," police said.
"The Phoenix Police Department takes all allegations of misconduct seriously and for this reason, this incident is currently being investigated by the Professional Standards Bureau," the statement said.
While this incident may seem incredibly extreme, as TFTP has recently reported, it is not isolated. In April, a disturbing scene unfolded in Oklahoma City as police officers, attempting to kill a robbery suspect, opened fire on four small children, shooting three of them -- one of them in the head.
The suspect was unarmed and police had no real reason to shoot.
If you'd like to peacefully tell the city of Phoenix how you feel about this incident, you can do so at their Facebook page here.