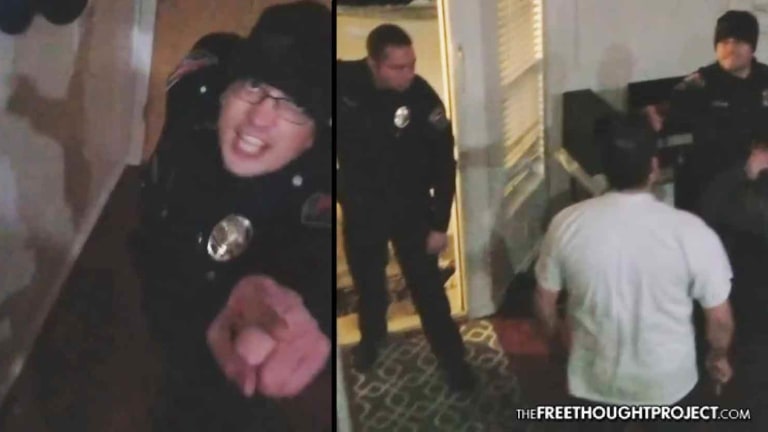 WATCH: Cops Attack Innocent Family As They Grieve the Death of 2-Month-Old Son
An innocent family had only been home ten minutes after their 2-month-old son had died at the hospital when police kicked in their door for no reason, and began pepper spraying and arresting family members.
West Valley City, UT — Last month, Tevin Evans and Maryssa Estrada experienced a parent's worst nightmare, their two-month-old son Kameron died. But after leaving the hospital, this family nightmare would get far worse thanks to West Valley City police officers.
On February 24, Kameron would succumb to the symptoms of respiratory syncytial virus (RSV) and the little two-month-old bundle of joy's light burned out forever. The death was not considered suspicious by any means. However, per police protocol, the family was told they would be getting a visit from police. The family asked if this visit could take place at their home as they needed to be with family to grieve.
Officers wasted no time, and only ten minutes after they got home from the hospital and began to grieve, multiple West Valley cops showed up at their door. Moments later, all hell broke loose.
Kameron's grandfather, very distraught over losing his newborn grandson did not know police were coming to the home. So, when he answered the door, clearly in a state of grief, he was upset to find two cops, officers Christensen and George Martinez.
"My father opened the door, yelled at the cop, 'What do you want?' And then shut the door," said Ricardo Estrada, Jr., Kameron's uncle.
As KSL.com reports, West Valley's chief described the grandfather as being "in a highly agitated state. The man shouted expletives at the officer and closed the door." On surveillance video, a man can be heard shouting at police, "What the (expletive) do you want?"
However, who wouldn't be in a highly agitated state after coming home to grieve the loss of a baby only to be harassed by cops immediately after?
Instead of knocking again and being cordial, however, Christensen kicked in their door and began arresting everyone.
"It felt very ego driven. That cop never said, 'Calm down. Here's why I'm here.' It was instantly, 'Everyone is getting arrested,'" Ricardo Estrada, Jr. said.
According to KSL, family members claimed he was immediately hostile toward them, threatening to arrest everyone. Christensen then threatened to arrest family members who pulled out their cellphones to record what was happening, and used pepper spray on several individuals including Tevin Evans' mother.
The situation became so disturbing that at least two family members in fear of their lives over the actions of the police officers called 911.
"I told them this officer just isn't handling the situation correctly," said family spokesman Ricardo Estrada, Jr.
"The family called 911 on the police. The family called 911 because they were so terrified," the family's lawyer, Salt Lake civil rights attorney Robert Sykes, confirmed.
"I was distraught. Obviously me and my wife were upset and feeling probably every emotion possible: anger, sadness, grief, everything, And then for all that to happen and the aftermath at the home, it was just shocking," said Evans who also used words such as "unbelievable" and "nightmare" to describe what happened, according to KSL.
According to Sykes, the family was prepared to announce a lawsuit this week over the incident. However, they got a call from the city's attorney Friday morning asking to meet with the family first. According to Sykes, the city actually apologized and admitted they were in the wrong.
"I think they recognize it was an outrageous violation of these people's constitutional rights at a time when they're grieving. And I think they recognize that. And to their credit, they said, 'Yes, we were wrong,'" he said.
However, Jacobs also held a press conference on Friday and noted that the city's call to Sykes was not an admission of wrongdoing.
"It is our practice to reach out to the family, get their side of it, and if they have been wronged, we will do what we can to make it right," she said.
As KSL reports:
Jacobs said Christensen, who has been with the department for about nine years, was reassigned to different duties pending the outcome of an internal investigation. She said his current duties do not involve interaction with the public.

The chief said the officers who went to the family's house were there for an unattended death investigation. They were not aware at that point that the death was not considered to be suspicious, she said.
Jacobs went on to note that after she reviewed the body camera, she thought the incident was "concerning."
"What seemed to have been a routine investigation in the video, it was a death investigation, and for it to turn into a use of force, clearly something happened. And we need to find out why it went down that road," she said.
"No warrant. No crime had been committed. There was no suspicion that a crime had been committed. Right away, (Christensen) took offense to that. You can visibly see this officer was upset. He couldn't really handle the situation," Ricardo Estrada, Jr. said. "Again, this cop is not showing any kind of restraint. No type of de-escalation at all. No respect to the situation."