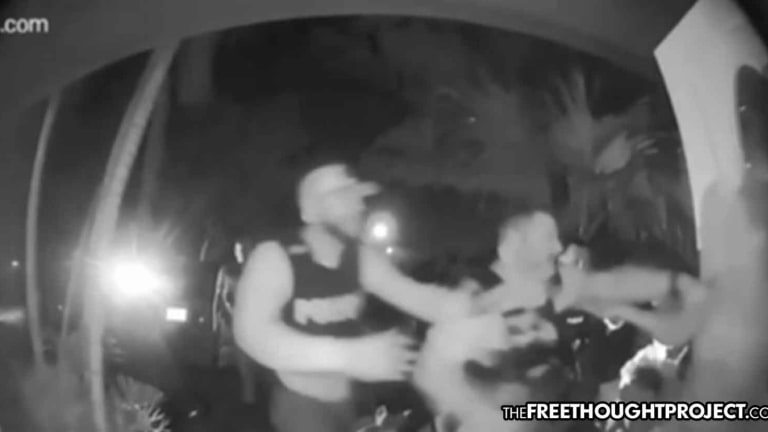 WATCH: Cops Raid Innocent Family With No Warrant, Drag Them From House and Beat Them
While looking for a suspect, who was not at the home, police officers beat two innocent family members and arrested them.
Sweetwater, FL — A family's doorbell camera captured a dramatic scene unfold on a Florida family's front porch last week. Now, the family is asking for justice after being pulled from their home and beaten by police officers who were there with no warrant.
According to the Castro family, police officers were looking for one of their relatives, 40-year-old James Castro, who was not at the house when police arrived. Police say Castro fled officers and struck one of them with a vehicle during the process.
The Sweetwater police department dispatched a team of officers to the Castro residence to arrest James but when they arrived, James was not there. What's more, the department conducted the operation without a warrant.
Despite the fact that James was not at the home, as the surveillance footage shows, officers beat and arrested two other men, Gary and Christian Castro, James' brothers, who had committed no crimes.
Naturally, the Sweetwater police are claiming that their officers did nothing wrong as they pulled the two brothers from the home and beat them in the front yard.
Police claim they didn't need a warrant to search the home because James' mother gave them consent to enter. However, this fact is disputed by James' mother, Ana Schaublan, who said she never gave consent.
"The cops come, and the first thing they say is, 'Let me see some hands,'" Gary Castro told NBC 6. "So, I showed them my hands."
Showing his hands did not protect him from the assault however as the cops are seen on video pulling him down to the ground before repeatedly punching him in the face.
"They started to beat up my son so badly. Very badly," Schaublan, told NBC 6. "And I was just trying to tell them, 'please do not hurt my son.'"
"Why are you hitting on me? You're not looking for me. You're looking for James Castro," Gary Castro recalled telling officers. "You already know that James Castro was not here. And why would you arrest us?"
"My lip is messed up. My eye is messed up. My lungs hurt. My back hurts. They had someone's knee on my calf," Christian Castro said, who was also beat up by the officers.
Instead of getting the person they were looking for — who was not at the home — police then arrested the two brothers on charges of, you guessed it, "resisting arrest."
The family is now speaking out against the department who they claim used excessive force during their raid. What's more, if the officers did enter the family's home without consent, they were in the wrong and even if the brothers had attacked the officers, it would be considered self-defense.
Sweetwater Police Chief Placido Diaz told NBC 6 that his officers did nothing wrong but also stated that he hasn't seen all the information on the case.
"This video only tells part of the story," he said. "While the initial impression of a video may appear alarming, may appear disturbing, it's still only telling part of the story. And when law enforcement looks at use of force, we have to look at the totality of circumstances. Having understand everything that took place. Not just what was captured in the lens of the video."
According to Diaz, the video of his officers beating two men who appear to be entirely non-violent and who hadn't committed a crime, is acceptable.
"Obviously if somebody made an error or mistake they will be held accountable," Diaz said. "But at this point, I have no reason to believe that."
According to police, James Castro is still at large which shows the utterly useless nature of the violence displayed by officers in the video below.