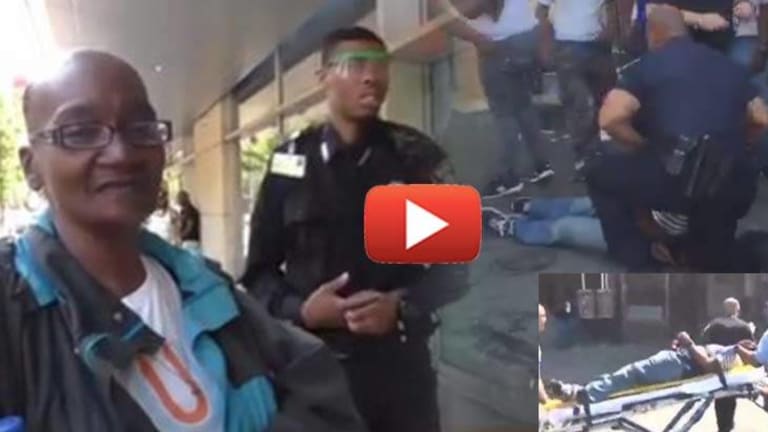 Family of Man Who Police Say they Shot and then Later Said they Didn't Shoot, Speak Out
A man was arrested in Baltimore yesterday amidst heavy confusion; his family speaks out about the mysterious incident.
Baltimore, MD -- After a week of controversy and tension relating to the Freddie Gray case, the city of Baltimore is on edge again. This time, after a mysterious police encounter, which resulted in the arrest and hospitalization of a young man named Robert "Meech" Tucker.
There were multiple witnesses near the intersection of North and Penn Monday afternoon when Tucker was approached by police for no known reason. According to witnesses, he was standing on the street minding his own business and ran when he was approached by police.
Next, witnesses say that police shot Tucker in the back as he ran, and multiple mainstream news reporters who were on the scene reported the same exact thing. In less than one hour, the mainstream sources were already backtracking and saying that they had made a mistake, because the police issued a statement denying that they shot anyone.
The police are now claiming that the shooting report is unfounded, and officers arrested a man with a gun. The person who was reportedly shot by police was also seen being loaded onto an ambulance on FOX News. This person appears to have been Tucker.
Why did the Baltimore police say there was a person shot multiple times?
From the video below it appears that Tucker was indeed never shot.

Witnesses who allegedly saw the incident say that the police are lying. Not only are they lying, but they also say that police actually sprayed large numbers of people with pepper-spray when they gathered near the scene of the crime and demanded that Tucker receive medical care.
Now, less than 24 hours after the attack, few details have been released to the media, and even Tucker's family has been left in the dark about his condition or the charges against him. Immediately after Tucker was attacked by police, his brother walked towards the area to check on him. He was then arrested by the police on-scene for "failure to obey," and was released shortly after.
After his release, he was seen in the video below telling his neighbors what happened.
Hours later, Tucker's mother was seen at the University of Maryland Hospital, just after speaking to a doctor there who assured her that her son was fine. However, as she was being interviewed at the hospital, her son was carried through by police, and she was able to see her son's condition for herself.
A camera crew with The Real News Network recorded the encounter, showing a young man that was crying and seemingly unable to speak. His lip can be seen twitching in the video, and he seemed to have trouble walking. In the prior video, his brother did mention an unconfirmed report that he had a seizure during or after the attack.
Tucker's mother said that she had never seen him cry before, and that he had been arrested in the past, but had never cried. She later told reporters that she hoped that her son did not die in police custody.
John Vibes is an author, researcher and investigative journalist who takes a special interest in the counter culture and the drug war. In addition to his writing and activist work he organizes a number of large events including the Free Your Mind Conference, which features top caliber speakers and whistle-blowers from all over the world. You can contact him and stay connected to his work at his Facebook page. You can find his 65 chapter Book entitled "Alchemy of the Timeless Renaissance" at bookpatch.com.