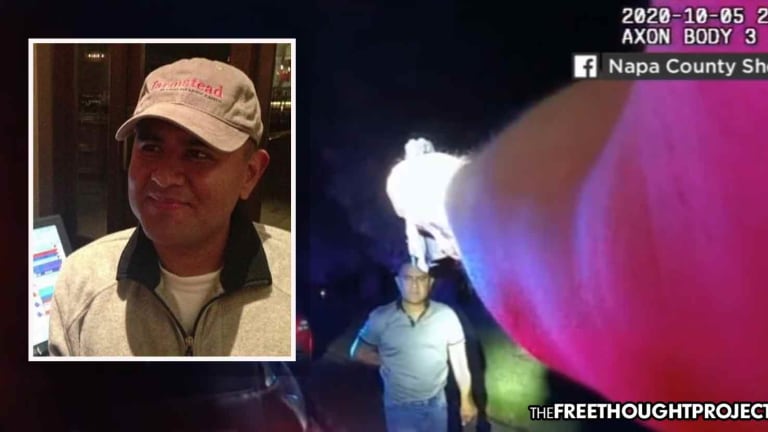 WATCH: Without Warning Cop Kills Unarmed Father of 3 Over Stop for No Headlights
A father of three was pulled over for driving without his headlights on, seconds later he would be shot six times and die.
Napa County, CA — Body camera footage was released this week showing the last moments Juan Adrian Garcia, a father of three in Napa, would be alive on this planet. He was unarmed and had been stopped for a headlight violation when Napa County Sergeant David Ackman opened fire without warning, killing him.
According to police, the incident took place on October 5 in Napa, when Ackman pulled Garcia over for not having his headlights on while driving. Upon releasing the video, Sheriff John Robertson called the shooting tragic and the video graphic.
According to Robertson, when Ackman pulled Garcia over, Garcia threw his cellphone out of the vehicle's sun roof. When ordered out of the car, Garcia initially complied and placed his hands behind his back to surrender.
For an unknown reason, Garcia then changed his mind and began walking toward Ackman.
"The sergeant backed several feet past the rear portion of his patrol vehicle as Mr. Garcia ignored several verbal commands to stop and continued to advance on Sergeant Ackman," the Sheriff Robertson said, adding that "his hand tucked behind his back."
He then went on to claim that Garcia's hand behind his back caused the deputy to fear for his life.
"As Mr. Garcia's pace increased, perceiving a deadly threat, Sergeant Ackman fired six shots at Mr. Garcia. All six shots struck him," the sheriff said.
Exactly why Garcia had his hand behind his back remains unclear. One thing is perfectly clear, however, and that is the fact that he couldn't have been reaching for a weapon as he was completely unarmed.
As we see in the video, Ackman told Garcia repeatedly to stop moving forward as he had his gun — not his taser — drawn. Had the officer not escalated immediately to deadly force, we may know the reason Garcia kept a hand behind his back that fateful evening last week.
"Sadly, there are questions about this case that may never be answered," said Robertson.
When a toxicology test was conducted after Garcia was brought to the hospital where he later died, it was determined that he was drunk. Obviously it is illegal to drink and drive, but that, coupled with walking toward an officer, should not be a death sentence. Unfortunately, for Garcia and his family, it was.
An attorney for the family spoke to ABC 7 and pointed out the flaws in Ackman's response that night.
"We don't see the officer saying 'show me your hands. Get on the ground.' We don't see the officer retreating for more than a few seconds. We don't see the dashcam video that would show Jaun's hands were empty. We don't see an immediate threat of death of serious bodily injury presented by Juan, and we don't see the officer warning Juan he is about to use deadly force," Julia Sherwin, the family's attorney said.
Had any of the precautions mentioned above taken place, Garcia would most likely be alive today and facing a simple misdemeanor charge of DUI. Sadly, they did not happen and a family is now without their father and husband.
As ABC 7 reports:
Ackerman. who has worked for Napa County for 31 years and is a 21-year veteran of the Napa County Sheriff's Department, has been put on paid administrative leave.

The incident is being investigated by the Major Crimes Task Force, which includes the Napa County District Attorney's Office, Napa County Sheriff's Office, and Napa Police Department.
Garcia leaves behind a wife and three children.