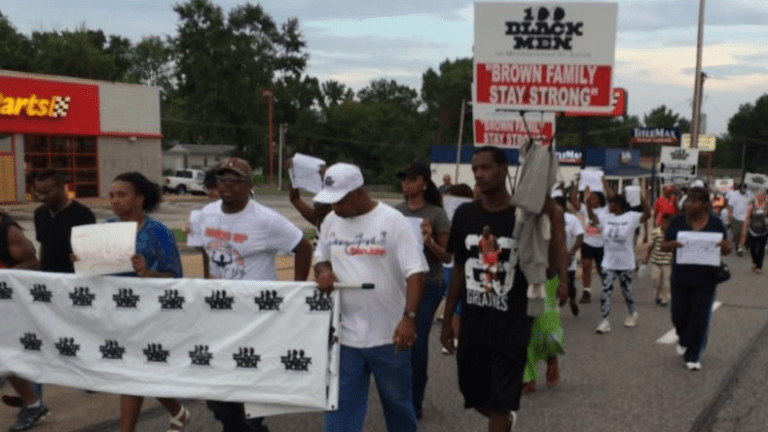 Ferguson Shooting Audio Recording Verified as Real
A new audio recording that allegedly captures a series of gunshots at the time of Michael Brown's death in Ferguson, Missouri, has been confirmed to be real by the developers behind the software used to capture it.
The 12-second audio clip first came to light on CNN earlier this week, and features a man chatting with a friend of his using a video-recording messenger system called Glide. As the unnamed individual records his message, a string of gunfire can be heard in the background. Numerous gunshots can be heard before the action is broken up with a pause. Shortly afterwards, though, another barrage of shots occurs.
At least 10 gunshots total can be heard during the recording, which Glide certified as being captured at 12:02 pm on Saturday, August 9th. This is the same time that 18-year-old Brown, an unarmed black teenager, was shot and killed by Ferguson police officer Darren Wilson.
"A Glide user living nearby (whose identity is being protected) was simply using the Glide app on their smartphone exactly as it was designed – to instantly communicate with a friend through our real-time video texting service," the app stated on its blog. "Simultaneously, they also captured audio in the background of the gunshots allegedly fired at Michael Brown."
"Because Glide is the only messaging application using streaming video technology, each message is simultaneously recorded and transmitted, so the exact time can be verified to the second."
The recording has also been handed over to the FBI, which is conducting its own analysis.
By capturing nearly a dozen gun shots, the audio also seems to back up the story of local resident Tommy Chatman-Bey, who said he heard numerous rounds when the incident occurred.
"I was right out there when I heard it," Chatman-Bey said to MSNBC. "I heard Boom, Boom, Boom, pause, Boom, Boom, Boom, Boom and then some more."
According to an autopsy conducted at the request of the Brown family, the teenager was shot up to six times, with the final shot resulting in his death.
Although the audio does not offer any insight into what transpired before Wilson began firing his weapon, Attorney Chris Chestnut – who represents another man, Jonathan Ferrell, killed by police – told CNN that the noticeable pause could go a long way to determining whether Wilson acted in self-defense of committed a crime.
"It's the pause that gives most concern in a police shooting, especially with an unarmed victim, because at this point Mr. Brown is defenseless -- he has no weapon," he said.
Some witnesses said that Brown was attempting to surrender when Wilson continued to shoot.
Some who have listened to the audio, however, said the pause could indicate that Wilson attempted to start firing, but only resumed after Brown tried to advance again. According to Wilson's account of the incident, Brown attempted to charge at him when he fired his gun.
Brown's death set off nightly protests in Ferguson, as many in the predominantly African American community gathered to express their anger with what they believe to be police brutality and excessive force. Police responded with an overwhelming show of force, deploying armored vehicles, tear gas and more in an attempt to disperse demonstrators.
A grand jury is currently meeting to determine whether Wilson will face criminal charges, though a final decision may not be made until October.
Republished with permission from Russia Today