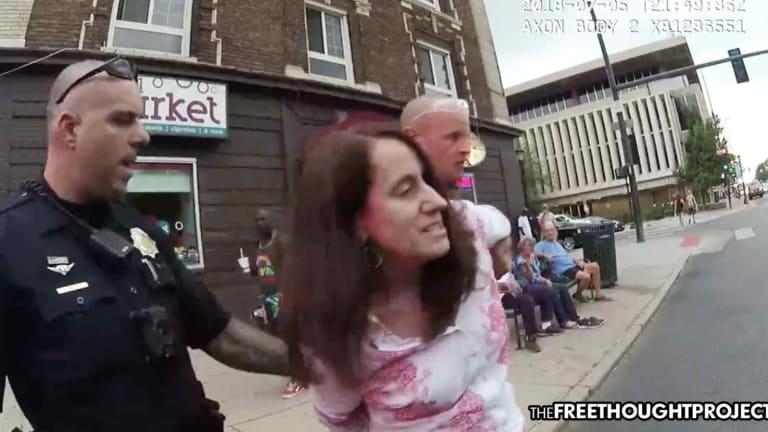 Watch the First Amendment Die as a Female Reporter Attacked by Cops for Filming Them
For doing her First Amendment protected job as a reporter, an editor of a local newspaper was assaulted and detained by cops—for filming them.
Denver, CO — Body camera footage was released this week showing two Denver police officers assault and kidnap an innocent reporter from the Colorado Independent for doing her First Amendment protected job.
The incident happened in July as Susan Greene, the Colorado Independent's editor, was attempting to report on two officers she saw surrounding a nearly-naked black man who was sitting handcuffed on the sidewalk. Greene — well within her First Amendment right to do so — took out her camera and began recording.
As Green attempted to film, however, she was immediately confronted by Officer James Brooks who moved in to block her from filming.
After Brooks moves in to block Greene, officer Adam Paulsen quickly joins in as well and the two proceed to tell the woman that she is not allowed to photograph them because it violates the Health Insurance Portability and Accountability Act (HIPAA) rights of the nearly naked handcuffed man.
"There's also a First Amendment," Greene responds to the HIPAA claim. "Have you heard of it?"
"That doesn't supersede HIPAA," Paulsen says.
Brooks then says, "Step away, or you'll be arrested for interference."
Brooks then swats the phone away and immediately after the warning, the officers move in to arrest the woman — for her allegedly protected First Amendment right to film them.
"Stand up straight," Paulsen tells Greene. "Act like a lady."
"Stand up and act like a lady," Brooks says.
"Are you fucking kidding me?" Greene responds. "Act like a lady?"
"There you go," Brooks says. "Now you can go to jail."
"Stop hurting me," shouts Greene as the manhandle the woman half their size. "You are hurting me."
"No we're not," Paulsen responds. "Walk normal. Stop resisting."
Police then kidnapped Greene and placed her in a police cruiser. After falsely imprisoning her for 12 minutes, the officers realized they had nothing with with to charge her, so Greene was released.
Greene then asks for their badge numbers and the cops respond by asking her for her press badge. A press badge is not required to film police in public. 
Last week, Greene said that the District Attorney's office called her to inform her that the officers would not be facing charges for falsely imprisoning her.
Greene detailed the call in an article she wrote for the Colorado Independent last week:
(McCann) said a charge of false imprisonment wasn't an option because there's an exemption for cops. And she said her office likely would have a tough time convincing a jury that Brooks assaulted me.

I asked McCann about her take on the incident beyond the question of criminality. "I don't know that he knew you were a journalist, for one thing," she said. "But people are entitled to take pictures as long as people are not" getting in the way of police. She added that Brooks' "act like a lady" comment "was a little unnecessary." And she said we'll likely be hearing something from Hancock's administration now that she has made her decision not to prosecute.
After the video was released this week, Greene responded in another article saying that the footage detailed the situation exactly like she remembered it.
"It squares exactly like how I remember it," she said. "The only thing I didn't realize is that when it was happening, both of the police officers told me to act like a lady, which raises the question: How exactly should a lady act when being wrongly detained on a public sidewalk for exercising First Amendment rights?"
The Independent said they are planning for the possibility of legal action against the department.
Below are the two body camera videos.
As TFTP has reported, it has been clearly established that all Americans have the right to record the police. For an officer of the law to remain willingly ignorant of this precedent is at best, dereliction of duty, and at worst, unlawful deprivation of rights. Either way, these cops were in the wrong.
As the ACLU points out,
Taking photographs and video of things that are plainly visible in public spaces is a constitutional right—and that includes transportation facilities, the outside of federal buildings, and police and other government officials carrying out their duties.

Unfortunately, law enforcement officers have been known to ask people to stop taking photographs of public places. Those who fail to comply have sometimes been harassed, detained, and arrested. Other people have ended up in FBI databases for taking innocuous photographs of public places.

The right of citizens to record the police is a critical check and balance. It creates an independent record of what took place in a particular incident, one that is free from accusations of bias, lying, or faulty memory. It is no accident that some of the most high-profile cases of police misconduct have involved video and audio records.
When police refuse to have their public service documented and this refusal morphs into kidnapping and assault, something has gone seriously wrong. No one should ever face persecution for their first amendment rights—especially in the land of the free.