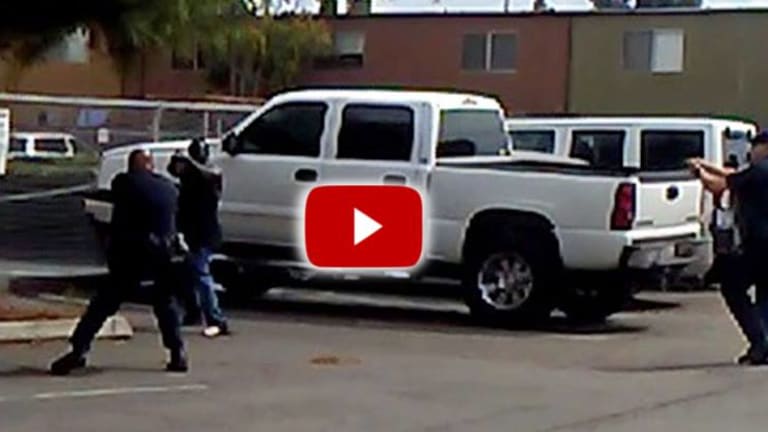 Breaking: El Cajon Police Release Video Footage of Cops Gunning Down Man For Holding Vape Pen
El Cajon, CA - In the wake of the recent police killing of Alfred Olango, for allegedly holding a vaping device in a threatening manner, violent protests broke out in El Cajon last night as police continued to refuse to release video of the shooting.
On Friday, after a night of violence, the El Cajon police department relented and decided to release the footage of the killing to the public.
Prior to the shooting, Alfred Okwera Olango "was not acting like himself", according to his sister, allegedly walking into traffic on Broadway in the San Diego suburb. She repeatedly called for assistance early Tuesday afternoon, with two El Cajon Police officers responding to the call, and finding Olango behind a restaurant, said Chief Jeff Davis, according to the Los Angeles Times.
Reports indicate that Olango had only three days prior lost his childhood best friend, which could explain the despondent behavior he displayed.
According to Davis, the man "concealed his hands in his pants pockets" and refused to obey 'multiple' unspecified commands from the officers as he paced back and forth in the parking lot.
Davis stated that as the officers spoke to Olango, he "rapidly drew an object from his front pants pockets, placed both hands together on it and extended it rapidly toward [one] officer, taking what appeared to be a shooting stance."
No weapon was found at the scene, and the object in question turned out to be a "vape smoking device with a silver cylinder that is approximately 1" diameter and 3" long that was pointed toward the officer," police were quoted explaining in a statement cited by the Times.
During last night's violence, which included around 75 individuals, a San Diego Union-Tribune photographer also was beaten and robbed as he photographed a fight at the scene of the shooting. According to the LA Times, photographer Greg Torkelson was sitting in his truck at 12:45 a.m. editing video, when a fight erupted between two men. He started photographing the fight and was attacked by the men. One of the men stole his camera, the newspaper reported.
According to the LA Times:
As the violence escalated, law enforcement officials declared an unlawful assembly and ordered protesters to disperse.

That's when protesters began throwing glass bottles at officers, prompting police to shoot pepper-spray balls at them, authorities said.

Two men, 19 and 28 years old, were arrested on suspicion of unlawful assembly, police said.

The violence came hours after Olango's family called for unity and peaceful protests.
"I am always for peace," Olango's mother, Pamela Benge, told reporters Thursday. "I don't want war. If you have seen war, you will never ever, ever want to step near."
Police later said Olango was holding a vape smoking device when he was shot.
Olango's mother said her son needed help because he was having a mental breakdown after just losing a friend, who recently died.
Olango, a Ugandan refugee, came to the U.S. with his family to escape the violence in the war-torn country.
As we previously reported, one of the officers involved in the incident, Richard Gonsalves, a 21-year veteran of the department, was demoted last year amid allegations he sexually harassed and intimidated colleague Officer Christine Greer.
In the run-up to the videos release El Cajon has asked all businesses to close early for safety reasons.
Sadly, it seems the police only respond to the public's requests for transparency is when they are forced to do so. Watch the video of this senseless killing below.