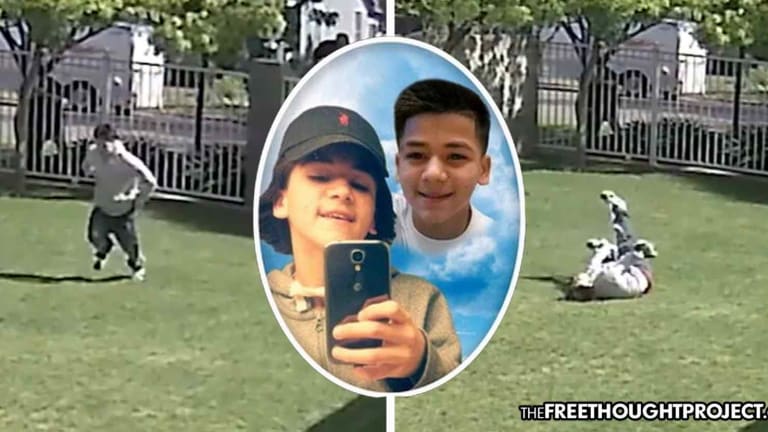 WATCH: Cop Executes Unarmed 16yo Boy, Shooting Him in the Head as He Ran Away
A police officer executed a 16-year-old boy on video, shooting him in the back of the head as he ran away and no one was held accountable for it.
Fresno, CA — An utterly disturbing video was released showing a Fresno police officer shoot and kill an unarmed 16-year-old boy as he ran away. Because the entire system is set up in a way to protect killer cops — even ones who murder unarmed children as they run away — the family of the boy is suing because the cop was never held accountable.
The video was released by ABC affiliate KFSN and it is nothing short of horrifying. The incident unfolded in April of 2017 when police stopped the victim, Isiah Murrietta-Golding, for questioning.
As the video shows, Murrietta originally complies with the officer's orders to back up toward him.
"Backwards," you can hear an officer order him in body camera footage. "Towards my voice. Down on your knees."
At this moment, for some unknown reason, Murrietta made the decision to run. We will never know why he ran, however, because the officer made sure he will never talk again when he put a bullet in the boy's head.
Murrietta runs out of view of the officer's body camera as he jumps a fence. However, surveillance footage from the day care facility in which he ran picks up where the body camera leaves off. As the video shows, Murrietta is running through the yard when Officer Ray Villalvazo takes aim and murders him.
"From the video, the officer just comes up, crouches down, and shoots," legal analyst Tony Capozzi, told KFSN.
"Sgt. Villalvazo fired a single shot, which tore through Isiah's occipital lobe," the lawsuit says.
After Villalvazo murdered the unarmed boy, in a disgusting move, a fellow officer then praised him for it.
"Good shot," the officer says to his fellow cop who just murdered a child.
Police would justify their actions that day by claiming they believed Murrietta was armed. Officers claimed that as the boy ran from them, they "feared for their lives" because he reached for his waistband several times. Despite being entirely unarmed, police would go on to claim that a teenage boy, running away, did not deserve to live because his hands approached his midsection as he tried to get away from the police.
Former Fresno Police Chief Jerry Dyer said back in March 2018 that an internal police investigation determined that "Sgt. Villalvazo's actions were within department policy," because Murrietta "reached into his waistband several times," including when he looked back at Sgt. Villalvazo the moment just before he was shot.
"Fearing he was about to be shot, Sgt. Villalvazo fired one round, striking Murrietta-Golding," Dyer said.
"There absolutely is no way the officer's life was in danger," said attorney Stuart Chandler, who represents the boy's father in a lawsuit against the city. "He was running away and he was trying to hold up his pants.
"And for the chief to make a comment that it was justified to shoot Isiah because he was considered a possible suspect, it's not the place of the police to make that determination and without a trial.
"You can't do that in America."
Sadly, as this case illustrates, you can.
What's more, according to the family's attorney, police didn't even have a warrant for Murrietta's arrest that day. They simply believed he was a suspect in a crime and they wanted to question him. We will never know if Murrietta ever committed that crime because Villalvazo played the role of judge, jury, and, of course, executioner.
"Isiah and his brother were considered possible or probable suspects," Chandler said. "There was not a warrant for their arrest. There was no conduct by Isiah that day to ever show that he had a gun - because, of course, he didn't."
"Villalvazo over there described being in fear for his life," an Action News reporter said as he watched the video with legal analyst Tony Capozzi.
"There's no way that police officer was in fear of his life," Capozzi said. "That's a justification for the shooting he committed here. Frankly, the killing he did in this particular case. There was no reason for him to shoot that gun. None whatsoever. It makes me angry just to look at this videotape."
Despite the clear video showing this public servant shoot a boy in the head as he ran away, the murder was ruled justified and officer Villalvazo faced zero discipline. Had a civilian shot a fleeing teen in the same manner — even if that teen was armed — rest assured that they would be charged with murder, as they should be. But the killer in this instance had a badge which grants him magical immunity when killing unarmed teenage boys.
"The reasonableness of force is based on the officer making a split second decision after observing the suspect reaching for his waistband area several times during the foot pursuit," said independent reviewer John Gliatta in his finding justifying the use of lethal force.
"But that's just not what the law says," said Chandler. "The law says there has to be an immediate threat of death or serious bodily injury, which clearly there wasn't. This young man was trying to run away and you can be as critical as you want about how you shouldn't do that, but it doesn't give police the right to use lethal force."
Below is the footage. Warning, it is extremely disturbing.
This video is almost identical to the video of officer Michael Slager killing Walter Scott. In that case, Scott ran from officer Slager just like Murrietta ran from Villalvazo. Slager opened fire on the unarmed fleeing man and murdered him just like officer Villalvazo did to Murrietta. Just like Scott's murder, Murrietta's murder was captured on video.
However, unlike Ray Villalvazo, Michael Slager was sentenced to 20 years in prison for the murder of Walter Scott.
It is a travesty of all that is just that Villalvazo killed someone's unarmed child on video, as he ran away, and will not face so much as a slap on the wrist. This is what we call "justice" in the land of the free.