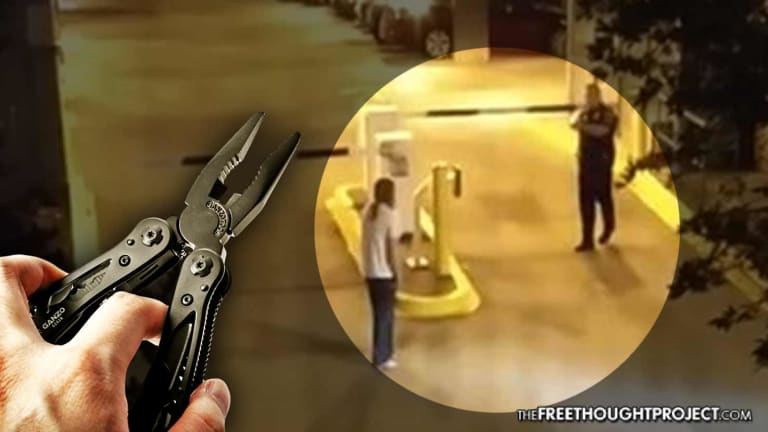 Graphic Video Shows Cops Execute Student for Holding a "Tiny" Multi-tool
Disturbing video shows police execute a barefoot engineering student in the midst of a mental break dow— for holding a multi-tool.
Lilburn, GA — Dramatic video was uploaded to Facebook over the weekend showing Georgia Tech police shoot and kill a fourth-year engineering student from Lilburn, Georgia. The victim, identified as 21-year-old Scout Schultz was barefoot and holding a multi-tool at the moment cops opened fire.
According to NBC, at a news conference Monday, Schultz's family's attorney said the student was experiencing a "mental breakdown" on the night of the shooting.
"What was Scout doing that day?" said the attorney, L. Chris Stewart. "Standing there disoriented, having a mental breakdown and was shot from 20 feet away."
According to the Georgia Bureau of Investigation, police were responding to a 911 call when they confronted Shultz in front of the campus parking garage.
In the dramatic video, police are heard screaming at Schultz who is yelling back at police, "Shoot me!"
Screaming at a person with a mental illness is not only futile, it only serves to further confuse, frighten, and provoke said person — especially if that person is in the midst of a breakdown — like Schultz was.
As one officer appeared to show bravery and attempt to de-escalate the situation by calmly engaging Schultz, his voice was overpowered by the other voices demanding Schultz drop the knife.
"Drop the knife!" yell the officers, which only seems to further disturb Schultz.
"What's your name!" repeatedly screams another officer as if that was going to help the situation.
Another officer yells to drop the knife one more time before Schultz takes a small step forward and is shot. Shultz's screams were chilling. Shultz would be taken to Grady Memorial Hospital, but would not make it.
Stewart told reporters that Schultz was holding a multi-tool, which contained pliers, a screwdriver, and a "tiny, little knife." Stewart also noted that the knife was never exposed while police threatened and eventually killed Schultz.
"We don't understand why Georgia Tech won't admit that," Stewart said.
"That's one of the biggest problems in this country is officer's actions with the mentally ill," Stewart said, adding that more training needs to be implemented for police officers.
According to NBC, William Schultz, Scout's father, called his son "the greatest kid." When asked what he would say to the officer who shot Scout, William Schultz said: "Why did you have to shoot? That's the question. That's the only question that matters now."
William Schultz added that his child had a 3.9 GPA and planned to graduate in December, according to the report.
"Scout wanted to make new medical devices, and now we'll never know what Scout might have come up with," Scout's mother, Lynne, said. And she's right, thanks to untrained cops who were unable to think of any other solution to this incident other than deadly force.
Did the officers in the video below show courage and only kill Scout as a last resort? You be the judge.
If your answer to the above question is 'yes' after watching the video, perhaps you should consider the videos below.
Recent body cam footage from officers in the United Kingdom was released last year that shows how reluctant their police are to resort to deadly force. The stark contrast in violent escalation between UK cops and US cops highlights the dangerous overzealous nature of American police.
Northamptonshire resident, Lee Vickers proved to be an especially dangerous man last year after he grabbed a large butcher knife and charged after police. Had he been an American citizen, he would have been immediately killed. He presented a very real and deadly threat, and even non-police officers would have been justified in the use of deadly force against him.
However, two brave police officers disarmed him without harming a hair on his head. The level of restraint exhibited by the two officers in the video below sheds light on the sheer tragedy of so many senseless deaths at the hands of police in the US. Unarmed teenagers, men, and women are constantly being gunned down US cops who are trained to kill first and ask questions later.
How many mothers, fathers, sons, and daughters would still have their families if American police acted more like police in the UK?
For the naysayers who think that Vickers' case is an isolated act of heroism, think again. The lack of deadly force is so common by police in European countries that it's not only been documented multiple times, but it's been caught on film multiple times.
It is high time this country looks closely at the way it trains its police force.