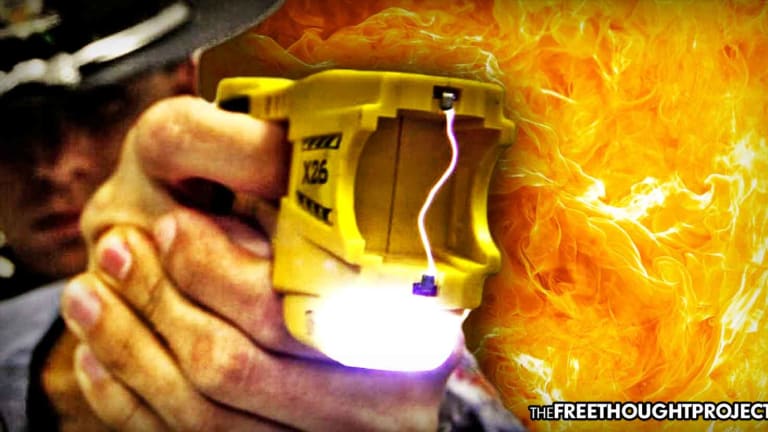 Cops Granted Qualified Immunity for Tasering Gasoline Soaked Man, Burning Him to Death
Despite the man being a threat to no one, the court claimed the officers knowingly setting a man covered in gasoline on fire with their tasers was reasonable.
Arlington, TX — The family of an Arlington, Texas man filed a lawsuit against the city of Arlington after two police officers used their tasers on him — while he was soaked in gasoline — and set him on fire, killing him, according to a lawsuit. The lawsuit was filed in federal court in 2019 but this month, the U.S. Court of Appeals for the 5th Circuit ruled that Jeremias Guadarrama and Ebony Jefferson, the Arlington police officers who fired Tasers at Olivas, igniting him and burning his house down, are protected under the highly controversial doctrine of qualified immunity.
This qualified immunity was granted in spite of the fact the lawsuit claimed that one of the officers lied about using his taser and blames the Arlington Police Department's use-of-force policy for Gabriel Eduardo Olivas' death, according to the Star-Telegram.
The incident happened in July 2017 as Olivas doused himself in gasoline and told his wife and son that he wanted to kill himself. Olivas' son called police who showed up and established no need to use deadly force as Olivas was unarmed, according to the lawsuit.
According to the family's attorney, after police arrived, the incident unfolded as follows:
On July 10, 2017, Arlington, Texas police received a call from a family member of Gabriel Olivas. Mr. Olivas was threatening to commit suicide in his Arlington home by pouring gasoline on himself and lighting himself on fire. Police responded and entered Mr. Olivas' home. Police encountered Mr. Olivas' family members, but they did not remove family members from the home. Instead, police interacted with Mr. Olivas with family members present.

The three police officers who entered the home smelled the odor of gasoline. When officers encountered Mr. Olivas in a bedroom, they saw Mr. Olivas at one point douse himself with gasoline. One officer told the other two officers that Mr. Olivas would catch fire if they Tased him. Despite that, and officers' knowledge that Taser use would likely catch Mr. Olivas on fire, the other two officers shot their Tasers at Mr. Olivas. Mr. Olivas caught fire, causing the home to catch fire. Mr. Olivas died a few days later as a result of burns over approximately 85% of his body, and smoke inhalation.
Constitutional rights lawyer Dean Malone filed suit in federal court in Dallas, on June 25, 2019, on behalf of the family. Mr. Malone said, "It is unfortunate that police officers chose to Tase Mr. Olivas, when he was doused with gasoline, after being told by a fellow officer that he would catch fire if he were Tased. This is also troubling because the officers' prior training indicated to them the significant hazard of using a Taser when flammable fumes and/or liquids are present. Mr. Olivas died a horrible death as a result."
The lawsuit mentions notes directly from a 137 page report by Detective Grant Gildon, who investigated Olivas' death on behalf of the city of Arlington. In the report, Gildon backed up the claim by in the lawsuit that Jefferson originally told him he never fired his taser. However, Gildon told Jefferson that four prongs were pulled from Olivas' chest, which meant that at least two tasers were deployed.
"Upon hearing this, (Jefferson) immediately stated that if two Tasers were discharged, then he had to of fired his Taser," the lawsuit quotes Gildon's report as saying.
The lawsuit points out that Jefferson should have been immediately fired after being caught in the lie. However, that never happened.
According to the Telegram, a grand jury eventually cleared Guadarrama, Jefferson and Elliot of wrongdoing.
As Reason reports, when Guadarrama and Jefferson asked U.S. District Judge Mark Pittman to dismiss the lawsuit based on qualified immunity, he concluded that more information was needed to determine whether that doctrine applied, opening the door to pretrial discovery. Guadarrama and Jefferson appealed that decision to the 5th Circuit, which saw things differently.
"The severity of the threatened crime, i.e., felony arson, was considerable," the appeals court says. "Olivas posed a substantial and immediate risk of death or serious bodily injury to himself and everyone in the house. He was covered in gasoline. He had been threatening to kill himself and burn down the house. He appeared to be holding a lighter. At that point, there were at least six other people in the house, all of whom were in danger."
So even though the officers caused the exact situation which they claim they were there to prevent, they were given immunity in the suit. Seems legit.
"Although the employment of tasers led to a tragic outcome, we cannot suggest exactly what alternative course the defendant officers should have followed that would have led to an outcome free of potential tragedy," it says. "We emphasize that the reasonableness of a government official's use of force must be judged from the perspective of a reasonable official on the scene, not with the benefit of 20/20 hindsight."
The family's lawsuit disagrees.
"Mr. Olivas was at home, telling family members that he would kill himself by lighting himself on fire after dousing himself with gasoline," the complaint says. "He did not threaten to harm his wife, his son, or anyone else in his home. In fact, he never harmed his wife, his son, or anyone else on that day. Rather, Mr. Olivas was distraught and seeking attention. Mr. Olivas did not intend to commit suicide, and he would not have committed suicide. Mr. Olivas never ignited a lighter or any other device to catch himself on fire. Instead, Defendant police officers arrived at his home, Tased Mr. Olivas (knowing that he was drenched with gasoline), and caused Mr. Olivas to catch fire and die after lingering in excruciating pain for days."
"We respectfully disagree with the panel's conclusion," Malone said. "This conduct so obviously violated the Constitution that no prior case with similar facts was necessary." Malone says he is seeking both a panel rehearing and review by the full court.