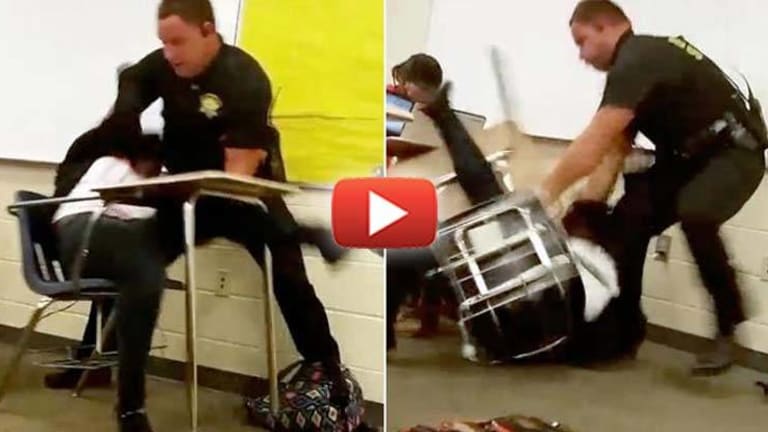 Since this Cop Attacked a School Girl, Only Ones Facing Jail are the Victim and a Girl Who Filmed It
It is now against the law to be assaulted by a police officer in school.
Richland County, SC — Earlier this year,  we covered the story of a high school student who was thrown from her desk by a school police officer and brutally slammed to the ground. A video of the incident was taken by another student, and it sparked nationwide outrage after it went public. After seeing the video, it should be obvious to anyone that the officer was guilty of assault, and that the girl was actually doing nothing wrong, aside from disobeying the officer and refusing to get out of her seat.
Disobedience from a teenager surely does not warrant this type of response, especially a teenager that is sitting down and not posing a threat to anyone. However, shockingly, the officer is facing no charges, but the girl who was assaulted is, and so is the girl who filmed the brutal attack. Officer Ben Fields, the cop guilty of the assault, was fired from his position, but he has faced no legal consequences as a result of his actions, as any normal person would in the same situation.
"If any one of us would have done a youngster or even an adult like that, we would be in jail that day," pastor and activist Thomas Dixon told the Associated Press.
Both girls face misdemeanor charges of disturbing schools, which could result in a $1,000 fine or 90 days in jail if they are found guilty.
Rashad Robinson, Executive Director of ColorOfChange spoke out against the charges in a recent statement, saying that "These two young women have suffered enough without the justice system dragging out the process of eliminating these ridiculous charges. Solicitor Dan Johnson has the ability and opportunity to do the right thing. By failing to take action, he has aligned himself with far too many prosecutors around the country who criminalize black youth while failing to hold police accountable."
Solicitor Dan Johnson responded to these accusations by claiming that the case is now in the hands of the FBI, adding that "I do not simply decide cases based upon feelings, public opinion or sentiment, nor do I decide them based on political pressure."
This week, Federal Judge Mary Geiger Lewis dismissed a separate lawsuit against officer Fields that had nothing to do with the attack on the teenage girl. That case also involved an incident where he used unnecessary force against a student at Spring Valley High.
Below is the original video of the assault:
" width="790" height="444" frameborder="0" allowfullscreen="allowfullscreen">
John Vibes is an author and researcher who organizes a number of large events including the Free Your Mind Conference. He also has a publishing company where he offers a censorship free platform for both fiction and non-fiction writers. You can contact him and stay connected to his work at his Facebook page. You can purchase his books, or get your own book published at his website www.JohnVibes.com.