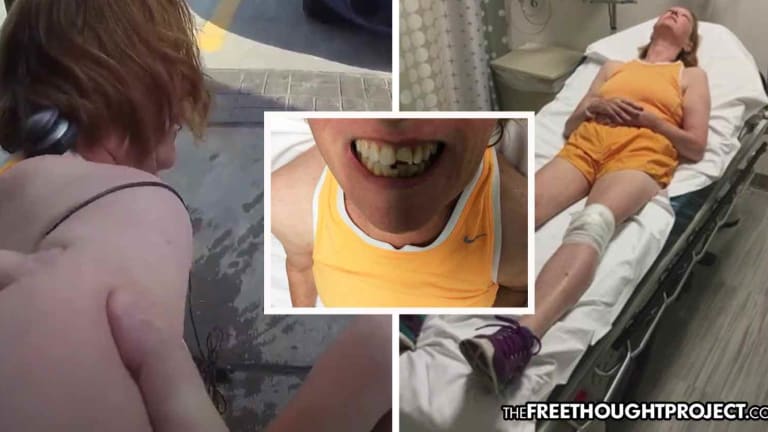 WATCH: Woman Tries To Help Suicidal Person So a Cop Smashes Her Face, Knocks Her Teeth Out
For attempting to help a suicidal woman and filming the police interaction, a 53-year-old software developer was attacked and gravely injured by police.
Rock Hill, SC — A game developer thought she was doing the right thing when she witnessed an arrest at a local gas station and tried to tell police that the person they were arresting needed help, not handcuffs. However, when she attempted to film the arrest, according to the woman and a newly released video, she was attacked, slammed to the ground, her teeth broken, and her skull fractured.
The video was leaked to the Free Thought Project via a Twitter user who knows the victim. This video, according to that person, is just one of the many excessive force cases pending against the Rock Hill police department. After watching it, you'll know why.
When this incident originally unfolded in August of 2018, police claim the video footage they had backed up their story. Conveniently, however, they refused to release it. Now that it is out, we can see why, it pokes holes in their official narrative.
The incident began April 15, 2018 as Patricia Pizer, who is a software and game developer, stopped at a Quik Trip in Bedford. According to police, they were responding to a domestic call at the gas station around 5:00 p.m.
Pizer was attempting to help the person involved in that call. According to the person who leaked the video, Pizer was asked to go into a bathroom at the QT to assist a trans woman who was threatening to harm herself.
After going into the bathroom, the incident moved outside when officer Hernandez showed up.
The two stories then differ greatly after police arrived. According to a post on Pizer's husband's Facebook page, her husband, who watched the surveillance footage, says it backs up his account as detailed below:
Video of the incident shows OFFICER Hernandez Talking to Patricia. He tells her to Walk away or be Arrested. She walks away and starts filming with her phone in Selfie mode. Cop runs up behind her and hits her like a football player. She leaves her feet and goes face first into the glass door of the gas station[.] cop then punches her in the head, Picks her up and slams her. AT NO F**KING TIME DID SHE HIT THIS BITCH ASS COP. UGH!!!!!! Her teeth were on the ground. I actually found one on the scene[;] a piece of tooth. Blood as well [sic]
According to police however, they claim Pizer got in between them and the trans woman they were attempting to handcuff, saying the she didn't do anything wrong. Indeed, she hadn't, and was only going through a mental crisis — which is not a crime.
Police then claim that after Pizer tried to stop the arrest, she allegedly hit and kicked the officer. Below is their statement:
The officer approached Ms. Pizer to place her in handcuffs when Ms. Pizer punched the officer in the head twice and kicked the officer once. The officer then attempted to put Ms. Pizer on the ground, however she grabbed the handle of the door to the store. The officer pulled Ms. Pizer to break her grip on the door. The officer then put Ms. Pizer on the ground and continued to attempt placing her in handcuffs.
None of the kicks or punches are visible in the video.
Pizer was then arrested and charged with assaulting an officer while resisting arrest and she was cited for hindering police. However, a magistrate judge at arraignment reportedly dismissed all other charges except resisting arrest as "nonsense" for having "no merit."
According to her husband, for attempting to film the police, Pizer suffered a fractured skull, five broken teeth, a dislocated shoulder, and several scrapes and bruises. She has been unable to work since this incident and now suffers from PTSD as well as her physical injuries.
Now, she is fighting back in the form of a lawsuit against the Rock Hill police department.