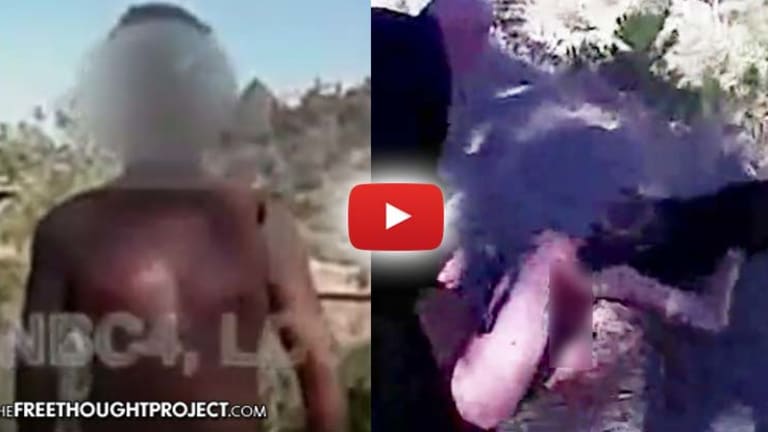 Graphic Video Shows Cops Use K9 to Torture Unarmed, Non-Violent Naked Man
A young businessman is left permanently disabled after police, without warning or justification forced their K9 to maul his naked body for nearly a minute.
San Diego, CA -- A gruesome body cam was just released this week showing cops needlessly and sadistically sic a K9 on an unarmed naked man who posed absolutely zero threat to the half-dozen cops who had him completely surrounded.
The incident happened in August of 2015, however, the body camera footage was kept secret until now. If you have the strength to watch the entire video, you will know exactly why it was kept a secret.
At 8:30 that August morning, police received a phone call about a naked man walking through a canyon. This man had not attempted to harm anyone and the only 'crime' he'd committed when police arrived was to simply be naked.
The man, a 25-year-old businessman who was in San Diego for a convention, admitted that he ended up naked in the canyon after a particularly hard night of partying. However, when seeing how police reacted upon confronting the man, you would think he was a serial child murderer.
When police found the man, who wishes to remain anonymous, they called for him to come up from the canyon and he quickly obeyed. When he got up to where the officers were, they asked him to turn around so they could place him in cuffs.
"Turn around, turn around!" yell the officers at the obviously delusional man.
"No!" angrily replies the man.
Then, only seconds after the unarmed, nonviolent, and naked man had obeyed the officers' instruction to walk toward them, the sadistic K9 cop gives his dog the command to attack -- entirely unprovoked.
The naked man is immediately brought to the ground as the other San Diego cops pile on top of him. By all definitions, this man was subdued. However, he continued to squirm as it is impossible to remain completely still as a vicious attack dog tears your flesh from your body.
"Stop resisting!" the cop yells as his dog mutilates this man.
For almost an entire minute, cops held the naked man down while allowing the K9 maul his legs to shreds.
"It wasn't necessary to use the dog to begin with and it sure as hell wasn't necessary or needed or appropriate to let the dog continue to bite," said noted civil rights attorney Donald W. Cook to NBC Los Angeles.
"It's barbaric," he said, and he is correct.
When NBC Los Angeles spoke to the victim, he admitted that he shouldn't have been naked in a canyon, but the police had no reason to attack him like they did.
"I take some responsibility because I was under the influence," said the man. "But nothing justifies the cops use of such force," he said.
Sadly enough, San Diego police have justified the attack, claiming they believed the man "posed an immediate threat to officers due to the fact he was clinching his fists and walking towards them."
They also noted that the "subject was under the influence of a controlled substance and was very agitated with officers."
However, when watching the video it is clear that the naked man was not walking toward officers and he posed no threat to the multiple armed men in body armor who had him surrounded.
The video also shows that police violated their own policy when deploying the K9.
According to the San Diego Police Department's own policy, officers "if possible, give at least two warnings in a loud and clear manner" before allowing a dog to bite. This did not happen -- and it would have been entirely possible to do so.
The victim has since sued the police department for excessive force and Cook, whose sued the city in multiple instances of police K9 attacks said the force is worse than excessive.
"Not only excessive, but animalistic," said Cook. "In this case, you had your subject, you had him surrounded. All you had to do was simply take him into custody."
In his legal complaint against the department, the man's attorney says the officers "acted with unnecessary, cruel and despicable conduct and in wanton disregard for the civil rights, health and safety" of his client, according to NBC Los Angeles.
After savagely allowing the K9 to maul this man, he wasn't charged with any crimes. However, thanks to the officers' sadistic nature, the taxpayers of San Diego have been charged with a hefty fine -- a $385,000 settlement to be exact.
That amount, however, is not nearly enough as the attack has left the now-26-year-old permanently disabled as he no longer has full use his right leg.
"No dollar amount is worth having a disability for life," he said.
After this video became public, the San Diego police department released a callous and insulting statement to justify their actions:
"This video shows the agitated and defiant demeanor of a man under the influence of LSD. When played in its entirety, the video shows our officers trying to gain his compliance before he became defiant. While the split second decisions of police officers are easy to second guess when you know the outcome, keep in mind the deployment of our K9 is intended to prevent the situation from escalating."
WARNING: The full video is extremely graphic and disturbing. It includes footage of a police dog biting a subject's leg until blood and other injuries are visible.
[author title="" image="https://tftpstagingstg.wpengine.com/wp-content/uploads/2016/03/magorist-e1456948757204.jpg"]Matt Agorist is an honorably discharged veteran of the USMC and former intelligence operator directly tasked by the NSA. This prior experience gives him unique insight into the world of government corruption and the American police state. Agorist has been an independent journalist for over a decade and has been featured on mainstream networks around the world. Follow @MattAgorist on Twitter and now on Steemit[/author]