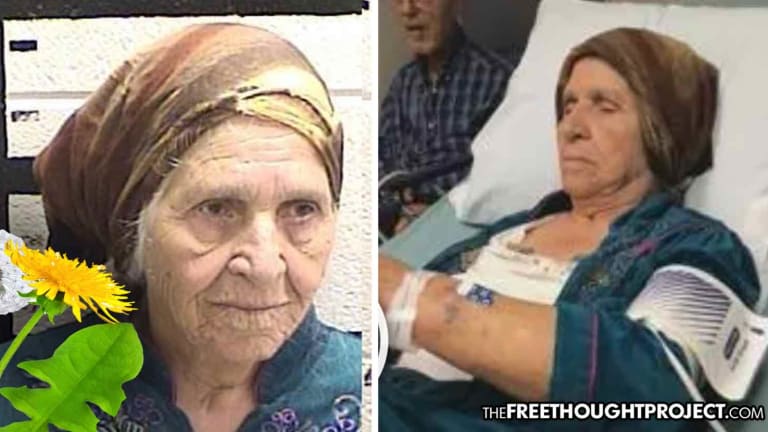 87yo Great-Grandmother Tasered in Her Breast by Police While Cutting Dandelions with a Knife
A great-grandmother who was out cutting dandelions with a knife was tasered by police and arrested because she couldn't understand what they were saying.
Chatsworth, GA — A family is outraged and a great-grandmother recovering after she was tasered in her breast for failing to understand police when they told her to drop a knife she was using to reportedly cut flowers.
According to police, they received a call from a Boys and Girls club employee noting that Martha Al-Bishara, 87, was walking a trail with a knife. The caller noted that Al-Bishara was not threatening anyone and appeared to be "walking around looking for something, like, vegetation to cut down or something." She also had a bag.
According to her family Al-Bishara's taser attack was captured on body camera footage and they were able to watch it. However, citing pending charges against the great-grandmother, police are not releasing it publicly.
The family told police that Al-Bishara was simply on the property to cut dandelions with a kitchen knife—a story backed up by the transcripts of the 911 call. The bag in her hand, the description from the 911 call, and the fact that the woman never threatened anyone should've given officers this impression. Instead, however, a gun and a taser were pointed at her.
Being that Al-Bishara speaks Arabic, she likely did not understand the officers when they were telling her to put down the knife.
According to the family, the video shows Chatsworth Police Chief Josh Etheridge pointing a gun at Al-Bishara before another officer deploys the taser striking the great-grandmother in her left breast and her stomach.
She then falls over in agony and begins sobbing as the officers move in to handcuff her.
Naturally, police are standing by their decision to taser the non-threatening great-grandmother and noted that even though she never moved toward anyone with the knife that she still presented a threat.
"I completely understand and if I hadn't been there and it would come across my desk, that is the first thing I would ask as well," Etheridge said. "Why did we Tase an 87-year-old woman? I guess in that circumstance, I am glad I was there and saw it firsthand and understand why it occurred. An 87-year-old woman with a knife still has the ability to hurt an officer."
"The question's always going to be why did he (the officer) not retreat," Etheridge said. "The thought behind that would be if the officer had retreated, with her being in an elevated position, he could have easily fell down," Etheridge said, "at which time she could have been progressing on top of him and deadly force could have been used at that point in time. And that was the whole goal, to try to avoid using any type of force, but if we have to use force, use the minimum force."
Family members disagree and said the officers made no attempt to be kind or show bravery.
"If they would have approached her with an open hand rather than with their guns drawn, she would have handed it (the knife) to them right away," said grandson Timothy Douhne. "My grandmother is the most kind, generous-hearted woman."
"You don't Tase an 87-year-old woman," said great-nephew Solomon Douhne, a former Dalton Police Department officer. "She was not a threat. If anything, she was confused and didn't know what was going on. It was a ridiculous turn of events. If three police officers couldn't handle an 87-year-old woman, you might want to reconsider hanging up your badge."
The fact that she still hasn't been charged with a crime speaks to unnecessarily violent nature of the stop. Walking with a knife is not a crime, especially while holding a bag and collecting dandelions. Sadly, however, the great-grandmother was traumatized by the incident.
"She is OK," great-granddaughter Martha Douhne said. "She is still repeating the incident over in her mind and telling us she didn't mean for this to happen and apologizing that she didn't want to bring this on us. She is having trouble sleeping and is stressed."