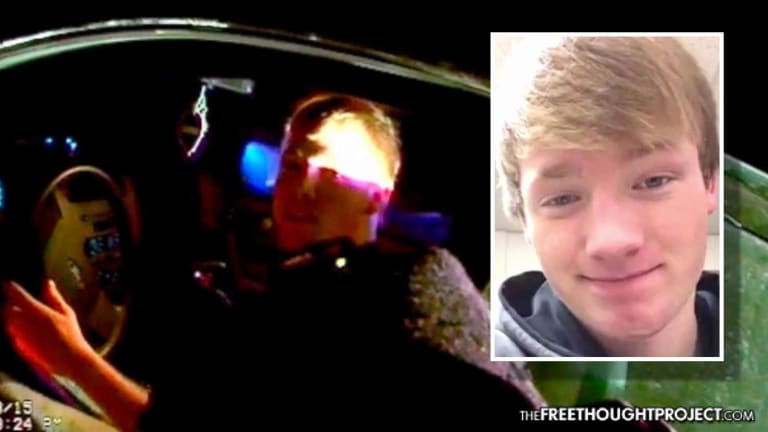 WATCH: Unarmed 17yo Boy Killed by Cop After Flashing His Brights—Judge Grants Excessive Force Suit
After a long battle in the courts, a judge has ruled that the family's federal excessive force lawsuit can proceed against the officer who killed Devin Guilford.
Eaton County, MI -- It was announced in 2015 that the officer who shot and killed 17-year-old Deven Guilford for flexing his rights, would not be charged with any crimes. His family was devastated. However, after a long fight in the courts, a judge ruled that the federal lawsuit against Sgt. Jonathan Frost can proceed to trial on two claims of excessive force.
As the Lansing State Journal reported:
Judge Paul Maloney heard oral arguments Tuesday from attorneys for the family of Deven Guilford and the attorney representing Sgt. Jonathan Frost. Frost's attorney had previously filed a motion for summary judgment, asking Maloney to dismiss the case.

Maloney's order issued Friday afternoon dismissed claims for unlawful stop, seizure, arrest, and excessive force prior to Frost's decision to use his stun gun on Guilford. However, Maloney allowed two claims of excessive force to proceed, writing that "factual disputes" about what transpired after Frost fired his stun gun, and later, his service weapon, can be resolved by a jury.

Maloney detailed those "factual disputes" in his 38-page opinion and was pointed in his criticism, addressing what he described as inconsistencies between Frost's account and the evidence. He added that a jury could find that some of what Frost says occurred was "almost inconceivable."
That fateful night in 2015, Deven was traveling along the road and flashed his lights at an officer because his headlights were so bright that they nearly made Deven run off the road. He was then pulled over by Sgt. Frost of the Eaton County Sheriff's Office, who stopped the young man for no other reason than the fact that he flashed his lights.
When Frost approached the car, Guilford explained that he was simply flashing his lights to be a polite driver, and let the officer know that his high beams were on so he didn't cause an accident.
The officer began to get aggressive with Guilford when he attempted to flex his rights during the traffic stop. Guilford refused to show the officer his license and registration because he had broken no laws and the officer had no reason to stop him.
Guilford also began recording the encounter with his cell phone and let the officer know that he was filming for his own safety. He then asked the officer if he was being detained and for what reason. He was told that he was being detained because he refused to comply with Frost and show him his ID. However, not showing his ID is a secondary offense, meaning the officer would actually need a real reason to pull him over to begin with.
On a power trip, Frost violently ripped Guilford out of the vehicle and forced him down to the ground. Guilford attempted to remain filming while he complied with the officer's orders and moved to the ground. Sadly, Guilford was not moving fast enough for Frost, so he tased the young boy. At this time, both the body camera and the cell phone footage cut out.
Off camera, Frost shot and killed the young boy. The known details are sparse because the killing happened out of the view of the dash-cam, and the body camera was turned off at that point. However, the officer claims that the young boy attacked him, so he "feared for his life" and killed him, firing 7 shots from his weapon.
The judge in the federal lawsuit apparently disagrees.
After the announcement that officer Frost would not be charged, the Guilford family released the following statement:
"There was no reason or necessity for the officer to physically remove our son from the car without considering other options to avoid an unnecessary violent escalation. It must be also noted that Deven was not in possession (of) any weapon and emphatically told the officer that he was not armed. We also have serious concerns about whether the officer used unreasonable force against Deven under the circumstances."