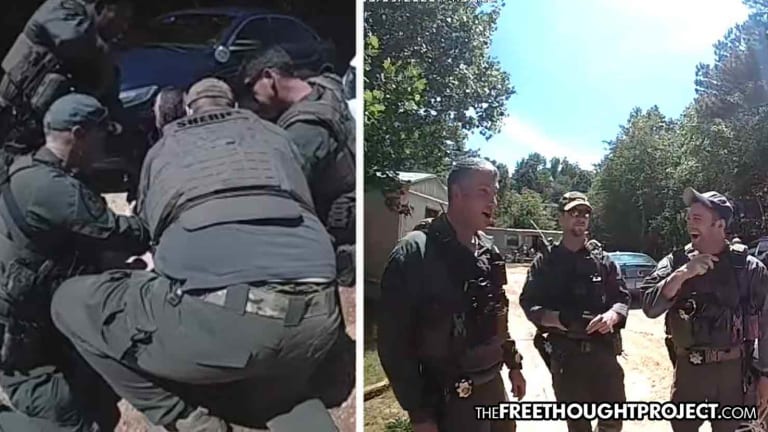 'Haha! He Pissed Himself': Cops Beat the Hell Out of Innocent Mentally Disabled Man, Laugh as He's Sent to ICU
"As the plaintiff laid on the ground, face down, handcuffed and screaming out in pain, the officers walked away laughing, and stating 'he pissed himself.'"
Greenville, SC — On the day he was sent to the ICU by 7 of Greenville County's finest, Kenneth Robert Langford had harmed no one. He was merely suspected of speeding when militarized cops surrounded him, threw him to the ground and beat him to the point of hospitalization. Now, because none of the officers involved were ever held accountable, the taxpayers of Greenville will be held to the fire instead.
In a lawsuit filed this week, Langford's attorneys lay out in gory detail, the treatment he received from Sgt. Bradley Grice, Deputy John James, Deputy Pierre Frazile, Deputy Andrew Herring, Deputy Brian Leister, Deputy Ryan Humburg and Deputy Kyle Alexander on that fateful day.
According to police, on the afternoon of May 9, 2020, Langford was targeted for allegedly speeding and when the officer got behind him, he pulled over immediately.
According to the lawsuit, as reported by Liz Farrell at FitzsNews, Langford "suffers from diagnosed mental health issues that would have been apparent to any reasonable and competent responding officer." Unfortunately, however, none of the officers who responded to the stop were competent.
Deputy John James was the first officer to stop Langford and immediately radioed for backup after interpreting this innocent man's mental disability for suspicious behavior.
Just moments later, apparently having nothing better to do, six more officers showed up and "were wearing military-style uniforms and appeared ready for battle upon arrival."
According to the lawsuit, and backed up by the body camera footage, the 7 cops began their "unprovoked beating of a mentally disabled individual" without warning or provocation, according to the lawsuit.
"I'm not out to start trouble," Langford pleaded with his attackers while lying face down on the ground. He said he was just trying to get home.
"You're resisting arrest," officers responded.
"I am not one to fight or run," Langford said after officers beat the hell out of him and tried to justify their assault by claiming Langford "tensed up."
"We don't know you," Leister responded.
The lawsuit says that Langford "suffers from diagnosed mental health issues that would have been apparent to any reasonable and competent responding officer."
Langford got out of his car and James "immediately radioed for backup on the alleged basis Plaintiff was looking through his center console."
On the video, officers can be heard saying, "what the f--- is wrong with you" and "shut the f--- up," as they humiliated this innocent man. One officer could be heard saying  Langford was in special education classes.
"Shockingly, body cam footage from after the attack shows the officers laughing and joking about the violence they had just inflicted on the Plaintiff, indicating among other things that he was "in special ed classes growing up."
"As the plaintiff laid on the ground, face down, handcuffed and screaming out in pain, the officers walked away laughing, and stating 'he pissed himself.'" the lawsuit said.
Langford was taken to an area hospital by EMS and diagnosed with "acute chest and shoulder pain, facial trauma with right orbital fracture and trauma to left eye, multiple abrasions and lacerations to his face with a pebble embedded in his forehead. He had an acute left shoulder dislocation, multiple fractured ribs, and was in tachycardia," according to the lawsuit. He was in the ICU for four days and spent a total of 16 days in the hospital, the lawsuit said.
Apparently, according to the lawsuit, these officers have a long history of abuse just like this.
"The GCSO has a long and well-documented history of excessive force and of employing military-style police units to certain neighborhoods who behave aggressively and violently toward residents, and then publicly denying the existence of these units when the cases draw media attention," the lawsuit asserts.
Unfortunately, none of the officers in the video faced any discipline for this action and they all still remain on the force.