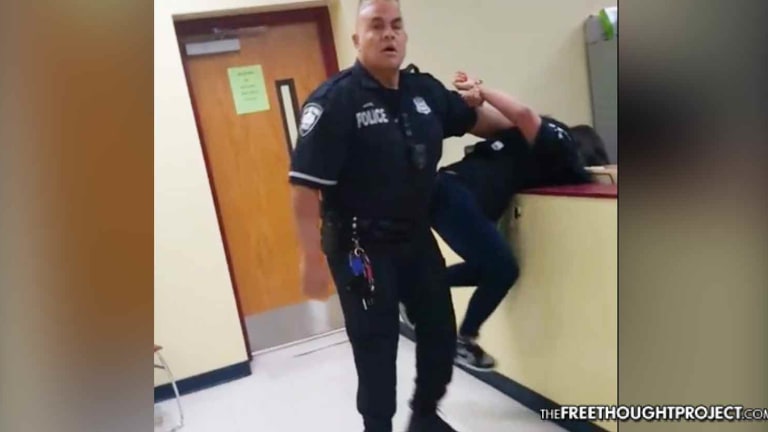 WATCH: Massive Cop Slams Handcuffed Teen Girl into Counter for "Mouthing Off"
Disturbing footage was posted online this week of a massive San Antonio police officer throwing around a handcuffed 16-year-old girl after she "mouthed off" to him in the school's office.
San Antonio, TX — A San Antonio police officer is under an internal investigation this week after cellphone video shows him slam a handcuffed 16-year-old girl into the counter in her school office and then force her down as she screamed for help.
According to the girl and the San Antonio police department, the entire incident allegedly began over cussing.
The incident occurred during school hours on Wednesday after an SAPD officer was called to Por Vida Charter High School. The officer was not called to the school to arrest the girl. Instead, he was there to remove a Spanish-speaking woman from the office for refusing to leave.
The 16-year-old girl, Tiffany Rodriguez explained to KABB news that the woman did not speak English and she thought the officer was treating her unfairly. So, she spoke up about it.
"Yeah I was mouthing off, but I was mouthing off to help the lady out like translating Spanish, because he didn't know Spanish," said Rodriguez.
This apparent mouthing off caused the officer to grab the young girl who is one-third his size and begin throwing her around like a rag doll.
"He slammed me against the door and I have a bump right here to show it. And when he had me against the door I told him to stop, like to let me go - he grabbed my arm and he twisted it," Rodriguez said.
When the video begins, the officer has Rodriguez pinned in the corner on a chair and bystanders are asking why she is being treated in such a manner. A student, identified as Casandra Ortiz can be heard saying that the officer had her shoved in the corner because "she (Rodriguez) didn't want to move over here."
Ortiz and Rodriguez were in the office on Wednesday because they were in trouble for being out of uniform and cussing—two offenses that certainly warrant a trip to the office, but definitely not worthy of police action.
"I knew her for so long it hurt me to see her getting thrown around everywhere," Ortiz said.
The woman taking the video was Ortiz's mother, Jessica Villarreal who says she rushed into the office and began filming because she heard screaming.
"You can't drag around a child like that, I don't care how mad they get you, you're an adult - you don't grab a child like that," Villarreal said.
According to Rodriguez, when she was brought to the juvenile detention center her arm and shoulder had to be examined for injuries. Now, for mouthing off, this 16-year-old girl will have a criminal record as she was booked on charges of resisting arrest and disorderly conduct.
After the video was shown to the the SAPD, the department claimed they launched an internal investigation. The officer was also wearing a body camera, however, according to police on Thursday, they have not yet reviewed it.
As for Rodriguez, she feels strongly about what happened to her and has a recommendation.
"I just think that he shouldn't be working as a cop if he is going to be doing that to kids," said Rodriguez.
Sadly, this is the second video in only two weeks showing a police officer manhandling teenage girls.
As TFTP reported earlier this month, body camera footage of a Gloucester Township police officer in Pennsylvania was recently released which captured the disturbing assault of a small 13-year-old girl by a massive cop. The attack was so deeply troubling that the officer has actually been suspended and subsequently charged—after his own cops turned on him.