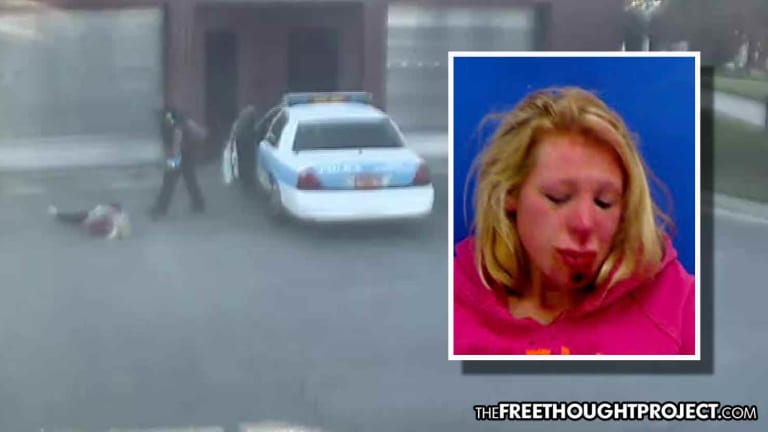 WATCH: Cop Smashes Handcuffed Woman into Concrete, Shattering Her Teeth Over Parking Ticket
The taxpayers of North Carolina will be shelling out $400,000 after video showed a cop savagely attack a handcuffed woman over a parking ticket dispute.
Hickory, NC — The taxpayers of Hickory, North Carolina found out that they will be shelling out $400,000 this week after one of their police officers lost his cool and smashed a tiny handcuffed woman into the concrete driveway outside of the jail. Chelsea Doolittle suffered a broken nose and multiple broken teeth as a result of the attack.
"This is a nice early holiday gift that this unfortunate chapter in her life has come to an end, and she just, like you'd expect, is just hoping to move forward," attorney Brad Smith said on Tuesday after news of the settlement was released.
The incident happened in 2013, but the case is only just now coming to a close after then-Hickory Officer Robert George felt the need to savage abuse a defenseless woman. Luckily for Doolittle, the entire incident was captured on the jail's surveillance video as she was viciously attacked while handcuffed.
As the video shows, George pulls up to the jail gets out of the driver's seat and violently drags Ms. Doolittle from the car. He then smashes the handcuffed woman face first into the concrete severely injuring her nose and breaking her teeth. What started as an arrest for alleged disorderly conduct over voicing her concern for a parking ticket, ended in a nightmare for Doolittle who was essentially kidnapped and tortured by a maniac.
For nearly a year after his violent attack, George remained a cop on paid vacation. However, once his case finally went before a jury, all that changed.
The violence from officer George against the handcuffed woman was so extreme that it led to him facing charges. In an extremely rare move, earlier this year a jury found George guilty of using unreasonable force against Doolittle. George lucked out, however, and avoided any jail time. Instead, he was sentenced in federal court to four years of probation and ordered to pay $23,000 in restitution.
"This has ruined my life," Doolittle said in October after finding out George avoided jail time.
For voicing her disagreement over a parking ticket, Doolittle was essentially kidnapped by George who charged her with resisting arrest and disorderly conduct. All the charges against Doolittle would eventually be dropped after the video showed that officer George was clearly the aggressor who attacked an innocent handcuffed woman.
While this case is certainly shocking, TFTP reports on cops beating innocent and even handcuffed women on a regular basis.
Just last year, we reported on a Schenectady police lieutenant — who should've been fired and arrested multiple times — who is still on the job in spite of brutally attacking an innocent handcuffed woman, smashing in her head, and then lying on a report, claiming she attacked him. What's more, after he split her head wide open, he took a picture of it so he could brag about it to his friends and fellow cops. Instead of firing him, the taxpayers are going to be shelling out "a lot of money" to pay for his crimes.
In October, the City Council's Claims Committee in Schenectady unanimously approved a settlement to the victim, Nicola Cottone.
Cottone had been picked up by police because she had been staying with a friend overnight and the person called city police because he wanted her to leave and she allegedly refused. Cottone had not been charged with a crime by Schenectady police.
Two officers, Lt. Mark McCracken and Andrew MacDonald were identified in court filings for their role in the attack. Surveillance video in the room in which the assault took place captured the officers in their most heinous act. Like Doolittle, Cottone's hands were handcuffed behind her back when the attack happened.