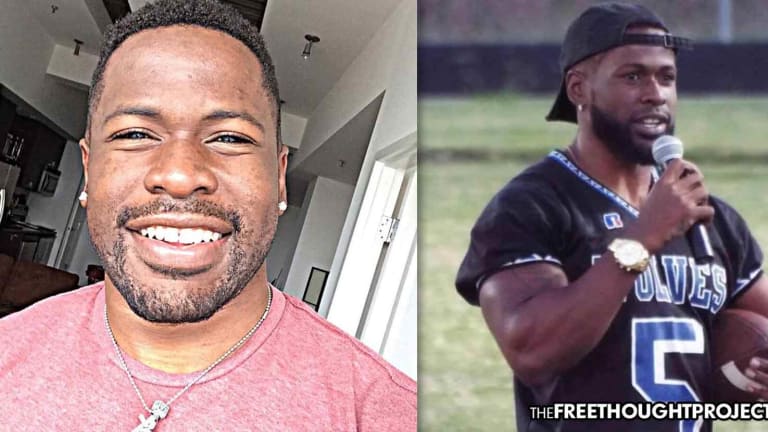 Hometown Hero Who Supported Police, Killed by Cops as He Stopped a Man From Beating a Woman
A hometown hero who called for peace between police and citizens broke up a domestic fight Saturday before police showed up and killed him.
Wolfe City, TX — A local sports hero was living up to his reputation Saturday night by "doing the right thing" and intervening in a domestic fight at a gas station. Former Hardin-Simmons University football player, Jonathan Price, 31, would be killed by police for helping out his fellow citizens.
"He had a good heart. He always tried to help others," said Price's mother, Marcella Louis in an interview with WFAA.
According to family members and multiple eyewitnesses, a Wolfe City police officer shot and killed Price on Saturday night after an argument broke out between a couple inside a convenience store.
Witnesses described Price as a hero who tried to break up the fight inside the store before it spilled out into the parking lot. When police showed up, they shot Price, who was unarmed.
Louis said the world has now lost a hero.
"They took my son from me," she said. "They took my baby."
Many of the resident in Wolfe City — a town about 60 miles north of Dallas — agree with Price's mother and remembered the local sports star as a caring man who went out of his way to help others.
Head Coach at HSU, Jesse Burleson tweeted, "Lost one of our own in a terrible situation. Jonathan Price was an awesome young man during his time with Cowboy Football. Was only with us for a short time in 2008 but was always a Cowboy. Prayers for comfort and peace for Jonathan's family."
Former Texas Rangers third baseman Will Middlebrooks grew up with Price and told reporters that news of Price's death sickened him because Price was the hero in the scenario and he was the only one who police shot and killed.
"What's really sickening is that he was doing the right thing... he saw a man putting his hands on a woman and stepped in to stop the altercation," said Middlebrooks. "The man then fought him... then the police shot him. He was unarmed. I'm heartbroken."
Dale Trompler, was Price's high school football coach at Wolfe City. He said "Price made an undeniable imprint on my life and will be in my heart forever."
Trompler said as his coach and friend, he would preach to his players to always do the right thing. Sadly, doing the right thing got this innocent man killed.
"I never thought that doing so would cost him his life," said Trompler.
Police have refused to release any information about Price's death, saying only that the officer who killed him has been placed on administrative leave. According to reports, the convenience store was equipped with multiple cameras which caught the entire thing on video, however, they will not be publicly released at this time.
Price has no criminal record so police and media can't drag his name through the mud in an unethical attempt to justify his death. What's more, in a tragic irony, Price was actually a police supporter who called for peace between the citizens and law enforcement. In a Facebook post in June, as many cities in the nation were on fire from protests, Price drew on his past experiences to find common ground and urge peace.
"With all the tension and animosity going on with race and the ????1time ᴿᴺ. . I'm on the same fence as lil Wayne, with him saying a white cop saved his life, and hasn't been too vocal based off EXPERIENCES

I was raised by the Malone's and Woodruff's in my hometown for a LARGE amount of my youth, was my 2nd family then, and still are in 2020 if I have to say anything. The amount of food fed to me ???? they spent on me, outweighs any BS about race or color right now. I have family that's never done a DAMN THING for me, or supported my business ventures and they're my BLOOD ???????????????? They will FOREVER be 1,000,000 in my book???????? & they know who they are! They're to blame for my country side and addiction to white women ????????????‍♂️not complaining one bit ????

"There were times I should have been detained for speeding, outstanding citations, outdated registration, dozing off at a red light before making it to my garage downtown Dallas after a lonnng night out," Price said. "I've passed a sobriety test after leaving a bar in Wylie, Texas by 2 white cops and still let me drive to where I was headed, and by the way they consider Wylie, Texas to be VERY racist. I've never got that kind of ENERGY from the po-po."

"Not saying black lives don't matter, but don't forget about your own, or your experiences through growth / 'waking up,'" said Price.
Because cops kill innocent people, even ones who are heroes, sadly, Price will not be able to post about his last interaction with police.