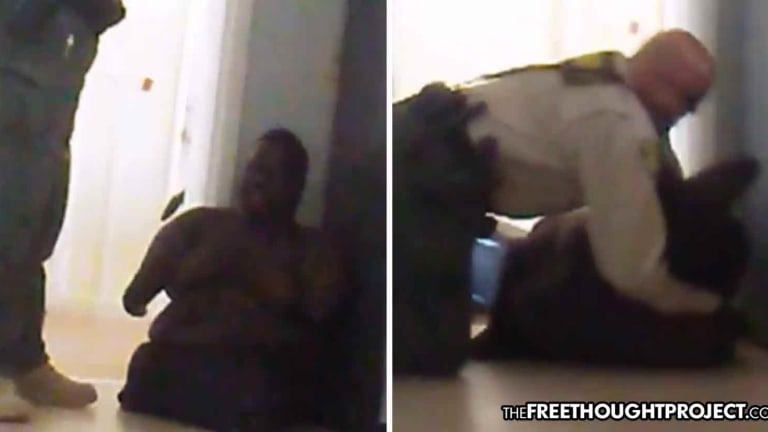 Cop Caught on Horrifying Video Attacking a Child With No Arms or Legs
A deeply disturbing video was posted to social media this week showing a massive cop attack and humiliate a child who is also a quadruple amputee.
Tucson, AZ — In a state-run boys home in Tucson, a teenager who was also a quadruple amputee, was roughed up and cussed at by a Pima County deputy. Most of the incident was caught on film and both the teen, as well as his friend who was filming the police contact, were arrested on disorderly conduct charges. This is the first time TFTP has ever reported on a police officer beating a quadruple amputee.
The 15-year-old amputee was reportedly out of control, had knocked over a trash can, and leaders at the group home called the police for help with the young man. Having no arms nor legs, he was considered threatening enough to involve law enforcement, who came and promptly put an end to the tirade.
Joel Feinman, Pima County Public Defender told KOLD News:
Imagine you were this boy with no limbs who just got tackled by this large man with a badge and gun and this man is now screaming in your face and he's now threatening your friend who's recording this whole incident...Absolutely, that's egregious.
Feinman went one step further, calling for the officer to be terminated. The public defender told KOLD:
Men with badges should not be acting this way...Men and women who do act this way should not have badges and a gun.
The young man had reportedly been abandoned by his parents and forced to live in the group home as a ward of the state. The optics of a healthy lawman subduing a quadruple amputee cannot be understated. Still, the officer was simply "doing his job" and if the boy had all of his extremities, the story would probably not even be newsworthy.
As with any police accountability story we write, the question remains, "Should the officer have apprehended the teenager differently? Is it not humiliating enough to be so low to the ground? The officer wrestled the quadruple amputee to the ground and then the child was humiliated as he was laid down upon by a husky officer of the peace.
Later, he cursed at the teen, further demeaning the young, some could say, helpless child. After securing the teenager, cops then turned their attention to the friend who was recording the incident, also a teenager. He was detained, and placed in handcuffs, but not before the arresting officer gave a complimentary slam of the young man head's on the wall.
Defense attorney's for Pima County are outraged. Reporters, likewise, reached out to the officer's superiors for answers. However, the police department's internal affairs division would not comment on whether or not they would take disciplinary action against the arresting officer. They did, however, ask the news agency to provide the video evidence an assault had taken place.
While this is the first time TFTP has reported on the abuse of a child quadruple amputee by police, abuse of amputees by cops is not new and is not limited to law enforcement officers in the United States. As TFTP reported a French triple amputee was also humiliated when cops insisted on searching him while he was waiting for a train.
In that instance, police took off all of his prosthetic limbs and then left him on the floor of the train station to put his legs back on. Abusing amputees is one of the actions one would think is preventable. After all, for the most part, amputees are incapable of jeopardizing officer safety. If cops cannot handle amputees without abusing them, they just need to quit, be fired, or be arrested.