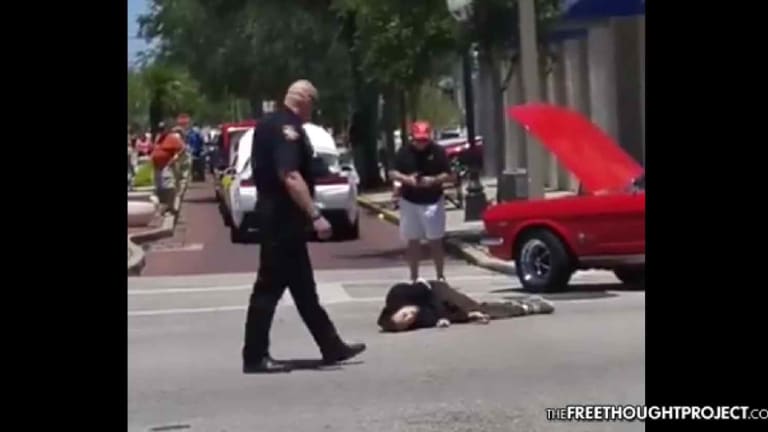 Horrifying Video Shows Cops Do Nothing As Man They Shot Dies an Agonizing Death
The killer cop claims the victim charged him with a knife, which the police chief says was entered as evidence, but witnesses say they never saw a knife.
Tarpon Springs, FL – A disturbing video posted on Facebook shows the final moments of 25-year-old Nicholas Provenza as he lay dying on the ground, while the cop who shot him paces around in seeming self-pity – and not one officer renders medical aid to Provenza.
The shooting happened Saturday at a charity car show, after someone told an off-duty officer about a man on a bicycle "acting suspiciously." The responding officer, Scott Macisaac, said Provenza gave him a fake name when questioned, and claimed Provenza then charged him with a knife.
Family and friends of Provenza say he had no violent tendencies, and they find it hard to believe he would charge a cop with a knife. According to Rebecca Schnell, Provena's fiancée, who shared the video:
"MacIsaac reported Nicholas having a knife and ran at them with it yet the witnesses report no knife was ever witnessed. Witnesses also say that while he was on the ground MacIsaac kicked his hands to only find sunglasses."
As the video begins, a man presumed to be with law enforcement runs toward the camera, shouting, "Make way! Make way!"
The camera then zooms in toward Provenza, who is lying on the ground, moving feebly as the life leaves his body. Officer Macisaac is seen pacing around Provenza in a panic, shouting "Fuck!" as other officers arrive on scene.
Shockingly, no one even attempts to help Provenza who has just been shot three times and is clearly still alive. Instead, another officer appears to console Macisaac by patting him on the back. No less than four people, presumed to be affiliated with law enforcement, are standing near Provenza, completely ignoring the mortally injured man.
A female officer attempts to tell people, "Put your phones away!" Fortunately, no one pays her any mind and the recording continues – a recording that shows the astonishing indifference cops can have after gunning someone down in cold blood.
"This is hard for me to share because this is the last moments of my beautiful fiance and best friend's last moment on earth after he was fatally murdered by Tarpon Springs Police Department. I'm sharing because this needs publicity. This stretches beyond my comfort and sensitivities or anyone else's. This is graphic but this is very very real and this needs to be seen by the world so they can witness what happens to innocent civilians all over our nation and other nations relentlessly."
According to local Fox13, the Tarpon Springs police chief is angry that people are "speculating" on social media about what happened. Police Chief Robert Kochen said, "the weapon used by the subject was recovered and was entered into evidence as part of the investigation by the Florida Department of Law Enforcement."
The question remains, why would someone described as having a "peaceful, beautiful" soul, who was riding his bike around at a car show, want to charge a cop with a knife? Will witnesses give the same account to investigators, that Provenza never charged the officer and there was no knife?
According to Schnell's posting, another officer, Michael Trill, shouted: "he had a knife" loudly at some point during the incident. If the knife story is not corroborated by any witness, the question must be asked whether one or more officers attempted to cover up the truth and perhaps even plant the knife.
While Officer Macisaac is on paid vacation, or administrative leave, a memorial is growing by the day for Provenza, with poems, pictures, and mementos. A "Peaceful Protest for Provenza" is planned for Saturday at the place where he was gunned down.
Rebecca Schnell can't sit by and do nothing at the injustice. Trigger-happy cops, fearing for their lives at the mere hint of danger, can't be allowed to continue murdering innocent people with no repercussions.
Schnell writes:
"Sharing this for the people that want to deny the facts. Sharing this because this is the reality you live in. Police state is here and on the rise. Sharing this because this is undeniably murder. Sharing this because I'm lifting this veil and exposing this fascist, testosterone pumped autocratic brotherhood for what they are. Portrayed as our "protectors." Sharing this because tyrants love to slay artists, visionaries, freespirits and activists. Sharing this because I'm dispersing the ignorance. Sharing this because this is a complete and utter VIOLATION of our 5th amendment rights. Sharing this because targeted individuals ARE A REALITY."