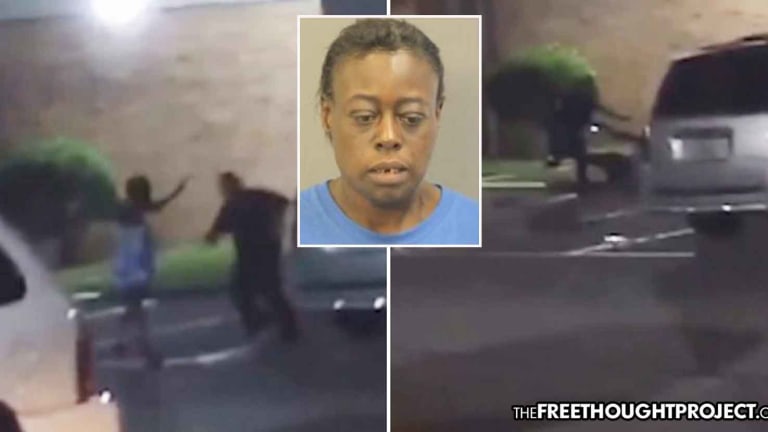 WATCH: Woman Tells Cop 'I'm Pregnant' Before He Shoots Her 5 Times, Killing Her
Horrifying video shows a Texas cops shoot and kill a woman, whose last words to him were "I'm pregnant."
Houston, TX — A tragedy unfolded Monday night in Houston, Texas when a Baytown police officer approached a woman, identified by her family as 44-year-old Pamela Turner, and killed her. Turner's last words before she was shot five times by the officer were "I'm pregnant."
Turner was reportedly struggling with mental illness, however, her neighbors and family said she was peaceful and kept to herself, which is why the video of the incident has family members claiming that this shooting was unjustified.
According to police, an officer approached Turner because she allegedly had outstanding warrants.
"Baytown Police Lt. Steve Dorris said an officer on patrol saw a 45-year-old woman the officer had had prior encounters with," CBS News reported. "He knew the woman had outstanding warrants, so he approached her to arrest her."
Her family says that Turner was on medication for schizophrenia and had a history of mental illness.
Despite the officer claiming he had a "history" with Turner, he clearly didn't attempt to de-escalate the situation when she tried to walk away from him. Furthermore, he used dangerous escalation tactics on a person suffering from schizophrenia—which is always a terrible idea.
"I'm walking. I'm actually walking to my house," Turner is heard saying on the video before the officer began to physically accost her. "Ow!" she screams as he grabs her neck.
"You're actually harassing me," Turner says as the officer pulls out his taser.
According to police, when Turner tried to walk away—otherwise known as "resisting" to them—the officer pulled out his taser and shocked her.
Clearly this did nothing to help resolve the situation and only made Turner enter into an excited and panicked state, so she tried to defend herself from her attacker by grabbing at the taser. When she was able to remove the taser from the officer's hand, he pulled his gun and shot her five times.
The last words to leave her mouth before the cop opened fire were, "I'm pregnant."
"During the course of the attempted arrest, the female began struggling with the officer, which forced the officer to deploy his Taser," Baytown Police Department Lt. Steve Dorris said. "That deployment was not effective, and the female was able to get the officer's Taser away from him. (She) actually tased the officer, which forced the officer to draw his duty weapon and fire multiple rounds at the suspect."
While police claim Turner tasered the officer, this is not clear in the video. Also, police noted that the officer was not injured. Sadly, we cannot say the same about Turner.
Witnesses told KPRC that Turner was "not a bad person" and she would "just walk around, smoke her cigarettes and walk her dogs."
This is what she was doing when the officer approached her and ended her life.
"Turner's sister, Antoinette, said the woman has two children, both in their 20s, and three grandchildren. Antoinette also said the officer was Turner's neighbor and she had previously complained about the officer harassing her," KPRC wrote. "Turner was on medication for schizophrenia, Antoinette said."
Dorris told the media that it was unfortunate that someone filmed the incident and uploaded it to social media.
"It's extremely disrespectful for everybody involved," Dorris told CBS News. "But that's the day and age we live in with social media."
However, the family likely disagrees as it shows that the shooting was likely unnecessary and will serve as evidence in a case against the killer cop.
Cops shooting pregnant woman is an unfortunate reality. As TFTP previously reported, a pregnant mother's 911 call to police ended tragically after cops showed up to her home and killed her.
Charleena Lyles, 30, called police because she feared her ex-boyfriend may try to harm her. Lyles, who reportedly suffers from mental health issues, was holding a knife to protect herself from her boyfriend. When officers saw Lyles, armed with a knife, two of them opened fire and killed her.