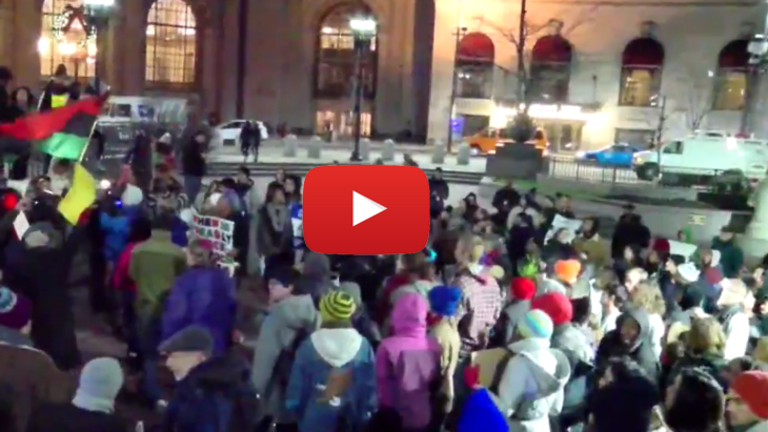 Hundreds Block The Streets In Cleveland To Protest Police Killing 12 Year Old Boy
Cleveland, Ohio - As the riots and police state presence in Ferguson has taken center stage in the news, people in Cleveland protested the killing of a local 12-year-old boy, and also showed their support for the Michael Brown family as well. Young Tamir Rice was shot and killed by a cop this past Saturday, because he had a toy gun.
Without any hesitation, police shot the boy because they allegedly believed that he was pointing the gun at them despite the person who dialed 9-1-1 telling them twice that the gun was "probably fake." After they killed him, police inspected the gun to discover that it was an air soft pellet-gun.
There were no arrests yesterday in Cleveland, despite the fact that large crowds shut down major freeways and blocked exit ramps.
At one point, the protesters passed by the Cuyahoga County jail, causing inmates to cheer and bang on their windows.
Police Chief Calvin Williams was silent about the incident when questioned by reporters, saying only that the department will soon be releasing video evidence of the situation which clearly shows what took place. When asked if the video confirmed the officers version of events, the chief declined to comment. The chief said that he had not conducted a full interview with the police officer involved, even though the murder took place days ago and the officer's version of events has already been released by the media.
Instead of condemning the indiscriminate use of force, the police chief attempted to blame the child for his own murder.
"Guns are not toys, we need to teach our kids that," he said.
No chief, maybe you need to teach your officers that guns are not toys.
John Vibes is an author, researcher and investigative journalist who takes a special interest in the counter culture and the drug war. In addition to his writing and activist work he is also the owner of a successful music promotion company. In 2013, he became one of the organizers of the Free Your Mind Conference, which features top caliber speakers and whistle-blowers from all over the world. You can contact him and stay connected to his work at his Facebook page. You can find his 65 chapter Book entitled "Alchemy of the Timeless Renaissance" at bookpatch.com.