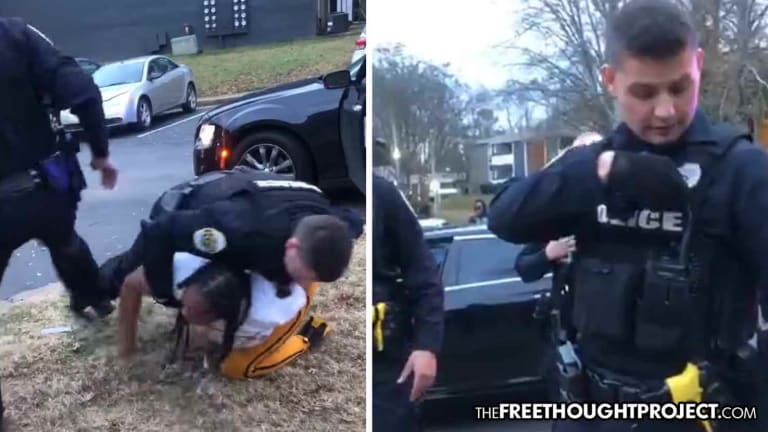 WATCH: Cop Attacks Innocent Woman, Rips Off Badge to Challenge Man to Fight
Instead of attempting to deescalate a situation, a Huntsville cop decided to attack an innocent woman and then challenge a man to a fight.
Huntsville, AL — Often, people wonder why other people don't immediately stop when they see the red and blue lights come on behind them while driving. And, time and again, police officers are seen on video after video showing exactly why one would be wary of stopping.
Xavier Tate, 23, was targeted for extortion for an arbitrary "traffic infraction" last week when he did not immediately pull over. According to Tate's aunt, Shanika Fletcher, Tate was scared to stop along the roadside and opted to drive to his home so he could feel safe during the stop.
Tate's mother, Lakeita Fletcher said she's always told her son to drive to a safe place if police ever try to pull him over, and he did exactly that.
"I always told my son, with what's going on in the world right now with these cops jumping on these young Black men, if they ever get behind you, son, you take them to a store somewhere that's open where you feel safe, or either if you close to home, you come home," she said.
Unfortunately for Tate, this made the cops more frightened and when Tate got to his home, he would be looking down the barrels of two police firearms.
The stop was captured on a bystander's cellphone. The video begins with Tate on the ground and Shanika Fletcher attempting to tell the officers what was going on.
When Fletcher asks the officer why Tate was on the ground, the officer tells her that he didn't stop when he should have. Fletcher then tells the officer that he was trying to be safe by driving home and asks how the officer would feel if he were in Tate's position.
The officer replies, "I get that, yes ma'am. I got you."
Tate's mother, Lakeita Fletcher then joins the protest and says she is going to call City Council Member Devyn Keith. As both women accept the reality of the situation, the scene calms down a bit until a cop, identified by his badge as officer Worley shows up.
Clearly expecting to escalate the incident, Worley walks up to Shanika Fletcher whilst donning his black gloves — a move many cops make just before doling out violence.
Without provocation, Worley immediately grabs Shanika Fletcher's right arm. She yells, "You ain't touching me!" Worley then begins spinning the innocent woman around before he and another officer slam her to the ground.
"Sir! You can't just do that! Stop!" yells the woman recording the video, identified by WZDX as Zelnita Williams, 22.
As the officers try to force Shanika onto her stomach from her side, Shanika says she is complying.
"I'll give you my hands," she said. But before she could comply, another officer walks over and kicks her arm out from under her.
The video then cuts out and turns back on after Williams' boyfriend, Dantraeon Calvert, 29, arrives. Calvert then asks why Lakeita is in handcuffs.
"She wouldn't stop interfering with the investigation," Worley says, failing to mention that Lakeita was only being vocal because Worley attacked her sister for no reason.
Another more rational officer then walks up and explains that Tate is being arrested because he "slow-rolled the whole way" from where they attempted to stop him, and that Tate's aunt refused to move away from the vehicle, which is obstruction, and his mom pulled away from the officer, also obstruction.
In other words, cops created multiple crimes without victims in order to kidnap three otherwise entirely innocent people.
After getting tired of police seemingly oppressing them, Calvert raises his voice.
"Why did you do that?" Calvert yells at Worley, inquiring about why he took down Shanika Fletcher. "I don't have to back up s**t! My father is an officer so if I need to call him down here, I don't have no problem."
Worley seemingly took this as another opportunity to inflict pain and suffering and proceeded to get in the face of Calvert.
"Now you asked me to back up and you walked up on me," Calvert says. "Hold up! Shut the f**k up and stop talking to me like I said, before you get it!"
"No, you think that just because you're a cop that you can do anything to anybody, and that's wrong. Period," Calvert says.
Worley then rips off his velcro badge and says, "I don't care," in an overt attempt to challenge Calvert to a fight.
"What the hell does that mean?" Calvert says.
Luckily, Calvert didn't take the bait and though he continued to yell, he backed up as he did it.
"I just watched them slam a woman on the ground for no reason," he says.
After the video was posted online Lt. Jesse Sumlin, Huntsville's Public Information Officer, said, ""We are aware of the video. The video is under investigation. Until the investigation is completed we'll speak more on the incident."