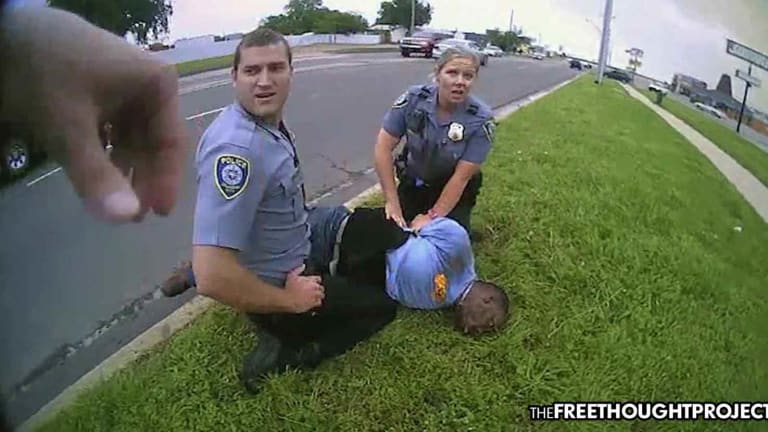 'I Can't Breathe,' Man Tells Police, 'I Don't Care', Cop Responds—Just Before the Man Dies
Disturbing footage shows that a man spent his last moments alive telling cops that he couldn't breathe, only to have them respond with "I don't care."
Oklahoma City, OK — The words 'I can't breathe' have become a rallying cry for those who advocate for an end to police brutality. In case after gruesome case, these words are captured on video as cops squeeze the life from American citizens. Though police apologists will claim that saying "I can't breathe" means you can breathe because you can talk, time after time, they are proven wrong.
Although they were likely uttered countless times before, as cops squeezed the breath from their victims, the words "I can't breathe" were burned into history when officer Daniel Pantaleo choked the last breath from Eric Garner.
Showing their utter disregard for human life and the disturbing nature of the thin blue line culture, NYPD officers had shirts made that said, "I can breathe," to mock the last words of a father of six, who they killed.
Those words have been caught on film countless more times since that fateful day, yet they didn't spark a major outcry until George Floyd uttered them on Memorial Day as cops squeezed the life from his body.
Instances like Floyd's happen so frequently that since that day, multiple body camera videos have been released showing cops doing the same thing to other folks, who die shortly after saying, "I can't breathe."
Derrick Scott, 42, repeatedly told cops that he couldn't breathe during his arrest last May, but cops couldn't have cared less, and in fact, told this to Scott as he died.
"I think that it was one of the most inhumane things that I have ever seen," Vickey Scott, Derrick's mother said. "They did not do anything for him. They treated him like he was an animal. He was trying to get his breath. He was trying to breathe, and they ignored him the whole time, like he was nothing. They even treat animals better than they treated my son.
"It's very hard," she said. "I want every mother to watch that ... and imagine that's your son's last so many minutes of life and he's dying and they're saying that he's faking."
According to police, they were responding to a call of a black male in the area who allegedly brandished a gun during an argument. If Scott felt his life was threatened during this argument, he was entirely justified in brandishing a weapon. What's more, he never fired it, and it appeared to resolve the situation — until police arrived. When officers arrived, they tackled Scott to the ground.
Scott pleaded "I can't breathe! Please! Help me! I can't breathe," as three Oklahoma City police officers pinned him to the ground with their knees and hands, removed the handgun from his pocket and held him there for about 13 minutes while waiting for paramedics to arrive.
His death was eerily similar to that of George Floyd's.
"I can't breathe," Scott said as cops held their weight on top of him.
"I don't care," one of the officers, Jarred Tipton, can be heard replying to Scott.
"You can breathe just fine," another officer can be heard saying later in the video.
Scott would eventually fall unconscious and was transported to a nearby hospital where he was pronounced dead. An autopsy obtained by NBC News lists his cause of death as a collapsed lung.
Oklahoma City police Capt. Larry Withrow said in a statement that an investigation into the incident by the Oklahoma County District Attorney's Office cleared the three officers — Tipton, Ashley Copeland and Sgt. Jennifer Titus — of misconduct.
Winthrow then claimed the "I don't care (if you can breathe)" comment from Tipton was due to the "heat of a conflict."
"Certainly that may be something an officer says," he told NBC affiliate KFOR. "Just understand — the officers are fighting with someone at that point."
But as the video below illustrates, Tipton was struggling with no one. Scott was prostrate on the ground, in handcuffs, barely moving, and begging for his life, surrounded by police officers.
Scott's uncle, Ronald Scott, told KFOR that he was "bothered by how they treated his life." We agree.