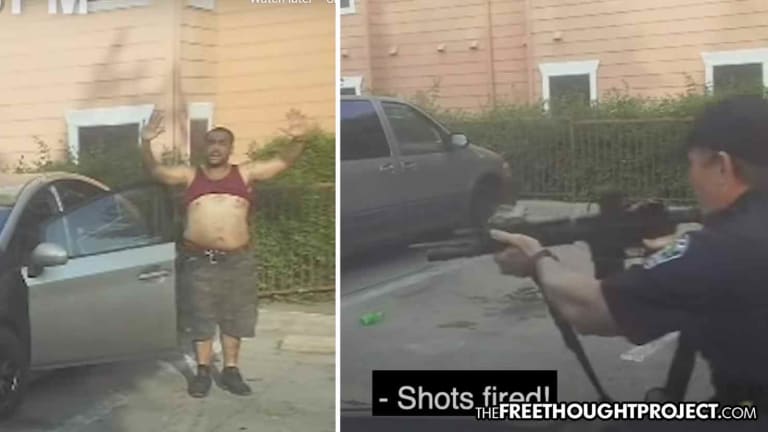 In Extremely Rare Move, Cop Charged With Murder for Killing Unarmed Man Who Put His Hands Up
Video of a police officer killing an unarmed man was apparently so disturbing the officer was charged with first-degree murder in an extremely rare move.
Austin, TX — The Free Thought Project originally reported on a cellphone video of a police killing in Austin, Texas in April 2020 which was so disturbing witnesses reported it as if it were a murder. Now, nearly 11 months later, their suspicions were confirmed as the officer involved, Austin police officer Christopher Taylor has been arrested on a first-degree murder charge.
In the video, a man is seen trying to surrender to police with his hands in the air, moments later, he'd be killed by a police officer firing his AR-15. The following month, police admitted 42-year-old Michael Ramos had no gun and two months later, they released their own video of this senseless execution.
A police officer facing a murder charge for an on-duty shooting is extremely rare. As TFTP has reported, despite horrifying police killings, many of which were captured on video and rocked the nation, the arrest rate for cops who kill people on-duty remains as low as ever. According to reports, since 2005, just 126 police officers have been arrested for murder or manslaughter in relation to an on-duty killing.
Of those 126, just 44 have been convicted, with 31 of their cases still pending, and just seven cops total have been convicted of murder. The other 37 cops were convicted on charges ranging from manslaughter to official misconduct, with many of them receiving no jail time.
Taylor's charge could pave the way for major reform across the country as it appears the tide may be shifting.
"It'll be of high value because there are so few prosecutors who seek indictments — and even fewer who have taken cases to trial — in police-involved civilian deaths and shootings," said Gloria Browne-Marshall, a civil rights attorney and professor at the John Jay College of Criminal Justice.
"It'll be well-watched, I'm sure," she said of Taylor's trial.
The fact that Ramos had no gun is extremely important as police based their entire response of multiple units, aggressive tactics, bean bag rounds, and eventual execution — all based on the falsehood that Ramos had a gun.
"Mike Ramos does not appear to threaten but ends up dead. There's got to be a better way," Austin Mayor Steve Adler said in a statement at the time. "I'm very disturbed."
According to police, they responded to a 911 call in April about a man possibly doing drugs in an apartment parking lot and being armed. Manley said officers were investigating reports of people in a car, including an armed man, doing drugs when they encountered Ramos.
The 911 caller's credibility is certainly questionable.
"They're in the car smoking crack and cooking meth," the caller said. Police found no such meth or crack.
"He has a gun. He has a gun to this lady," the caller said. "I see him holding a gun, ma'am. [...] He's holding it up. [...] He was pointing it at her."
As the 911 operator tries to clarify the claim, the caller says, "He's holding it."
There was never a gun.
As the video shows, Ramos, a 42-year-old Hispanic man was seen exiting the car when ordered by police. As he gets out, he raises his shirt to show officers that he is unarmed. He is seen in the video with his hands in the air trying to talk to police.
At first, Ramos is entirely compliant. When officers tell him to exit the vehicle, he does so. He then puts his hands above his head.
"Man, what the f**k, man," Ramos says of the massive police response which appears to frighten him.
"Michael Ramos, you're going to get impacted if you don't listen," an officer says, according to the video.
"Man, you all scared the f**k out of me, dog," says Ramos says.
He then says, "don't shoot," as he waves his hands at the officers.
For roughly another 30 seconds, Ramos holds his arms in the air as he continues to ask the officers what he did. As he has multiple rifles and pistols pointing at him, Ramos gets increasingly nervous and stands behind his car door, ignoring police commands to walk toward them — after all, every way he turns, he faces a gun barrel.
The entire time, Ramos had his hands in the air. He never attempted to get back in the vehicle and had proven to cops that he was unarmed. Ramos was merely talking with the officers, asking them why they were stopping him. Then, without warning, while Ramos still had his hands in the air, a rookie cop opened fire with a beanbag round.
This likely sent Ramos into panic, thinking he was about to be killed. Sadly, he would be right.
Nevertheless, as the Austin American Statesman reports, during Taylor's grand jury proceeding, the panel evaluated possible aggravated assault charges against officer Mitchell Pieper for deploying the beanbag round but declined to indict him.
After being shot with a beanbag round over an apparently bogus 911 call, Ramos tried to get away from the threat. He jumps in the car and attempts to drive off. As he attempts to flee, however, another cop, officer Taylor opens fire with an AR-15, dumping three rounds into the fleeing man, who was only suspected of being a person of interest in an alleged crime.
The shots killed Ramos, who then crashed his car.
Highlighting just how dangerous of a cop Taylor was at the time, this was the second time in less than a year Taylor killed someone while on the job. According to the Austin American Statesman, Taylor was one of the officers who fatally shot 46-year-old Mauris DeSilva, who was wielding a knife in the gym at his condo in downtown Austin in July 2019.
Just like this time, Taylor was placed on administrative leave but returned to full duty shortly after — to kill again less than a year later.
"I'll never forget the face he made when he was confused. That's what staying on my mind and I feel him and that hurts. That's a part of me," Ramos's mother, Brenda Ramos said.
Thursday, Brenda thanked the prosecutors for seeking this charge, saying her son's death has "haunted me every day for 321 days. I am grateful to our district attorney, Jose Garza, for his courage to seek justice when our police chief would not."
Below is the original cellphone video and though it is disturbing, had it not existed, this story would likely be playing out far differently as police may never have admitted that Ramos was unarmed.